Ready for complete panda-monium?
Are you ready for some Orange Chicken? Well, get your wallets ready, because the wait is almost over. Panda Express iscoming to SM Megamall and we've got the low-down on where exactly to find them. Plus, we know which Chinese-American favorites they'll be cooking up for us soon!
Founded in 1983 in Glendale, California by the Cherng Family, Panda Express is famous for dishes like Orange Chicken and Beef Broccoli! Officially confirmed through Jollibee Foods Corporation, the first ever Panda Express in the Philippines is set to open right at the Upper Ground Level of Mega A in SM Megamall!
You'll also be able to enjoy their best-selling Orange Chicken and other signature Panda Express dishes, because the list of menu items is out! Aside from the beloved wok-tossed Orange Chicken, Panda Express' Broccoli Beef is yet another classic favorite coming your way.
A popular Szechuan-inspired dish, Panda Express' Kung Pao Chicken will also be on the menu along with their Beijing Beef, tossed in a sweet-tangy sauce with bell peppers and onions.
For people who want to lay off the beef, Panda Express Manila's menu has a ton of chicken options such as their String Bean Chicken, made with chicken breast and wok-tossed in mild ginger soy sauce; Asian Grilled Chicken, a grilled chicken thigh hand-sliced and served with teriyaki sauce; as well as their Mushroom Chicken, which is a combination of chicken, mushroom, and zucchini wok-tossed in a light ginger soy sauce.
For a healthier alternative, Panda Express Manila will also be serving their vegetarian-friendly Eggplant Tofu, made with lightly-browned tofu, eggplant, red bell peppers, and tossed in a sweet and spicy sauce.
Now that you know where exactly to go, what will you be ordering at Panda Express? For more updates, check out SM Megamall's Facebook page. It might be a while before Panda Express opens, but what if we told you that's not all we're getting in 2019? There's still so much to look forward to!
Check Out the Rest of our Most Awaited Concepts coming to Manila!
In just a few years, Wagyumafia has built itself up to cult status in Tokyo thanks to their ¥20,000 wagyu cutlet sandwich (approx. $200 or ₱9,700!). The famed gyu-katsu sando is made with premium beef (breaded and lightly fried in panko) and placed between crustless, pillowy white bread with a soy-vinegar sauce.
It was announced last year at an intimate popup event held at Manila House that the brainchild of Chef Hisato Hamada and entrepreneur Takumi Horie will be coming to Manila, thanks to the efforts of five young entrepreneurs: Amado Fores, Carlo Alvarez, Lui Clavano, Mico Clavano and LA Vergara.
Now, the team behind Wagyumafia has been putting out a few teasers on their opening, like this one posted on September 24:
And the good news? They're rumored to open late next month!
Wagyumafia Manila will be located at the World Finance Center in BGC and will boast three concepts: 1) a yakiniku restaurant, 2) a butcher shop, and 3) a member's only kaiseki restaurant.
If you're wondering why the beef is so expensive, wagyu farmers believe it's important to keep their cattle happy in order to yield the finest quality of meat. To keep the cattle happy, wagyu farmers supposedly massage, serenade, and feed their cattle a special diet (mostly made up of grain), which might explain the impeccable marbling of the beef.
Thankfully, we'll get the chance to try it in Metro Manila soon! For more updates on their opening, check out the Wagyumafia PH Instagram account and Facebook page.
Here's a round up of newly-opened and soon-to-open concepts that deserve all the hype. By all accounts, 2019 is looking amazing – and we've only just begun!
Here's what else we're excited about:
INTERNATIONAL FRANCHISES
Gram Cafe is a famous spot from Osaka, Japan known for its popular three-stack Premium Pancakes! Their fluffy soufflé-like pancakes come in different flavors, including their Cherry Blossom Premium and Rich Tiramisu Pancakes. Since then, they've opened branches all over Japan, across the world, and now Manila! No date or location has been set yet, but it's coming!
A Japanese hamburger chain that opened in 1972, MOS Burgers is known for serving up a variety of savory burgers and eats not only in Japan but also in Taiwan, Hong Kong, Thailand, Indonesia, China, Korea, Australia, and in March 2020, Manila! What's there to be excited about you may ask? Two words: RICE BURGER, A rice bowl on the go, MOS' Rice Burgers are legendary in that you'll get rice instead of burger buns and a selection of different fillings like yakiniku, shrimp, etc.
Popeyes – multiple branches
(Now Open)
Founded in New Orleans in 1972, Popeyes is best-known for its Southern-style menu featuring spicy chicken, chicken tenders, fried shrimp and others. Thanks to the Kuya J Group, Popeyes has made a comeback in the Philippines! They already have four locations in Arcovia City Pasig, Alabang Town Center, SM San Lazaro, and SM Manila
You can thank The Standard Group (Yabu, Ippudo, and Mighty Quinn's) for bringing in Elephant Grounds — a Hong Kong coffee chain known for their signature coffees, ice cream sandwiches, and brunch specialties. The stylish coffee shop currently has five branches in Hong Kong, but they're beginning to branch out internationally, starting with Manila and Beijing. If you're in the High Street area, keep your eyes peeled!
(Now Open)
Shake Shack started out as a hot dog cart in Madison Square Park in Manhattan, NY. Today, it's one of the fastest growing fast-food brands with locations all over the world including outlets in Seoul, Tokyo, London, Moscow, Istanbul, and Dubai. The first Shake Shack in Manila (and Southeast Asia!) opened last May and is located at BGC Central Square in Bonifacio Global City.
Check out Our First Look at Shake Shack!
(Now Open)
Red Lobster is the quintessential seafood chain. Since starting up in Florida in 1968, the brand has expanded enormously and currently operates at 705 locations to date, with branches in the U.S., Ecuador, Canada, Malaysia, Saudi Arabia, the United Arab Emirates, Qatar, Mexico, and Japan. The Bistro Group (TGI Fridays, Italianni's) is responsible for bringing the popular American restaurant to Manila, which opened last November at S Maison at the Conrad Manila in Pasay.
HOMEGROWN CONCEPTS
(Now Open)
This modern Indian concept was created by the husband-and-wife team of Cyril Vivek and Pierre Addison. They started out as a mainstay of the Greenfield Weekend Market but since March 2019, they've opened their first brick-and-mortar store in Kapitolyo!
Diners can expect to be treated to a variety of traditional curries, tandoor dishes, and street-side snacks from Cyril's hometown in India. The casual eatery will reportedly offer weekend specials like pani-puri stalls and buffet brunches!
(Now Open)
We have come to know Single Origin for their gourmet comfort food, coffee, and cocktails but in case you missed it, the brand's fourth branch located on the ground floor of Frabelle Corporate Plaza has been re-conceived as an osteria!
Featuring an all-Italian menu inspired by the Italian grandmother of executive chef, Juan Barcos. You can expect to enjoy a roster of traditional and home-style Italian dishes including pasta, pizzas, and Bistecca a la Fiorentina.
NEW BRANCHES
(Now Open)
After finding success with its first branch in Legazpi Village in Makati, Made Nice Supper Club closed shop last year. But word on the street is, it wasn't "goodbye," but "see you later!"
Jack Flores and wife, Gabbi Ramos-Flores have reopened at the old Sarsa spot at Rockwell's Joya Lofts and Towers. The New York-inspired restaurant features a bigger menu, focusing on more Asian-inspired dishes which are good for sharing. They also serve bar chow to complement their full-service bar!
(Now Open)
From the sweet-toothed geniuses behind Infinitea comes Black Scoop Cafe, your next favorite dessert stop! Serving up soft serve innovations such as milk tea ice cream and the like, we dare you to resist these creatively addictive flavors! You can now visit this milk tea and soft-serve favorite at BF Homes, right at the end of the famous Aguirre Ave.!
(Now Open)
Fans of the now closed fine dining teppanyaki restaurant in Bonifacio Global City can relax — Teppan Okochi has relocated to a bigger and better place in Power Plant Mall.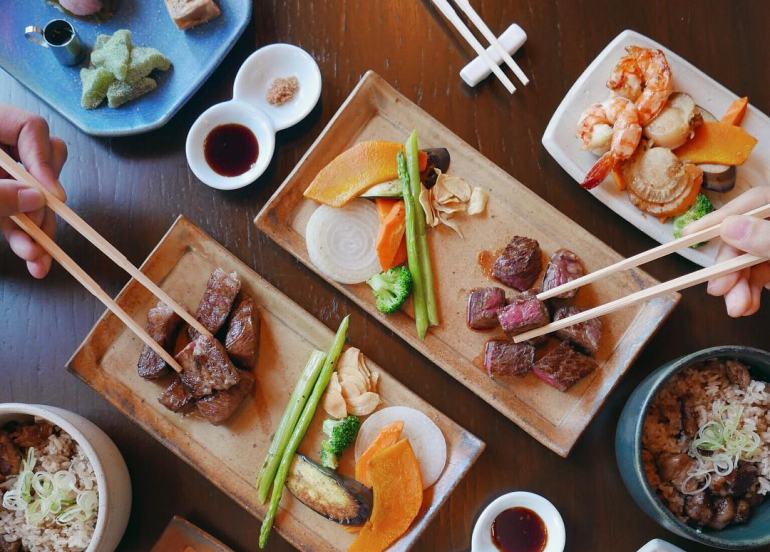 Taking over the spot of Kuratake along Lopez Drive, the full-service Japanese restaurant continues to feature the expert cooking of Grand Chef Akihiro Okochi from Osaka but with the new space comes a larger seating capacity. This time around, the teppan master will be joined by a Japanese executive chef specializing in sushi and other Japanese dishes.
(Now Open)
Good news for you, South kids! Alamat has opened right in BF Homes, along Aguirre! If you want to know exactly where, Alamat has set up shop (and bar) where Container Turf used to be (RIP)!
The Filipino pub and deli by Chef Niño Laus (Ninyo Fusion Cuisine) first made its mark on the culinary scene in Poblacion, Makati. The lowkey watering hole began to attract locals and foreigners alike thanks to their reinvented pulutan. Here, traditional dishes like dinuguan, sisig, bopis, chicken inasal, and even adobo and salted egg are transformed into artisan sausages.
(Now Open)
Since opening their doors in 2012, Wildflour has gone on to become one of the most successful and recognizable names in the restaurant industry. So, it's no surprise that foodies all over the Metro are buzzing about the brand's newest concept: Wildflour Italian. Open now at the ground floor of the new World Finance Center in Bonifacio Global City, the menu highlights freshly-made pastas, as well as seafood and meats grilled over a hearth. It even features a wood-fired pizza oven imported from Italy!
(Now Open)
Following Bar Centrale, a casual Italian spot in Salcedo Village, the Bistronomia Group (of the La Lola, Las Flores, and Rambla fame) opened their second Italian concept in Bonifacio Global City last April 2019.
Insider Tip: Get ₱500 off at Bar Centrale with Booky 
The group teased the restaurant's interiors on the brand's Instagram page and by the looks of it, it's surely going on your date place bucket list! No word yet on what's on the menu — but considering the group's track record, it's probably going to be a hit. Find them at 9th Avenue corner 26th Street in BGC!
Which concept are you most excited about? Tell us in the comments! Be sure to follow Booky on Twitter (@bookymanila) and Instagram (@bookyapp) to stay on top of all the major foodie news.
If you're not already enjoying the offline convenience of Booky, you can download the app for FREE on iPhone or Android. Discover over 900 of the top restaurants in Metro Manila and just watch as your foodiverse explodes!