Nailed it!
New polish and freshly trimmed nails… who doesn't love a good manicure? Not only are there so many colours to choose from and endless possibilities on nail art designs but we're also blessed to have a number of options for the finish!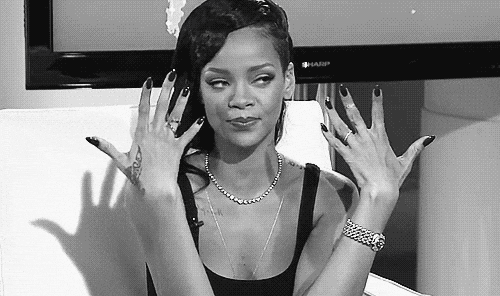 There's regular nail polish, shellac, gel, dip powder, and for added definition, acrylic nails. They all have their unique looks and durability that with the right TLC, not only will they last longer but your nails will thank you for it.
Also read: Your Ultimate Guide on Nail Salons Around Metro Manila
Don't forget to give your nails some love even in between your manicure-pedicure sessions with these do's and don'ts on nail care.
ACRYLIC
Acrylic nails are often used for extending the nail and or altering its shape. It's made by combining a powder and liquid that's applied on top of the nail that'll eventually dry clear and is finished off with the nail polish of your choice.
Do's
Do wear rubber gloves as much as possible when you do chores; not only will it keep your acrylics physically out of harm's way but a lot of household chemicals have the tendency to alter your polish and affect the adhesive used on the acrylics.
Do also apply cuticle oil especially after every time you wash your hands to avoid dryness and cracks on your nails.
Don'ts
If you happen to find your acrylic nails losing its adhesive, don't attempt to glue them on your own. It's tempting to but it's very unsanitary and will invite bacteria to your nail bed.
Don't apply too much pressure on them as there'll be a tendency for lifting and can easily cause damage to your natural nail.
REGULAR POLISH
Regular polish can easily be found in drugstores and department stores and are especially easy to DIY. They're simply applied and left to air dry and will last up to a week or even more. It's also the easiest to remove, a few swipes of nail polish remover, and you're done!
Do's
Do make sure to use a base coat before you apply the nail polish and a top coat to finish it off. This protects your natural nails from damage and turning yellow while the top coat will help the polish last longer.
Don'ts
Don't wear your polish for too long regardless if they're of the organic type as it can damage your nails; two weeks is already stretching it.
If you're simply using regular polish, don't use acetone removers and opt for an acetone-free option. Acetone really dries out your nails and can be too harsh, there are may acetone-free polish removers in the market that you can switch to today.
SHELLAC
The Shellac nail polish formula was created by CND; it's applied to the nail and similar to gel polish, the nails are cured under a UV light. It can go two to three weeks without chipping and requires professional help to be removed safely.
Shellac is thinner than gel and is a combination of regular polish and gel polish.
Do's
Do make it a habit to moisturise your nails and cuticles every so often to keep your nails flexible and avoid cracking of the shellac.
Similar to acrylic nails, do wear rubber gloves while doing chores to help prolong its life.
Don'ts
Don't peel it off! Peeling it off is essentially removing the top part and strong part of your nail and leaving the vulnerable part exposed to damage.
GEL
Gel nail polish has a thick consistency and has to be cured under a UV light. It's resistant to chipping and peeling, and can be shaped and moulded. This type has to be removed by a nail technician through a soaking method as this is a bit tougher to remove than Shellac. It usually lasts up to three weeks.
Do's
Do take breaks in between your gel manicures and pedicures to allow your nails to recover as gel polish is pretty thick compared to the other kinds.
Although gel polish is resistant to chipping, do moisturise it as well with nail creams and oils to keep your nails and cuticles healthy in between your mani-pedi sessions.
Don'ts
Do not, under any circumstances, peel off your gel polish! Every time you do this, you're removing the strong layer of your nail and leaving the rest of your nail vulnerable breakage.
DIP POWDER
Dip powder polish is a fine coloured powder type of polish that your fingertips are dipped in after its been coated with a base coat. The excess powder is then brushed off and a special polish is used to seal it all in. Unlike regular polish, dip powder can last up to a month.
Do's
If you're attempting to do it on your own, do make sure to use cool air when you dry them.
Do avoid using hand sanitisers and anti-bacterial hand soaps as it can damage the top coat.
Don'ts
You could remove it on your own but it's recommended you don't and instead opt to go to a nail salon as the powder is pretty much bonded to your nail.
Nails are pretty tough to do on your own so when you need that extra boost and a much needed pampering sesh, nail salons are always there and ready to pamper you silly.
They do say, aside form our neck, our hands age the quickest so if you feel they're in need of some extra tender, love, and care but don't have enough time for a spa treat then nail salons are the best bet.
Nail It! offers all kinds of hand care and foot services for men, women, and the littles ones too! They have nail art, hand and foot care packages, and many more for you to choose from.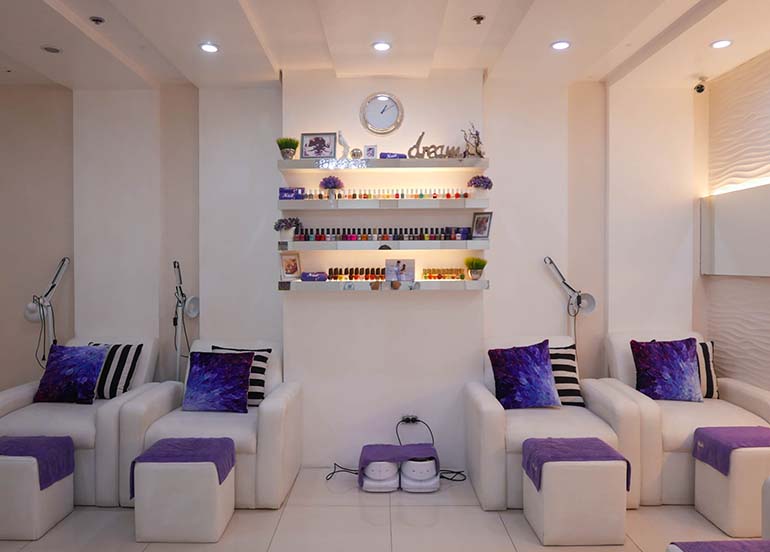 Plush seats, relaxing deep purple hues , and especially an accommodating staff, Nail It! has everything you need for the perfect mani-pedi experience.
Hand Massage + Hand Paraffin
Help your hands look and feel refreshed and repaired with Nail It's hand massage and hand paraffin treatment! Their expert therapists put your hands at ease with relaxing, deep-guided, and a soothing massage topped off with a paraffin treatment that will relieve the sore joints in your hands!
Price: ₱405 instead of the original ₱675
Acrylic with Gel
Spark your style witha fresh coat of polish! Nail It! is offering an Acrylic with Gel nail service to give your hands that colourful and gorgeous touch with high quality products that ensure the colours on your nails will last for weeks.
Price: ₱1,470 instead of the original ₱2,100
Eyelash Extension
Accentuate the beauty of your eyes by lashing up with Nail It! Their fluffy and thick eyelash extensions will give your eyes a gorgeous and fanned-out effect, giving you a truly eye-catching look.
Price: ₱455 instead of the original ₱650
Sit back, put your feet up, and feel the stress melt away and wake up with fabulous nails at Nail It!
Check them out here
View all branches
View their Instagram account
We're more than just food at Booky and we're here to give you the lo-down on the best things to do and discover all over Metro Manila—food, fitness, beauty, and more. Download the Booky app for FREE to discover today's best idea.