Get 2 Satay Sticks for ₱50!
A balance of smokey and peanut-y flavors, you can DOUBLE THE GRILLED CHICKEN SKEWERS for yourself and a friend with Buy One Get One Satay Sticks!
Booky's all-new feature lets you enjoy Buy One Get One (BOGO) promos at your favorite restaurants throughout the metro. Get 2 of dishes from different cuisines!
It's about Thai-me for Thai Food to be given the spotlight. At Nav Modern Thai, you can immerse yourself in Thai flavors with their modern take on Thai dishes located at Mega Food Hall!
Take a trip to Thailand without having to leave the Philippines. Buy TWO GRILLED CHICKEN SKEWERS for THE PRICE OF ONE. Bring a friend as your #travelbuddy (a.k.a #foodbuddy) and enjoy the flavors this cuisine has to offer!
Price: 2 orders for ₱50!
To claim your BOGO Satay Sticks just follow the steps below:
Download Booky's app and sign up for a free trial

Pick a coupon to avail

Swipe to claim when ordering
NAV is a modern Thai restaurant that opened last 2011 in Kapitolyo. Since then, it has bagged numerous citations and awards as one of Manila's best Thai restaurants.
Fun fact: NAV is owned by the same partners behind the hip resto bar Tipple & Slaw in BGC.
The interiors are simple and straightforward, the kind you'd find along any busy street of Thailand.
NAV is pioneered by two chefs who got together and decided to open a Thai restaurant for the reason that Thai cuisine could transform simple and readily available ingredients to special and flavorful dishes.
Their dishes are made from a mix of Royal Palace and street-style recipes. They make almost everything in house including their curry, chili flakes and other sauces. NAV also makes use of ingredients imported from Thailand.
Insider tip: Not so keen on spicy food? Just make a special request to remove the spice factor in your order.
NAV's menu boasts of a variety of traditional and modern dishes. Here are a few of their bestsellers, including what could be your next favorite version of Pad Thai.
Son-In-Law Eggs
Crispy eggs with tamarind sauce
Why it called son-in-law eggs? According to Tes at Home: "One of the best stories was that a mother-in-law cooked this dish for her son-in-law as the cautionary that if his acts have become mischievous, then it would be his balls that would be served on the plate."
Grilled Beef Belly Wraps
Beef, vegetables and herbs on cabbage
Thai Laksa
Beef, rice noodles and curry broth. Best enjoyed while its still hot.
Pad Thai
Rice noodles, shrimp, chicken and eggs
Insider tip: You can order a party size takeout version of this bestseller! Think Thai version of your usual pansit bilao.
Khao Kluk Kapi
Fried rice, shrimp paste (bagoong), sunny side up egg, sweet pork, and green mango. Good for 2-3.
Iced Thai Milk Tea
A must try! Definitely no artificial taste of powdered tea here.
Home Brewed Iced Tea
A combination of refreshing fruity notes. A good choice for neutralizing the strong flavors of Thai food.
Fried Sticky Rice
Fried sticky rice, mango and coconut sauce sprinkled with addicting coconut flakes.
Booky Tip: Get this for FREE when  you book a table with us using the free Booky app (available on iOS and Android devices) or on the web. Forgot to make a reservation? Just fill out the feedback form on your app and get this favorite Thai dessert at no additional charge.
NAV plans to launch a new menu and a set of new cocktails perfect for after work drinks.
Two more NAV restaurants are in the plans, including transforming their Kapitolyo branch into a lounge-style hangout spot where you can enjoy their Thai-inspired cocktails and the new contemporary menu items.
Guess what! Booky has more Buy One Get One promos waiting to be claimed! Just download Booky app and go to the Buy 1 Get 1 tab to check out all the exciting food you can claim throughout the metro!
Remember to tag us in your photos with the hashtag #BookyBOGO to be featured!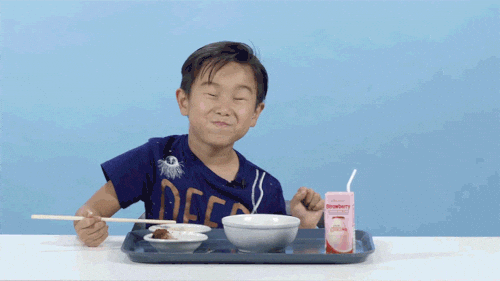 Photo from Giphy