International franchises and homegrown gems!
THIS WEEK: An unlimited buffet that serves more than KBBQ and Hotpot, an cha chaan teng inspired restaurant, a restaurant by Amado Fores, and collagen-infused milk tea!
RECENTLY OPENED
September 21 to October 15, 2019
Update: Check out our new Buy 1 Get 1 (BOGO) deals this week!
Prepare your heart because you might just fall for Four in Love BBQ Hotpot Buffet's options. A newly opened restaurant in SM Manila, at Four in Love, you'll get a chance to taste 4 different cuisines in one restaurant. Enjoy Korean Samgyeopsal and Korean Food, Japanese Yakiniku and Shabu-Shabu, Chinese Hotpot, and Thai Mookata all at Four in Love, unlimited!
What they're known for: Their sets inclusive of a variety of meats, hot dishes, sides, sushi, and fruits.
View menu
View their Facebook page
View their Instagram account
LG/F SM Manila, 659 Natividad Lopez St., Ermita, Manila
(02) 292-3095
Need a place to chill? Head to Southbank Cafe + Lounge, an independent cafe and lounge that serves up brunch and late-night meals you can pair with their specialty coffee drinks, wine, and cocktails.
What they're known for: Their coffee which makes use of blends and beans from Allpress Espresso. They are the first in the Philippines to carry the brand.
View menu
View their website
View the Facebook page
View their Instagram account
Westgate Alabang, Alabang-Zapote Rd. cor Filinvest Ave., Alabang, Muntinlupa
(0916) 247-8516
Introduce yourself to the concept of a cha chaan teng – a.k.a "tea restaurants" found in Hong Kong – at Made in HK! Get yourself some authentic Hong Kong dishes from sandwiches, rice bowls, noodles, and even drinks.
What they're known for: Giving diners an authentic HK cha chaan ting experience most especially when it comes to the food. A must-try order is their milk tea + a savory dish.
View menu
View their Facebook page
View their Instagram account
Makati Ave cor Constellation St., Bel-Air, Makati
a mano – Power Plant Mall
Serving no-doubt authentic Italian fare, if you're looking for a taste of Tuscany, Venice, and Florence right in the metro, then head on to a mano. Conceptualized by Amado Fores, a mano – meaning "by hand" – serves up classic Italian fare from pizzas to different kinds of pasta and even desserts made with love and of course, made each by hand.
What they're known for: Their Carbonara Pizza, Tiramisu, Meatballs, Cannoli, and Garganelli Bianco
View menu
View their Facebook page
View their Instagram account
UG/F Power Plant Mall, Rockwell Dr. cor Estrella St., Rockwell Center, Makati
Are you a bread lover? Then you'll definitely love what Earl of Sandwich has to offer. Known as the place where you can get The World's Greatest Hot Sandwich, Earl of Sandwich offers up a wide variety of packed and filling sandwiches, delectable hand-crafted wraps, and even a variety of pasta, rice, and desserts.
What they're known for: The Original 1762 sandwich, The Earl's Club, and the Holiday Turkey
View their Facebook page
View their Instagram account
4/F Mega Atrium SM Megamall Julia Vargas Corner EDSA, Mandaluyong
Tried every milk tea drink at your usual milk tea shop? If so, try something new, more specifically, try the milk tea drinks at Brown Cafe. Try out their selection of Instagrammable, affordable milk tea, fruit tea, and slurpies which you can also get with their flavored pearls!
What they're known for: They offer collagen-infused tapioca pearls which are also 0 calories.
View menu
View their Facebook page
View their Instagram account
G/F Serendra, 11th Ave, Fort Bonifacio, Taguig
In case you missed it…
With ingredients sourced from Vietnam, explore their country's flavors with VBQ's Vietnamese Barbecue and Hotpot. Grill your choice meats marinated in Vietnamese spices, get a taste of staples in their cuisine, and enjoy the array of beverage selections they have to offer. Their Beef Pho Pot, a rendition of the popular street food served in hotpot is a must!
No reservations accepted
View menu
View their Facebook page
View their Instagram account
4970 Guerrero St, cor P. Guanzon St, Poblacion, Makati
(0917) 624-1282
Tai Koo brings authentic Hong Kong roasts to Manila with popular selections such as Char Siu Pork, Roast Pork, Chicken, and their sought-after, Roast Duck, which is flown in all the way from Hong Kong. All their meats are roasted daily and you can pair them up together or with a choice of dessert.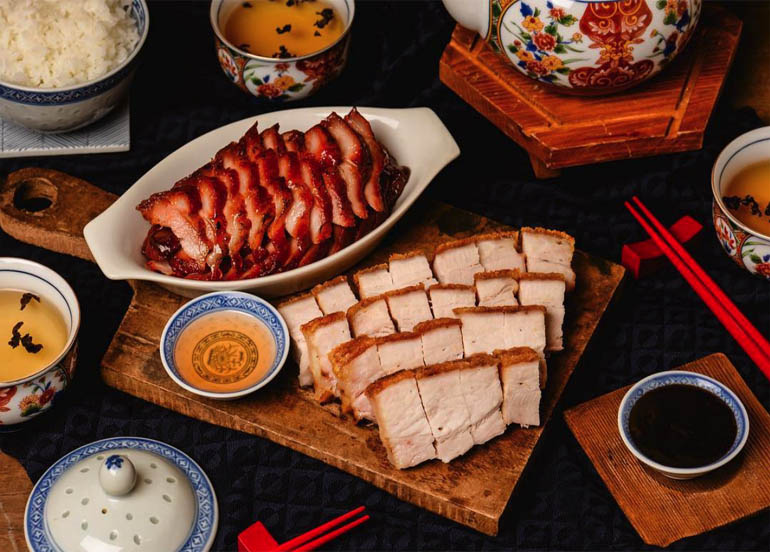 Reservations are accepted
View menu
View all branches
View their Facebook page
View their Instagram account
Transport yourself to Old China with Good Luck Hot Pot's 24/7 service offering high-quality meat, seafoods, and vegetable selections. Incorporating Chinese traditions through their historic dynasty-style interiors, also feast your eyes on their face-changing opera performance known as "bian lian" as well as their long-spout teapot show.
No reservations accepted
Check them out here
View their Instagram account
107 Diosdado Macapagal Blvd, Pasay, Metro Manila
Spot a new restaurant? Let us know! Send us an email at support@phonebooky.com with all the details. Keep tagging us on Instagram @bookyapp #bookymanila so we can join your food trips around the city.
If you still haven't, download Booky for free on iOS and Android and enjoy the convenience of searching and booking restaurants OFFLINE!
Get first dibs on all the latest and newest weekly restaurant openings in and around Metro Manila every week through Booky's app, blog, & website.