It's no sur-fries that potatoes are this versatile.
A well-known side dish that goes well with burgers, hotdogs, and steaks, when we crave for something filling, salty, and somewhat messy, french fries are always there to save the day. But did you know that these lovely little potato packages come in various shapes, sizes, and servings?
Also read: The Foodie's Guide to Buy 1 Get 1 Deep-Fried Goodness Around the Metro
If you do, good for you! If not, then allow us to diversi-fry your options and show you different kinds of ways you can have your french fries. Check out our list of 12 types of french fries you foodies who have a passion for finger food may just enjoy.
Standard Cut French Fries
The basic and original cut of french fries, the standard cut french fries made of potatoes has just the right amount of crispy in every bite.
Sweet Potato Fries
A sweeter and dare we say, healthier version of a standard cut potato fry, sweet potato fries are perfect for when you want a hint of sweet, salty, and starchy.
Crinkle French Fries
Want more texture on your standard cut fries? Then the crinkle french fry is for you. Get more "crust" and crisp thanks to the groves all around it's body.
Shoestring Fries
Want to feel like you're getting the most out of your fry experience? Then get a cup of shoestring fries, they may be smaller and thinner but one thing's for sure, when they're a lot in a huge cup, they're more than what meets the eye.
Curly French Fries
Not quite as crispy, curly french fries is the more exciting sister of the standard cut fries in that it tastes just like a standard cut fry but has a more fun shape.
Potato Tornado/Spirals
Everything tastes better on a stick – potatoes included. A portable yet interesting way to eat potatoes, the potato tornado or spiral is the perfect snack to munch on when you don't want to be bothered to get your hands messy.
Also read: 24 Buy 1 Get 1 Deals for Foodies Who Don't Mind Getting their Hands Dirty!
Potato Wedges
Some people just like it thicc and if you're one of them, then potato wedges are the fries for you! Suggestion: Try them with a flavorful dip!
Crisscut Fries or Waffle Fries
When one fry string isn't enough, there are always more as seen in crisscut fries or waffle fries.
Tater Tots
Looking for potato bites? Then tater tots are the fried treats for you – crunchy on the outside, soft on the inside, and small enough for you to chuck several in your mouth all at once to enjoy.
Cheese French Fries
If you're willing to get down and dirty, then get yourself a plate of cheese french fries – standard cut fries all smothered in cheese sauce.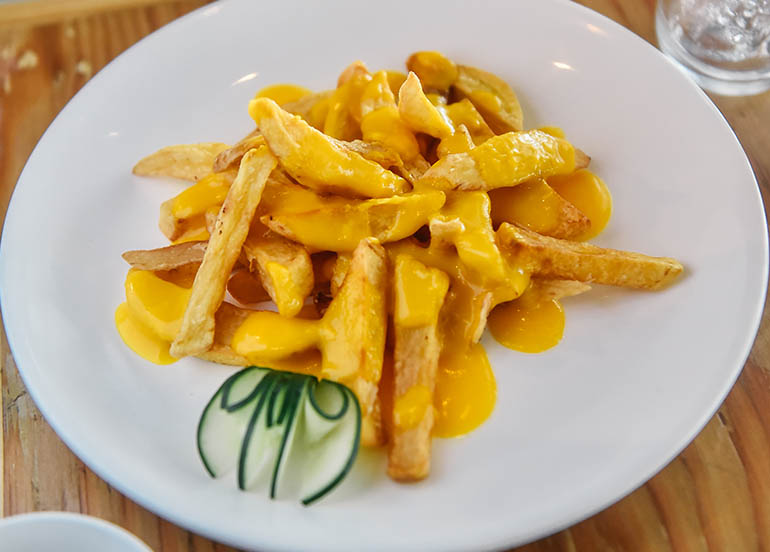 Chili Cheese Fries
One of the more sinful ways to devour fries, the chili cheese fries will satisfy your savory cravings in more ways than one – through it's saltiness, it's cheesiness, and it's meaty, messy goodness.
Poutine
What could probably be considered as the most indulgent way to enjoy fries, the poutine is a mix of french fries, gravy, and melted cheese, all of which are combined to create that satisfying, salty, rich flavor.
Every day's a fry-day when you're eating different kinds of french fries! Want to start with your mini celebration today? Head on to NYFD!
Insider tip: With Booky, you can get Buy 1 Get 1 Shoestring Fries for you and a friend or for you and your french fry cravings!
Queen's Size Flavored Shoestring Fries
Choose from a combination of Cheese, Sour Cream, BBQ, or Plain with Dip.
Price: Get Buy 1 Get 1 Queen's Size Flavored Shoestring Fries for only ₱200 which you can enjoy everyday!
To claim the BOGOs from NYFD just follow the steps below:
Download

the Booky app and sign up for a free trial.

Scan

the QR code at the branch's counter.

Pick

a coupon to avail.
Guess what! Booky has more Buy One Get One promos waiting to be claimed! Just download the Booky app and go to the Buy 1 Get 1 tab to check out all the exciting food you can claim throughout the metro!
Remember to tag us in your photos with the hashtag #BookyTwinning to be featured!