Book now and get ₱300 off! *Restaurant is permanently closed*
BGC is known to be the home of top business companies, famous clubs and delicious treats. We can all agree that food truly brings us all together and we know a place that serves authentic Italian comfort food with a cheerful yet laid back ambience, perfect for friends and family gatherings.
Also read: Top 10 Most Loved Restaurants in BGC, Taguig this month!
Book a table here and get a discount!

Established in 2004 by the Les Amis Group, one of the most influential restaurant groups in Southeast Asia, Peperoni Pizzeria is an all-day Italian casual dining restaurant offering Italian classics, specializing in wood-fired pizzas. With their Italian comfort food and a cheerful and light ambience, they aim to bring people closer together.
Fun fact: Peperoni means bell pepper in Italian.
Peperoni Pizzeria was first born in Singapore. Now, due to their success, they currently have 7 branches in Singapore and one in Myanmar.
While owner, Andrew Chan, was still studying in Singapore, he already loved Peperoni and the comfort food that they serve. It's his favorite hangout spot to relax and unwind. By chance, when the Les Amis Group came to the Philippines, the CMG Retail Group got connected with them for a potential partnership. With a successful partnership and deal, everything was history. They currently have 2 branches in the Metro, BGC and QC.
Peperoni Pizzeria uses good quality ingredients on the food that they serve. Their dishes are delicious at an affordable price.
Fun fact: Their dough and tomato sauce is made in house every day, ensuring that every pizza served is freshly made.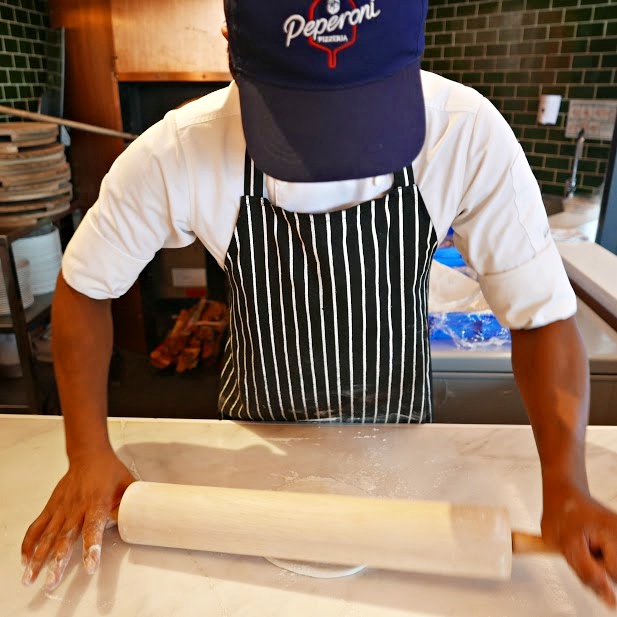 They bake their pizza at a wood-fired oven, making their pizza crispy and flavorful.
Let's have a closer look at their food. Good news is they have many new dishes that you should try!
New dishes
Carbonara Pizza
Bacon, parmesan & mozzarella in cream sauce. This flavor is specifically made for the Philippine market.
La Carne Pizza
Bacon, pepperoni, shiitake mushrooms & onions. This flavor is also specifically made for the Philippine market since Filipinos are very fond of all meat pizzas.
Risotto al Nero di Seppia (Squid Ink Risotto)
Arborio grains cooked in squid ink sauce with squid rings
Risotto ai Funghi con Tartufo (Funghi Risotto)
Arborio grains cooked in white wine sauce, with porcini and button mushrooms, parmesan cheese and truffle oil.
Bianca Pasta
Sliced garlic and parmesan cheese in light cream sauce.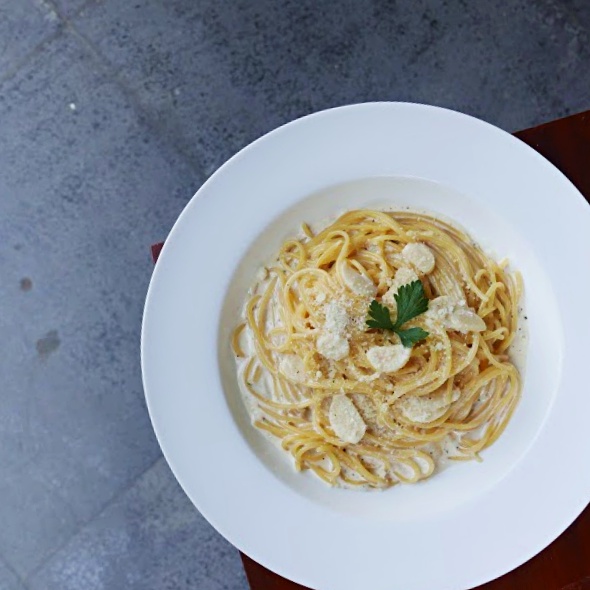 Funghi e Tartufo
Sautéed shiitake and button mushrooms in truffle cream sauce
P.S. After trying their new dishes don't miss out on their bestsellers as well!
Bestsellers
Caprese Salad
Fresh mozzarella, tomato slices, basil and olives
Bacon Miele & Prosciutto Crudo di Parma
You can pick any 2 pizza flavors when you order large and XXL-sized pizzas.
Bacon Miele – bacon, honey, fresh oregano & gouda cheese
Prosciutto Crudo di Parma – parma ham & rocket salad
Fun fact: Bacon Miele is a pizza flavor specially made for the Philippines
Aglio Olio e Peperoncino
Sliced garlic and red chili in olive oil
Dessert
Tiramisu
Savoiardi, layered in mascarpone, flavored with aromatic coffee and kahlua.
Insider tip: You can get a Tiramisu for free when you book through Booky and fill out the feedback form after your meal! Also, you can get a free Tiramisu on your birthday.
Drinks
They also serve alcoholic beverages like specialty beers, wine, cocktails and mocktails.
Peroni beer & Hoegaarden Rosee
Did you know that with Booky Prime, you can reserve a table at 500 top restaurants in Metro Manila, including Tagaytay? Sign in to your account now on the web or in our app!
Keep tagging us on Instagram @bookyapp #bookymanila so we can join your food trips around the city. We see you!