Discover the best views in Metro Manila, Baguio, and Tagaytay!
A restaurant with good food is one thing, add a killer sunset view and it just takes the experience to a whole new level. Let's face it, dining with a good view just makes eating out all the more worth while.
So for this list, we present to you restaurants in and out of Metro Manila to get that priceless bright orange view. So be sure to add them onto your 'MUST-TRY' list on the Booky app so you never miss any of them because trust us, you're going to want to visit all of them.
To see our first list on restaurants with breathtaking views, you can check it out here.
If you're a Booky Prime member, you can book, dine and get discounts of up to P500 at these 500 partner restaurants around the city.
Metro Manila
Established in 1953 in Fukoka, Japan, Uma Uma serves 100% MSG-free, umami-filled, Hakata-style ramen. It currently serves 8 signature flavors. We recommend their Mazesoba, Spicy Chasiu Ramen, and their signature Uma Uma Ramen.
Reservations are accepted
View menu
View their Instagram account
Level 2, S Maison, Conrad Manila, Seaside Boulevard cor Coral Way, Pasay
(02) 800-7663
Sunset Bar – Sofitel Philippine Plaza
Sunset Bar is one of Sofitel's many restaurant and bar choices, this one specifically offers al fresco dining with a fully stocked bar. Add that with the ambiance of Manila Bay and you've got yourself a night made.
Insider tip: They have barbecue specials on Friday and Saturday nights!
No reservations accepted
View menu
View their Instagram account
Sofitel Philippine Plaza, CCP Complex, Roxas Blvd, Pasay
(02) 551-5555
Harbor View is a Filipino seafood restaurant that sits on the edge of Manila Bay with its dining area extending over the waters for a beautiful view of the sky and sea. We recommend their Rockefeller Oysters, Sinigang na Salmon, and Lobster Chili.
Also read: 15 Best Classic & Modern Seafood Restaurants in Metro Manila
Reservations are accepted
View menu
View their Facebook page
1000 South Gate A, Rizal Park, Ermita, Manila
(02) 524-1532
Vu's – Ortigas
Vu's is a skybar and lounge settled on top of Marco Polo Ortigas. With 45 floors up from the ground, the view is nothing but stellar. We recommend their cocktails such as the Sapphire Road (their award-winning signature cocktail), Paparazzi, Aqua Ball, and the Godfather.
View menu
View their Instagram account
45/F Marco Polo, Meralco Ave, Ortigas, Ortigas, Pasig
(0926) 697-9630
BGC is just full of intimate and romantic escapes, and Straight Up is one that should definitely be shooting to the top of your list! A cocktail bar and lounge located at the very top of the Seda building, drop by for a night of incredible tapas, drinks, and fabulous music under the stars.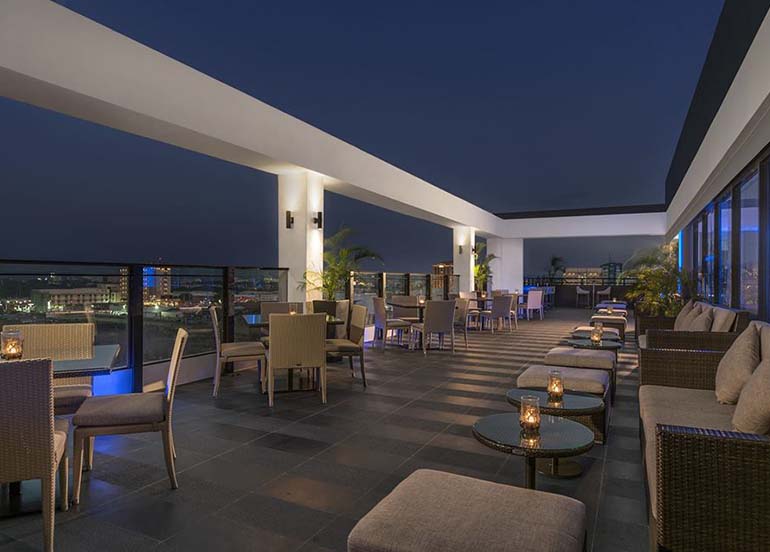 Reservations are recommended
View menu
View their Facebook page
View their Instagram account
Seda Hotel, 30th St. cor. 11th Ave., Fort Bonifacio, Taguig
(02) 945 8888
The Nest combines familiar comfort food with gracious personal service beneath the warmth of life and laughter as you dine on the 31st floor of Vivere Hotel. Enjoy a premium dining experience complete with a sweeping view of the south.
Reservations are recommended
View menu
View their Instagram account
31/F Vivere Hotel, 5102 Bridgeway Ave. cor. Asean Dr., Alabang, Muntinlupa
(02) 771 7777
Baguio
Foggy Mountain Cookhouse by Chef 'Babes' Reyes is a hidden gem that provides a private dining experience with a beautiful scenery to its customers. Chef Babes will personally cook and prepare some of his Mediterranean-inspired dishes with must-tries such as the roasted leg of lamb, truffle pasta, and his cookhouse banana foster. Read our full feature here.
Read more: Romantic Baguio Restaurants For Your Next Out-Of-Town Date
Strictly by reservations only (at least 1 day ahead)
View menu
172 St Joseph Street, San Carlos Heights, Baguio City
(0916) 767-4687
Secret Garden is a tucked away and laid-back Italian place specializing in thin-crust, brick-oven style pizza, Italian pastas, and traditional Filipino rice dishes. Enjoy the experience of locating this garden restaurant, the ambiance and most especially, the food.
Reservations are accepted
View menu
View their Facebook page
View their Instagram account
34 Paterno Street, South Drive Rd, Baguio City
(0915) 935-9865
Eve's Garden is a restaurant gem that is perfect for your sweet lunch dates. It serves organic and healthy lunch meals which include a refreshing drink, soup, a colorful garden salad, main course, a dessert and coffee/tea. The place is only open from 11:30AM to 2:30pm and customers are kept to a minimum so reservations are required.
Strictly by reservations only
View menu
View their Facebook page
View their Instagram account
ME 132 Upper Lamtang Road in La Trinidad, Baguio City
(0920) 947-6264
Owned by Kidlat Tahimik who also owns Ili-Likha Artist Village, Oh My Gulay is a vegetarian cafe and restaurant sitting on the 5th floor of the green-colored La Azotea Building on Session Road. Yes, you'll have to climb all five floors to get there but the view is definitely worth it.
No reservations accepted
View menu
La Azotea Building, 108 Session Road, Baguio City
(074) 446-0108
Tagaytay
Terraza of Balay Dako is located on the top floor of this extraordinary place of dining. Just like the main dining room located below, diners are treated with the typical delicious experience Balay Dako is known for. But Terraza stands on its own with their signature cocktails and their mouthwatering tapas and pizzas amidst breathtaking views of Taal Lake.
Reservations are accepted for function areas
View menu
View their Instagram account
Emilio Aguinaldo Highway, (Nasugbu – Tagaytay Road), Silang Crossing West, Tagaytay
(046) 483-4847
Charito is the secret spin-off sister of Bag of Beans. Named after its owner, Charito Antiquera, it is an upscale version of its predecessors. Bag of Beans specialties are still served, but Charito offers select European dishes. We recommend their bestselling Roast Beef, Baby Back Ribs, Grilled Pork Chops and Grilled Salmon. Read our full feature here.
Insider tip: Try getting a table in the al fresco area for the best view of Tagaytay.
Reservations are accepted
View menu
Maharlika East, Tagaytay-Nasugbu Highway, Tagaytay
(02) 483-1279
Qiwellness Living is an Asian fusion tea house, a bathhouse and spa destination. It's inspired by centuries-old architecture, cuisine, and healing practices of China, combined with modern design, culinary techniques, and advances in wellness.
Reservations are recommended
View menu
Check out their websiteView their Instagram account
Aguinaldo Highway, Brgy. Maharlika East, Tagaytay
(0917) 522 6969
Sonya Garcia's Garden is a tucked away bed and breakfast, a wellness spa, a country store, a panaderia, a cottage restaurant and a well-kept secret garden. It is one of the top choice destinations for a romantic getaway during weekends for Manilenos.
Insider tip:  If you're a bit adventurous, you can pick and eat the flowers right off their garden.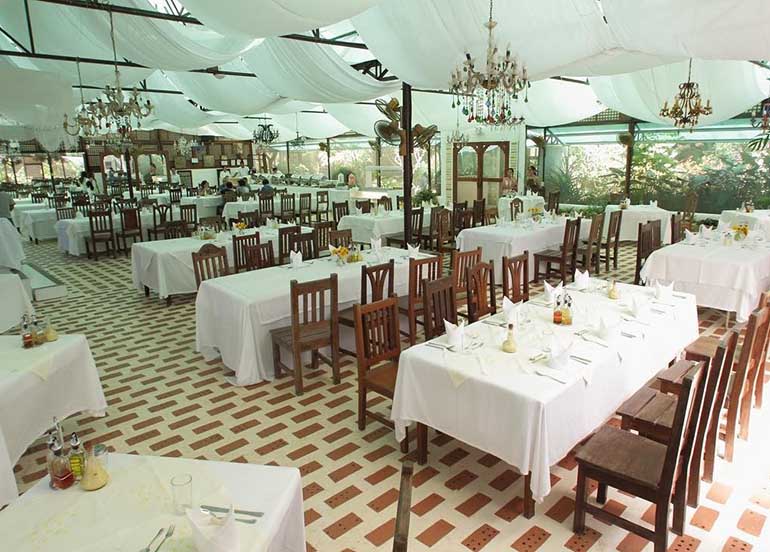 Reservations are recommended
View menu
Check out their website
View their Instagram account
Check out their Facebook page
Barangay Buck Estate (near Tagaytay), Alfonso, Cavite
(0917) 532-9097; (0917) 533-5140; (0917) 523-1080
Marcia Adams' is a tucked away Tuscany-inspired garden restaurant that serves Mediterranean dishes prepared by owner Marcia. It's perfect for a shortromantic getaway for special occassions. Bestsellers includethe Grilled Aromatic Pork, Classic Shish Kebabs and Banana Split.
Insider Tip: Reserve the sunset lounge for a majestic Tagaytay sunset view.
Reservations are required
View menu
View their Facebook page
JP Rizal St., Bgy. Sikat, Alfonso, Cavite, Tagaytay
(0917) 801-1456
Know any more restaurants with stellar views? Share it with us in the comments below or tag us on Instagram @bookyapp on all your food finds! If you still haven't, download Booky for free on iOS and Android and enjoy the convenience of searching and booking restaurants offline.
Like an egg yolk in the sky.