Kulang nalang kanin o puto!
Rich, thick, and no doubt savory, the dinuguan may be a fear factor, exotic ulam to non-Filipinos, but for Filipinos who love their fair share of pig and pig's blood (ahem, betamax, ahem), this ulam's sure to hit close to home in more ways than one.
Looking for more Filipino eats? Check out 13 Buy 1 Get 1 Deals of Your Filipino Food Favorites!
Even though there are over 5 regional variations of dinuguan, no matter where you try it, this ulam always has these several core ingredients: pig's blood, meat (usually pork), and spices.
So, if you're looking to make some at home, make sure you have these ingredients on hand. Even better, to help you out, here are some recipes you can follow!
Classic Dinuguan
Nothing beats the classic! If you want your fix of the simple, humble, and delectable dish, simply follow the recipe below!
Here's a modified recipe from Kawaling Pinoy:
Ingredients:
10 ounces of pig's blood (dugo ng baboy)
1 cup and 2 tbsp vinegar (suka)
1 tbsp oil (mantika)
1 peeled and chopped onion (sibuyas)
4 peeled and minced cloves of garlic (bawang)
1 peeled and minced small knob of ginger (luya)
2 lbs of pork belly cut into 1/2 inch strips
1 tbsp fish sauce (patis)
1 cup water (tubig)
1 tbsp brown sugar
2 finger chilies (siling pansigang)
Salt and Pepper to taste (asin at durog na paminta)
Instructions:
Pour the pig's blood in a bowl, add the 2 tbsp. of vinegar and stir well. In a separate pot, saute onions, garlic, and ginger until they wilt. Then add the pork and stir occasionally until the pork is lightly brown. Afterwards, add the fish sauce and continue cooking for 1 – 2 minutes. Follow it with the vinegar and bring the mixture to a boil. Once it's boiled, cook it uncovered until it's slightly reduced or for 5 minutes without stirring. After that, add water and bring it to a boil. Once more, lower the heat, cover and cook for about 15 minutes or until the meat is tender. Finally, add the pig's blood (stir to prevent lumps), add brown sugar (stir to dissolve), add the chili peppers, and sprinkle salt and pepper to taste. Allow the mix to simmer for 10 minutes or until the sauce is thick before enjoying with rice or puto.
Crispy Dinuguan
Want a little more texture? Then this recipe for Crispy Dinuguan is for you.
Here's a modified recipe by Chef Miguel Valdez:
Ingredients:
Pork Belly
Bay leaves (dahon ng laurel)
Whole Peppercorn (pamintang buo)
Salt (asin)
Water (tubig)
clear soda
oil (mantika)
ginger (luya)
pig's blood
vinegar (suka)
seasoning
sinigang mix
Optional: Fried garlic (tostadong bawang) and onion chives (dahon ng sibuyas)
Instructions:
First, boil the pork belly in a mixure of water, clear soda, peppercorn, bay leaves, and salt for 40-45 minutes until the pork is tender. Once tender, slice the pork belly intro strips and fry it into into a pan of hot oil until it's cooked and crunchy. In a separate pan, saute the onion, ginger, and garlic. Add the pig's blood, vinegar, seasoning, and sinigang mix and allow the mixture to reduce; this will be the sauce. Once the sauce is reduced, pour over the pork belly or serve in a separate bowl. Enjoy with rice or puto.
Dinuguan Kampapangan (Tidtad Babi)
Betamax lovers, this one is for you! If you love chunky pieces of pork blood, then you will definitely love this recipe.
Fun fact: This dish is also called Dinuguang Puti.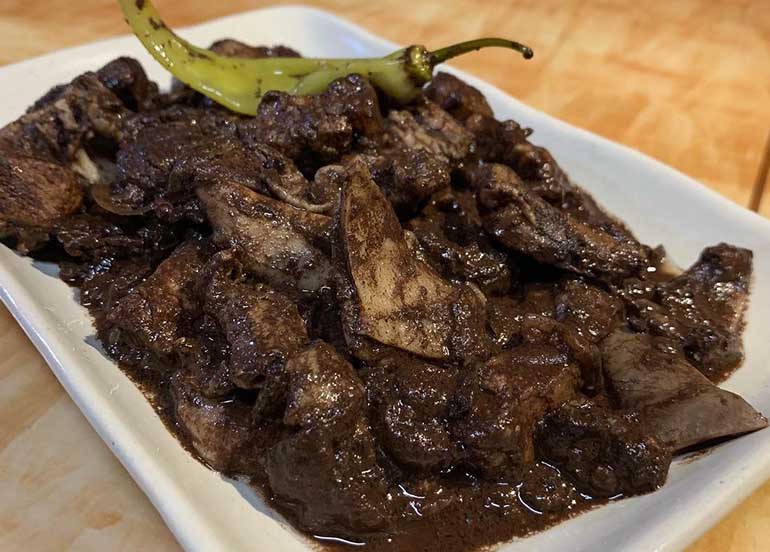 Here's a modified recipe from Panlasang Pinoy:
Instructions:
1 1/2 kg of pork mask or pork kasim
3 cloves of crushed garlic (bawang)
1 chopped medium sized onion (sibuyas)
3 tsp of fish sauce (patis)
3/4 cup vinegar (suka)
4 cups water (tubig)
5 pcs finger chilies (siling haba or siling pansigang)
1 cup pork blood (dugo ng baboy)
oil (mantika)
salt and pepper to taste (asin at durog na paminta)
sugar to taste (asukal)
Now that you have some recipes, get to cooking!
However, if you're not in the mood to make some anytime soon, thanks to Booky, you can get TWO DINUGUAN MEALS for the price of one at no other place than Santiago!
Santiago Dinuguan Meal
Price: Buy 1 Get 1 for ₱267!
View menu
202 Katipunan Ave, Project 4, Quezon City
(02) 632-7357 | (02) 978-5049 | (0917) 712-7042
Guess what! Booky has more Buy One Get One promos waiting to be claimed! Just download the Booky app and go to the Buy 1 Get 1 tab to check out all the exciting food you can claim throughout the metro!
Remember to tag us in your photos with the hashtag #BookyTwinning to be featured!