Lobster buns, seafood boodle, unli-crabs and more!
The Philippines is known not only for its halo-halo or adobo, but also for its fresh seafood. Being an archipelago and hence surrounded by vast seas means we don't need to go too far to taste the flavors of the sea. With a lot of exciting seafood concepts in Manila offering exciting fresh seafood fare, you're bound to find a restaurant you'll love, starting with this list!
UPDATE: See the Top 10 Most Loved Restaurants in Metro Manila this month (October 2016)!
You can also search for "SEAFOOD" or something as specific as "GARLIC CRAB" on the Booky app to get a filtered list of restaurants serving them.
Blackbeard's Seafood Island prides itself in being the home of the original boodle feasts, perfect for any type of celebration. Choose from over 12 unique boodles and enjoy their selection of fresh Paluto dishes such as lobster, crabs, catfish, and more. With all its fresh food offerings, Seafood Island is sure to give the best Seafood Dining Experience to its loyal customers.
Insider Tip: It has over 38 branches in the Philippines, search for a branch near you on the Booky app!
The Red Crab Alimango House is the go-to choice of Filipinos for the ultimate fresh crabs and seafood experience. it is a definitive place for locals and balikbayans alike. Whether it's broiled, steamed, or fried you can trust The Red Crab to prepare crab and seafood favorites just the way you like it.
Owned by restaurateur Raymund Magdaluyo and celebrity chef Peter Ayson, this is a Hawaiian-inspired restaurant that invokes a fresh and laidback vibe, as if you're out hanging by the beach. For starters, the Special Seafood Poke is a must-order, followed by the Classic Kahuku Shrimp Truck, and Crab Palabok. Also read: 10 places in Manila to get Poké.
Gumbo – various branches
Gumbo offers an authentic taste of Cajun and Creole cooking specializing in juicy steaks and ribs, pastas and fresh seafood fare. Some of its popular dishes include the gumbo and seafood jambalaya.
This little seafood shack specializes in serving large crabs for a very reasonable price. It is most popular for its crab-all-you-can promo. For only P699, get unlimited crabs, rice and iced tea. Children under 4ft. can go unli for only P300. Other seafood bags available: mussels, shrimps, clams and squid.
Reservations are accepted
View menu
View their Instagram account
77 Visayas Ave, Quezon City
(02) 709- 3740
Bag o' Shrimps is the perfect family bonding treat. Bag o' Shrimps is a "wharf-in-the-city" seafood-shack featuring rich flavors of the sea, specializing in scrumptious seafood in boiling bags
Insider Tip: They also offer cheap imported beers!


Reservations are accepted
View menu
View all branches
View their Instagram account
It can't get any better than this: Dampa sa Libis. As one of the longest standing "Dampa" Restaurants in the City, Dampa sa Libis serves seafood in the realest way possible: Straight from the Aquariums and cooked in any way you want it.
No reservations accepted
107 E. Rodriguez Jr. Avenue, Libis, Quezon City
(02) 395-5050
Choobi Choobi is a popular Cebu-based Filipino seafood restaurant serving fresh seafood fare specializing in shrimps straight from the owner's shrimp farm. It also has branches in Davao, Bacolod, Laguna and Iloilo.
Reservations are accepted
View menu
View their Instagram account
102 Panay Ave., South Triangle, Quezon City
(02) 372-2654
Ming Kee Live Seafood is a popular seafood restaurant found in Macpherson Road in Singapore and is most famous for its fresh seafood dishes, specifically its Crab Beehon dish. Ming Kee specializes in Southern Chinese dishes by Chef Ivan Tan and Rick Lim.
Also read: 15 Specialty Restaurants to Try in Poblacion Makati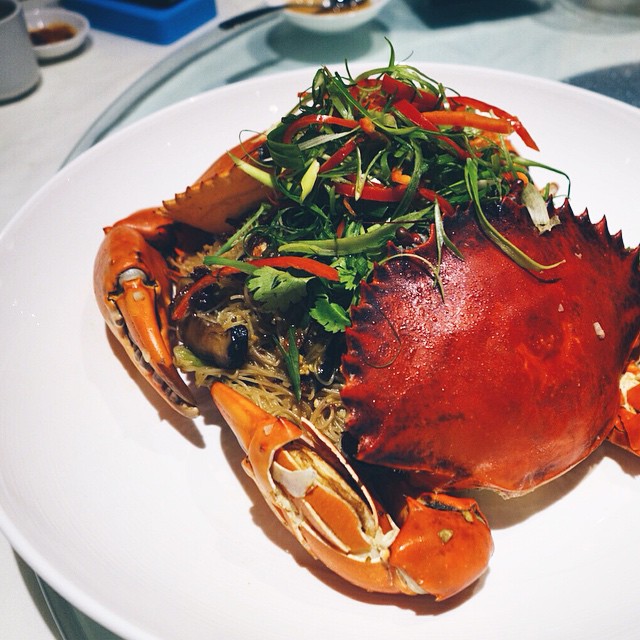 Reservations are accepted
View menu
View their Instagram account
7852 Makati Ave., Poblacion, Makati
(02) 893-4533
7107 Culture + Cuisine is a a culinary and hospitality food hall that aims to educate and promote the heritage and local food of the Filipinos. Tourism, Hospitality and Culinary students of Treston International College are immersed in real restaurant operations and management. Read our full feature here.
Reservations are accepted
View menu
View their Instagram account
G/F Treston International College, University Parkway District, 32nd St cor C-5 Rd, Fort Bonifacio, Taguig
(0917) 807-8023
Bun Appetit – Salcedo Market
Bun Appetit is one of the most popular vendors at the Salcedo Saturday market in Makati. It serves 3 bestselling seafood rolls: lobster, crab and shrimp rolls. Also catch their new Lobster Grilled Cheese Sandwiches starting this weekend.
Pick-up and delivery available
View their Instagram account
Salcedo Market, Leviste St., Salcedo Village, Makati
(0947) 890-8010
Blue Posts Boiling Crabs is a known family-style seafood restaurant from Davao that offers fresh seafood boiled, marinated in different flavors and sealed in bags. Get ready for messy tables, as well as messy hands and faces.
Fun fact: It was once known as a bar and party place.
No reservations accepted
View menu
View their Instagram account
4/F SM North EDSA, The Block, Quezon City
If you still haven't, download Booky, free on iOS and Android, to get a handy list of restaurants in Metro Manila, Tagaytay and Baguio that don't even require internet! Yes, we are an offline directory. Get more out of your app by signing up to Booky Prime to get access to discounts of up to P500 at 400 partner restaurants around Manila.