Serenitea all day, every day.

With over 70 branches across the Metro, it's no wonder Serenitea is a crowd favorite. This homegrown brand offers almost every kind of pearl milk tea and tea latte out there.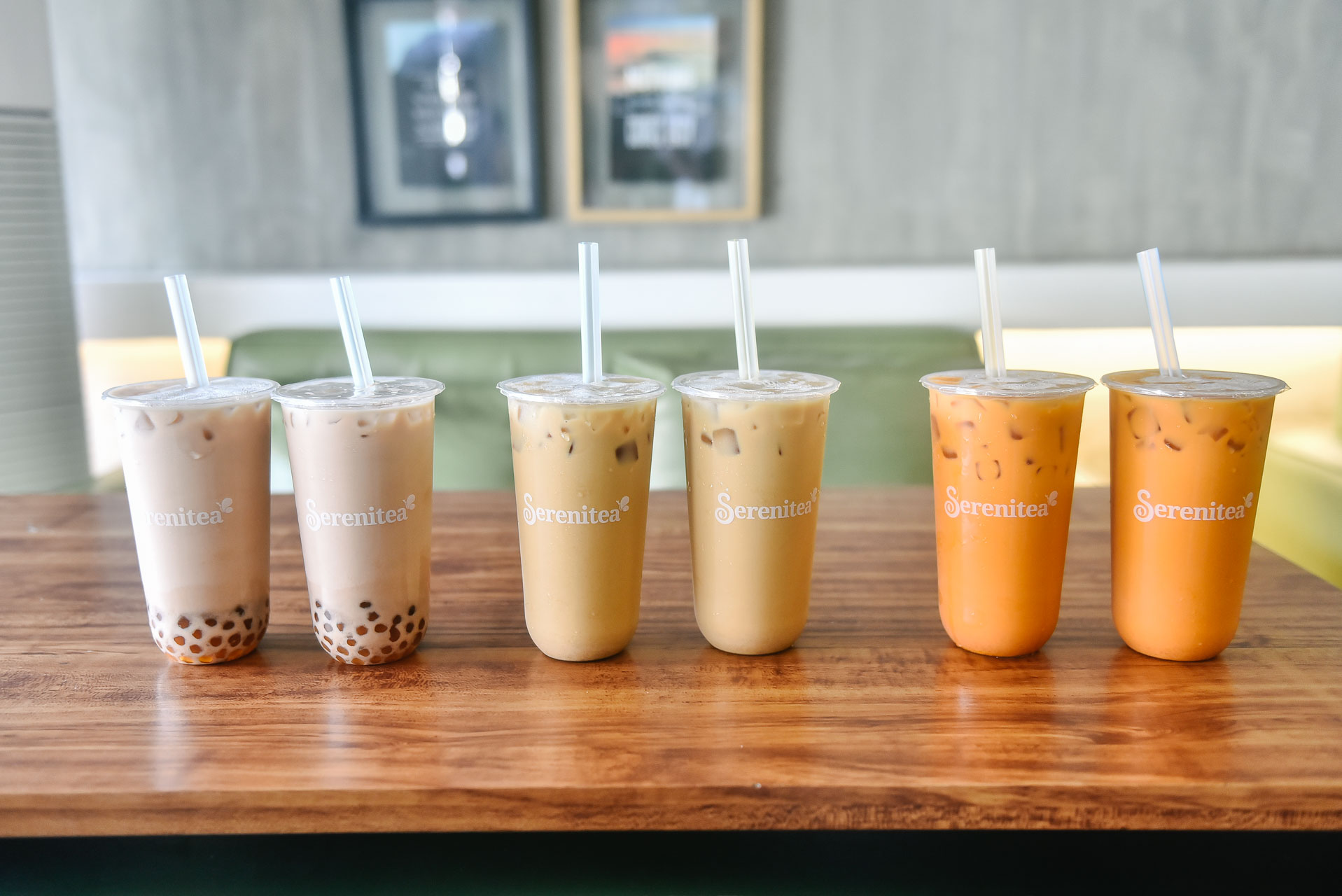 While even their most basic teas will leave you feeling satisfied, people come to Serenitea for the level of customization that they offer, from sinkers to ice and sugar levels!
We at Booky are no strangers to the milk tea hype – a big portion of our team actually orders milk tea on a daily basis, and Serenitea is one of our favorites! We did a poll on our favorite Serenitea products, and here are the results:
10. Fries and Dip
Mexican-inspired French fries with special house blend tartar sauce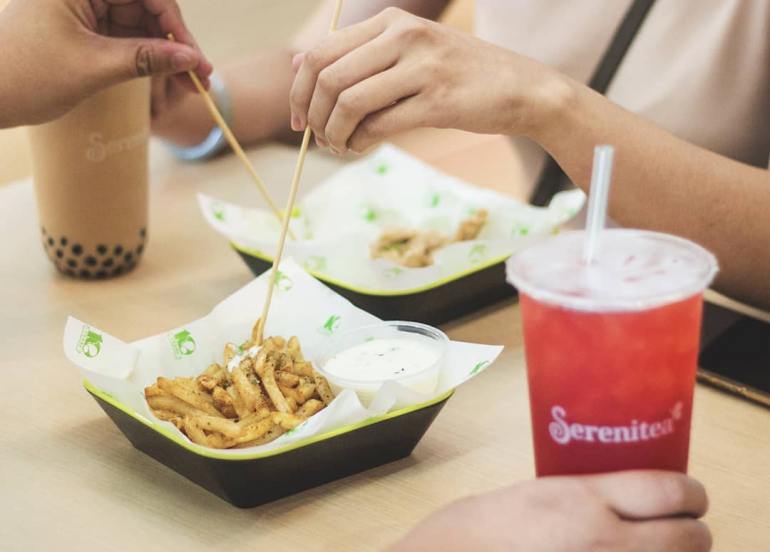 9. Mexican Wings
Deep-fried chicken wings, crispy on the outside and tender on the inside flavored with authentic spices, sharp in flavor, mildly spicy
8. Yakult Series
Healthy Yakult mixed with your choice of fruit juice
7. Matcha Latte
House blend matcha green tea with creamy milk over ice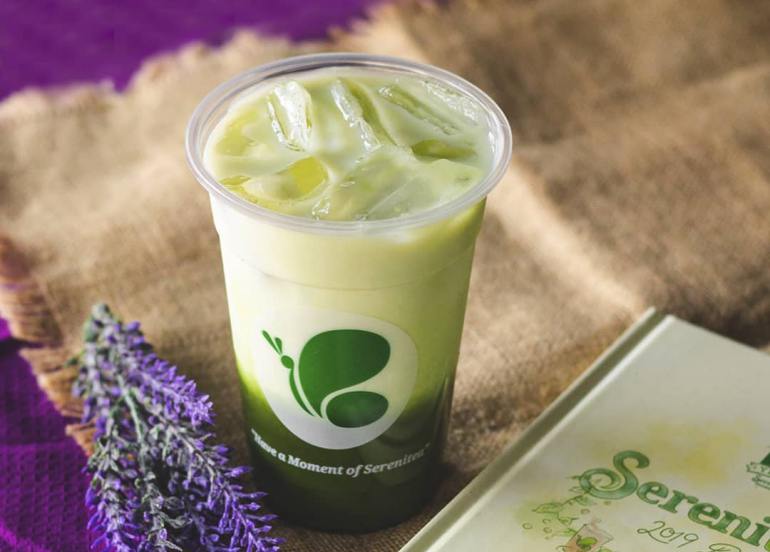 6. Thai Tofu
Deep-fried tofu cubes served with Serenitea's signature chili and garlic sauce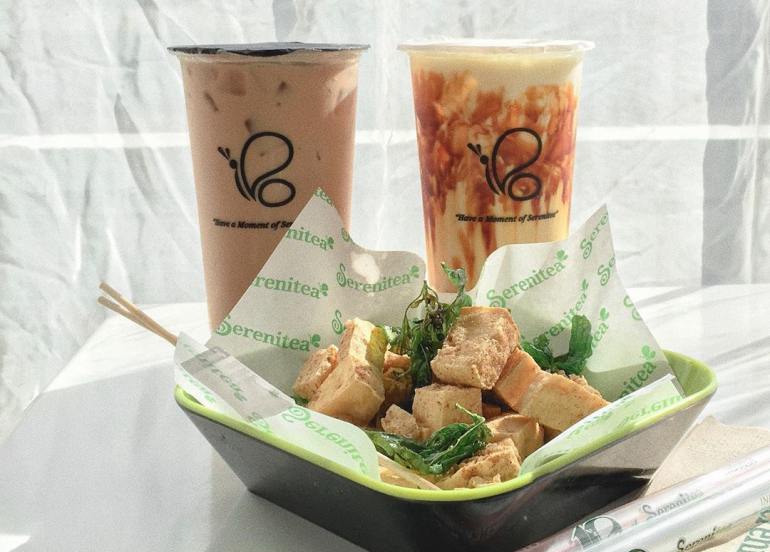 5. Assam Black Tea
Full-bodied black tea base with creamy milk tea
4. Chocolate Drinks
Different creamy milk teas and iced drinks with rich chocolate, including favorites like Milo Dino, Choco Royal Milk Tea, and Malty Choco Milk Tea
3. Fruit Teas
Soothing green tea or robust black tea infused with the fruit of your choice
2. Taro Lover
Ube or taro yam flavor with creamy milk
1. Spicy Chicken Chop
Breaded chicken strips sprinkled generously with zesty spices
Chuchu We've heard your pleas and now, the long wait is over. Thanks to Booky's exclusive new deal with Serenitea , you can enjoy DOUBLE THE TEA!
Which of our top 10 favorites made your list too?
If you can't get enough of Serenitea like us, you'll be happy to know that we've got a deal for you. You can DOUBLE THE TEA with us and get twice the milk teas and fruit teas at 30% off!
Royal Milk Tea
A distinctly creamy and sweet Thai Milk tea that's impossible to say no to.
Price: 2 orders for only ₱147!
Emperor Milk Tea
A pleasing blend of strong royal milk tea with a hint of caramel, complemented by creamy milk
Price: 2 orders for only ₱154!
Grapefruit Fruitea
A refreshing blend of citrus grapefruit infused in your choice of soothing green tea or robust black tea
Price: 2 orders for only ₱154!
Before you head over to Serenitea to claim these exciting new drink deals, we hope you can consider bringing your own reusable straws. By reducing your consumption of single-use plastic straws, you will be doing a huge service to the environment. If you are not yet building the habit, today is a good day to start!
To claim these offers from Serenitea, just follow the steps below:
Download

Booky's app and sign up for a free trial
Scan the QR code at the counter
Pick a coupon to avail
Guess what! Booky has Buy One Get One promos waiting to be claimed! Just download the Booky app and go to the Buy 1 Get 1 tab to check out all the exciting food you can claim throughout the metro!
Remember to tag us in your photos with the hashtag #BookyTwinning to be featured!