What's shakin' Megamall?
Shake Shack in BGC been open since May 2019, and yet the lines haven't subsided to get a bite of their famous burger.
To anyone waiting (in vain) for the crazy queues to calm down, we have good news for you: Shake Shack is opening their second branch in Manila, and it's in SM Megamall!
Their STACKED menu of the most incredible burgers is back, and just like the first shop, you can't go wrong with any of 'em.
Things are about to get cheesy. Shake Shack's classic oozing cheeseburger Shack Stack is back, with its mushroom burger patty filled with gooey melted muenster and cheddar!
As they always do, Shake Shack offers exclusive menu items for the cities they open in. When they first opened their branch in BGC, we got the "Uuuube-by baby" and "Calamansi Pie Oh My" – a vanilla custard blended with bits of Wildflour's calamansi pie.
But Shake Shack in Megamall has its own special menu up its sleeve. Two brand new Manila exclusives: a mango graham-inspired concrete called "Mega Mangga!" and "Coconut Pie Oh My" blended this time with Wildflour's coconut pie and topped with toasted coconut. 
Just like the calamansi version, 5% of sales of this dessert will benefit Children's Hour, an organization that provides welfare and development for Filipino children.
You ready to hit this world-class burger joint? Get your order ready – or you know, just order everything. Shake Shack in SM Megamall is opening on December 6!
Shake Shack menu
Shake Shack branches
View their Instagram account
View their Facebook page
G/F Mega Fashion Hall, SM Megamall, Doña Julia Vargas Ave cor EDSA , Ortigas, Mandaluyong
Read more about the story behind Shake Shack coming to the Philippines!
The long wait is over- Shake Shack is here! In case you missed it, the world-famous burger joint's official Instagram made the announcement way back in July 18, 2018.
And after almost year, we finally know all the deets. Shake Shack Philippines is opening May 10 at BGC Central Square!
---
Starting out as a humble hot dog cart in Madison Square Park, Shake Shack has grown into a bonafide international phenomenon with massively successful locations in Dubai, Hong Kong, London.
Today, the "modern day roadside burger stand" is one of the fastest growing fast-food brands in the world with massive lines and even bigger hype following Shake Shack wherever it opens.
Fun Fact: There are currently 168 Shake Shacks throughout the world!
But before you brave the long lines, we figured now would be a good time to take a first look at Shake Shack and help you perfect your mouth-watering order before the store even opens!
Insider Tip: Even if you've had Shake Shack before, it's a good idea to get reacquainted with their menu because Shake Shack releases specialized items customized to the local flavors of whichever city it's in. 
Shake Shack might be named for their signature shakes (which are often hailed as some of the best in the industry) but what people really line up for are the burgers- and Shake Shack isn't joking around when it comes to bringing world class burgers to the Philippines!
Boasting a full menu of incredible burgers, it's hard to order the wrong thing at Shake Shack… buuut if you had to make us pick, we definitely recommend trying out the Shack Stack!
This massive handheld delight is Shake Shack's classic cheeseburger stacked on top of a mushroom burger patty which is filled with gooey and delicious melted muenster and cheddar cheese.
We also recommend washing your meal down with the Manila-exclusive Calamansi Limeade, which is a welcome change on the iconic Shake Shack lemonade- this time featuring a calamansi twist!
If you're looking for something sweet after you've devoured your Shake Shack burger of choice, you've got a ton of sweet options.
Though their eponymous milkshakes are definitely delicious and worth trying, the dessert to get are, hands down, the "concretes." A Shake Shack special, a concrete is "dense frozen custard blended at high speed with toppings & mix-ins."
The Manila Shake Shack menu is stacked full of Manila-exclusives! Shake Shack, of course, has an Ube-based concrete called the Uuuube-by baby, which is vanilla custard mixed with ube, coconut marshmallow, crushed ube cookies, toasted coconut and crispy pinipig, topped with leche flan.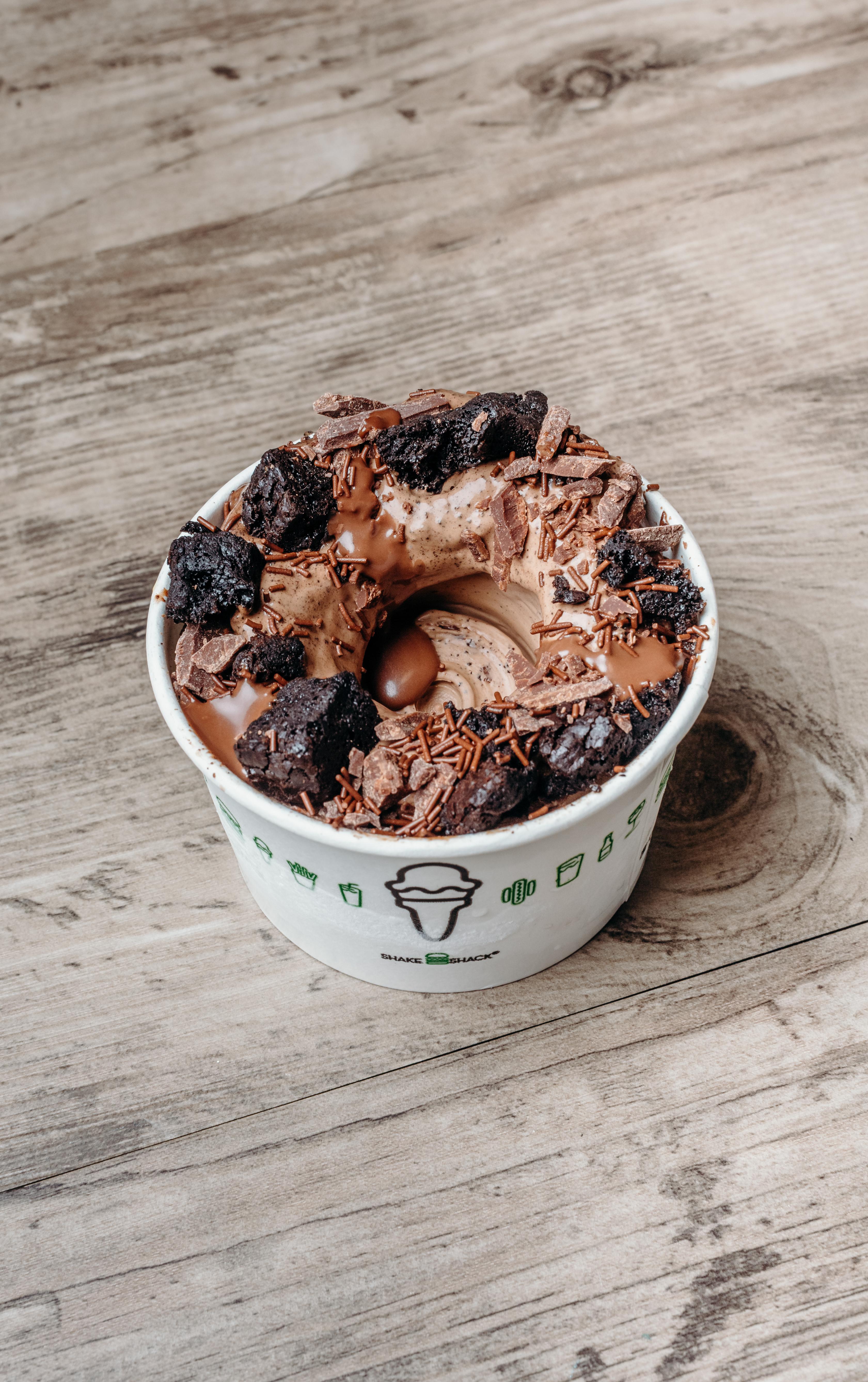 Another Manila exclusive concrete is the Shark Attack, which is
Shake Shack's classic chocolate concrete with fudge sauce and sprinkles with a Manila spin thanks to the addition of brownie bits from Bucky's and 55% cacao chocolate chunks from Auro.
Our favorite Manila item from Shake Shack, however, has got to be the Calamansi Pie Oh My! It's a simple but addictive vanilla custard mixed with calamansi pie from local favorite, Wildflour Bakery.
---
Are you shaking with excitement with your perfect Shake Shack order? Or are you just thinking of getting everything anyway? Whatever your plan of attack is, the very first Shake Shack in the Philippines finally opens in less than a week!
Officially open to the burger-loving public on May 10, 11am at Central Square in Bonifacio High Street along Fifth Avenue, the first 100 guests in line even get to snag some cool Shack swag. Be there as early as 9am, fun activities are in store!
Reservations are not accepted
View their Instagram
Bonifacio High Street Central, 5th Avenue cor 30th Street, BGC, Taguig
Follow Booky on Twitter (@bookymanila) and Instagram (@bookyapp) to stay on top of foodie news! If you're not already enjoying the offline convenience of Booky, you can download the app for FREE on iPhone or Android. Discover over 900 of the top restaurants in Metro Manila and just watch as your foodiverse explodes!