Shake shake sh-sh-sh-Shakey's!
Looking for something to do while at home? Why don't you pick up the skill of cooking and try out preparing an iconic appetizer? More specifically, the beloved mojos from Shakey's!
Mojos
Here's a modified recipe by Pepper PH:
Ingredients (good for 4 servings):
4 potatoes, washed and sliced into 1/4 inch round pieces
2 eggs
1/4 cup of water
2 packs of your preferred breading mix
Cooking Oil (enough for deep frying)
Preferred dipping sauce
Instructions:
Prepare and soak your cut potatoes in a bowl of whisked eggs and water. Set aside,
Heat up your oil in a saucepan until it's 350 degrees F.
Tip: If you don't have a candy thermometer to check, you can put a the end of a wooden spoon or stick. If you see small bubbles around the wood, then you're good to go!
Coat your potatoes in breading and in batches, gently drop them in the oil. Each batch should cook for about 3-4 minutes.
Once cooked, place them on a kitchen towel so the excess oil will be absorbed.
Place the finished mojos on a serving plate and enjoy with your preferred sauce!
Don't think you have the time nor the skill to cook these? Don't worry! Shakey's is still open for take-out and delivery at selected stores. Check down below for dishes from they menu you may want to order.
A restaurant that's been serving up comfort food favorites that are perfect for sharing with family members or within a barkada for over 40 years, it comes as no surprise that when we're craving for mojos, spaghetti, chicken, and of course pizza, Shakey's is definitely the go-to restaurant chain.
Best-seller Pizza Flavor
Manager's Choice Pizza
Considered as their no.1 flavor, the Manager's Choice is loaded with ham, beef, Italian Sausage, as well as green bell pepper and onions for that hint of crunch.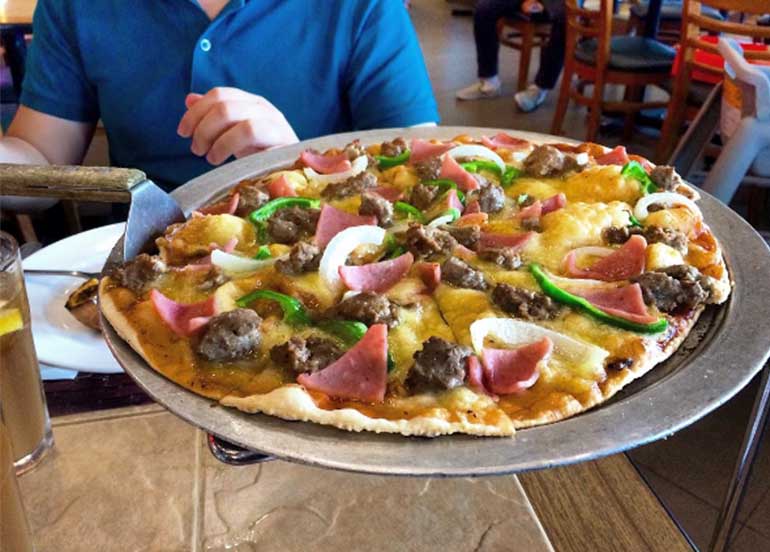 The Classic Pizza Flavors
Pepperoni Pizza
A definite classic, the Pepperoni pizza flavor can't be beaten if you want something simple, salty, and cheesy all in one.
Insider tips: If you want to send it to your significant other, you can order their Heart Pizzamoji Pizza. Or if you want a hint of crunchiness, order the Pepperoni Crrrunch.
Garlic and Cheese Pizza
If you find cheese too boring? Then the Garlic and Cheese flavor is right up your alley! The garlic adds an extra kick and layer of flavor that complements the richness of the cheese.
Pizza Hack: Add another layer of flavor by adding some bacon to the mix.
New Must-Try Flavors
Angus Steakhouse Pizza
Get your steak on with the Angus Steakhouse – a pizza topped with specially blended angus beef, roasted onions, sliced mushrooms, and crunchy potato strings.
Angus Burger Pizza
Burger and Pizza? Trust us when we say: these two flavors work! It tastes just like a burger – complete with patties, onions, lettuce, cheese, and tomato. If you're not a fan of burger buns, you'll love the fact that it's on a thin pizza crust.
Pescetarian-Friendly
Fun fact: A pescetarian is someone who doesn't eat meat but eats fish.
Friday Special Pizza
It may be called a Friday special but this pizza can definitely be enjoyed no matter what day of the week especially by those who love shrimp, anchovies, and mushrooms on top of their pizza.
Scallop Primo
A premium seafood pizza loaded with baby scallops, crab, kani, basil strips, and parsley flakes, the Scallop Primo sure is one of the fancy pizza flavors that Shakey's has offered.
Vegetarian-Friendly
Garden Fresh Pizza
Devoid of meat, the Garden Fresh Pizza is perfect for vegetarians as it has mushrooms, tomatoes, green bell peppers, onions, and garlic.
Quorn Cheesy Chick'n Pizza
Its name may have chicken in its name but it doesn't have meat on it at all! The Quorn Cheesy Chick'n has onions, bell peppers, cheddar cheese, cheese sauce drizzle, and Quorn – a chicken substitute that tastes like chicken but is made of mycoprotein.
Dessert Pizzas
Apple Crumble Pizza
If you're a fan of apple pie, then the apple crumble pizza – topped with fresh apples, cinnamon, dulce de leche, and cream cheese – might just be your new favorite pizza flavor.
Choc'o S'mores
A flavor inspired by a childhood snack/dessert, the Choc'O S'mores pizza is topped no other than the ingredients to make a perfect s'more – roasted marshmallows and chocolate sauce.
Question:

Thin crust or Hand Tossed?
If you want to savor the toppings or if you're on a low-carb diet: go for the thin crust!
If your pizza flavor choice has a lot of toppings or you want to make people feel fuller much faster: go for the hand tossed!
Dips 101
Food Hack: If you ordered a hand-tossed pizza and you're not a fan of crusts, we suggest you get a dip to dip your crusts into. Crust + dip = life-changing experience.  
Cheddar De Luxe
Shakey's suggestion: Pair this dip with mojos for that cheesy, potato-ey goodness.
Garlic Ranch
Shakey's suggestion: Pair this with their Captain's Choice. More specifically, with their calamares.
Zesty Caesar
Shakey's suggestion: Pair this with their salad of course!
But if you like some tanginess to contrast the savory notes of the mojos or calamares, you can have this dip too.
Smoky Barbeque
Shakey's suggestion: Feel free to pair this with their mojos.
However, if you want your chicken to have a bit more smoky, sweet, sour, and spicy flavor, then this is the dip for you.
Bonus: Gravy or Ketchup
Though these condiments/dips are made for their chicken and fries, you can dip your mojos in them too!
Classic Pasta Flavors
Skilleti
Shakey's version of spaghetti, the Skilleti is made with a mix of chorizo, salami, and rich tomato sauce infused with herbs and spices.
Carbonara Supreme
Shakey's version of another classic, the Carbonara Supreme is made with creamy white sauce and topped with bacon, ham, button mushrooms, and a handful of grated parmesan cheese.
Prima Lasagna
A no-doubt nostalgic and kid-friendly pasta, the Prima Lasagna or Premium Lasagna is made with lasagna noodles, meat sauce, select spices, and a generous mix of mozarella, parmesan, and cheddar cheese.
New Must-Try Flavors
Black Seafood Pasta
Switch to the dark side with Shakey's Black Seafood pasta made with squid ink pasta noodles and topped with scallops, shrimps, cherry tomatoes, oregano, thyme, salt, parmesan cheese, and fresh parsley.
Shrimp Aglio Olio
If you want a lighter pasta, then try out the Shrimp Aglio Olio which is actually pasta coated in olive oil, sauteed with garlic, shrimp, and red chili flakes.
On-the-Go/Light Snacks
Mojos and Chicken
Whether you get them as a combo or separately, if there's one must-try out of the whole menu, it's the mojos and chicken combo. It'll no doubt satisfy your salty, savory, chicken/potato cravings.
Classic Hot Hero
If you don't detest the idea of a sandwich for lunch then, try out the Classic Hot Hero – a sandwich filled with layers of ham, salami, pepperoni, cheddar cheese, mushrooms, black olives, tomatoes, and the dressing – Thousand Island or Hot Hero – of your choice.
Mozzarella Sticks
If you're a fan of cheese then you'll love their fried until golden, stretchy, and cheesy mozzarella sticks served with marinara sauce as a tangy complement.
Garlic Bread Loaf
Known best as the food-to-pair with pasta, the Garlic Bread Loaf of Shakey's is one to beat. It's garlicky, buttery, has just the right amount of crunch on its edges, is soft on the inside, and is flavorful enough to be eaten as an appetizer.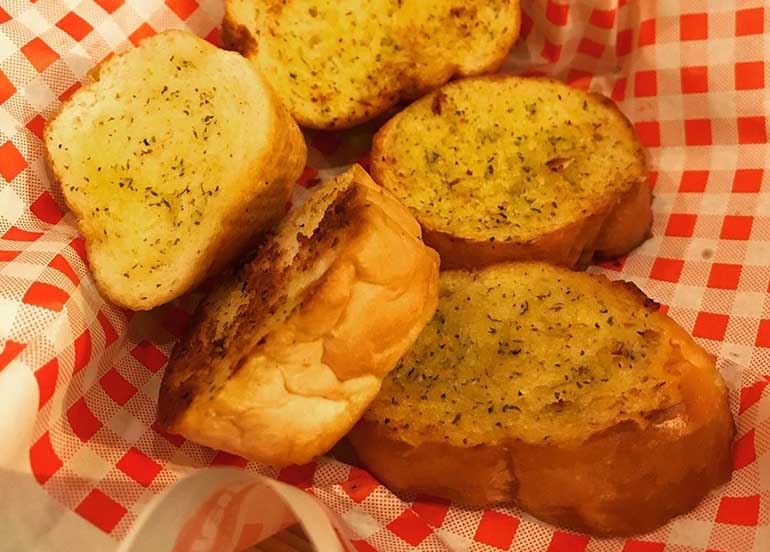 Creamy Mushroom Soup
A no-doubt nostalgic starter, the Creamy Mushroom soup is a hearty, tastes-homemade soup composed of mushrooms and topped with crunchy croutons.
Chicken 'N' Corn Soup
If you're not into mushroom soup but you're still looking for something creamy, then have some of the chicken 'n' corn soup which is a creamy soup made with chunks of chicken, ham, and whole corn kernels, topped with crunchy potato strings.
Fancy trying out both of the soups?
Then check out Booky's Exclusive Offer with Shakey's - The Creamy Mushroom and Chicken & Corn Soup Duo - for only ₱198 ₱149! Download the app to see and avail of the offers!
Meal Sets
All-Time Favorite Duo Treat
Complete with an 8-inch regular thin crush Manager's Choice pizza, 2 sets of 1 pc. Chicken & Mojos, Skilleti with Garlic Bread and 2 bottles of Coke Mismo.
Price: ₱499
Tip: Like it spicy? You can ask for spiced chicken or spiced mojos. 
If you think a whole pizza is too much for the two of you, then perhaps, you'd like to avail of Booky's Buy 1 Get 1 Promo!
Bunch of Lunch
Get two (2) sets of Shakey's Bunch of Lunch complete with 1 pc chicken, Skiletti with Garlic Bread, two slices of Hand-Tossed Hawaiian Delight Pizza, and Mojos.
Price: Get 2 orders for ₱299!
Fun fact: You can use your Booky coupons with Shakey's 3x a month!
Question:
Which Family Set Should I Choose?
If you're 3-4 people and want the basic large pizza + garlic bread loaf + pasta: Go for the Family Meal Deal 1
If you're 5-6 people and you want chicken + mojos + large pizza + garlic bread loaf + pasta: Go for the Family Deal 2
If you're 6-8 people and you want chicken + mojos + pasta + party 13 pizza + garlic bread loaf + pasta: Go for the Family Deal 2
Breakfast Dishes
Get a six-inch Solo Pizza served with Egg and Garlic bread as well as your choice of UCC Coffee Americano or Mango Juice.
To use your coupons from Shakey's Pizza, just follow the steps below:
Download

Booky's app and sign up for a free trial

Scan

the QR code displayed at the branch

Pick

a coupon to avail
View menu
View their website
View their Facebook page
View their Instagram account
Avail at 50 branches

If you're not already enjoying the offline convenience of Booky, you can download the app for FREE on iPhone or Android. Discover over 1000 of the top restaurants in Metro Manila and just watch as your foodiverse explodes!