Sweet decadence!
Graham crackers with roasted and melted marshmallows, blocks of chocolate and chocolate sauce – who doesn't love s'mores? It used to be a delicacy that you would always look forward to when you're at camping trips, but thanks to these innovative restaurants, our favorite dessert is now accessible anywhere!
There are a lot of varying s'mores recipes so go ahead and check out this list of one of the best desserts in Metro Manila. Don't be shy, we've got a handful of s'mores creations for you to try!
First gaining traction in its Rockwell branch, Refinery is a third wave cafe that serves all-day breakfast and brunch items, international comfort dishes, light meals and specialty coffee–but what sets it apart is that it also serves wine and cocktails.
All the s'mores goodness of grahams, marshmallows, and dark chocolate served in a skillet (they've also added peanut butter cups!)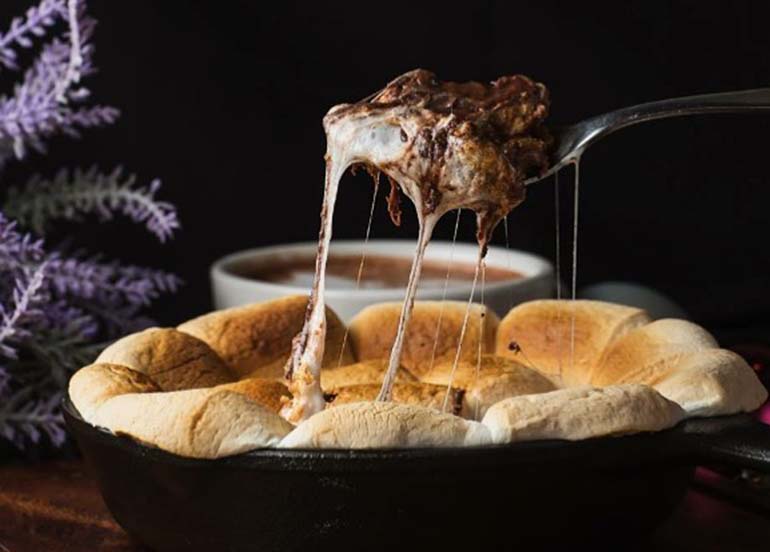 S'mores Blue Vanilla Soft Serve – The Lost Bread
The Lost Bread is a homegrown dessert cafe specializing in French toasts and milkshakes. Their name, 'The Lost Bread', is a direct translation of 'pain de perdu', the stale bread used to make French toast.
Here's a delightful take, their version is of a vanilla soft serve with torched marshmallow, chocolate syrup, and a graham cracker. It also comes in sub-zero!

Snacks and Ladders Board Game Cafe offers great food and unlimited play that's perfect for everyone. Snacks and Ladders has over 400 board games, a giant chess board, a giant Snakes and Ladders board, a foosball table, a Harry Potter-themed karaoke area, and a wide selection of Filipino-American fusion snacks and meals.
The classic combo of chocolate, marshmallows, and graham crackers all served up in a way that's easy for sharing.
View menu
View their Instagram account
188A Maginhawa Street, Teacher's Village, Diliman, Quezon City
(02) 990-5675

Stephen's Brick Oven Pizza is a neighborhood pizza joint serving fresh and made-to-order gourmet pizzas.
S'mores… dessert pizza edition! Apart from the usual combination, Stephen's Brick Oven Pizza has added Nutella into the mix!
Reservations are accepted
View menu
View all branches
View their Instagram account
Cafe Dominique is a casual family-run restaurant serving American fusion comfort food including buttered prawns, roast chicken, twice cooked pork belly, milkshakes, and desserts.
Cap off your meal with the classic S'mores dessert served in a jar filled with pillowy torched marshmallows and graham crackers.
View menu
View their Instagram account
42 Examineer St., West Triangle Quezon City
(0927) 128-9366
Scout's Honor is a bakery that offers all kinds of desserts from cookies to milkshakes. They also serve savory food like breakfast, burgers, and snacks.
Now this is decadent, it's Hershey's semi-sweet chocolate sandwiched in buttery cable cookies topped with campfire marshmallow meringue and graham cookie crumbs. Yum!
No reservations accepted
View menu
View their Instagram account
Hole In The Wall, 4/F Century City Mall, Kalayaan Ave, Poblacion, Makati
(02) 887-2698
Fat Daddy's Smokehouse is a Southern USA-inspired smokehouse and barbeque restaurant serving pork ribs, smoked wings, smoked beef brisket and other meat dishes. They also serve other comfort dishes like the Mac & Cheese and Bacon & Smores Dip.
Their take has homemade bacon incorporated in it… now THAT'S an unexpected twist!
World of Fries, just as their name suggests, offers a whole variety of fries from different cuts to different dips and even… dessert fries!

Take a bite of this savory-sweet concoction that has melted mallows, chocolate syrup, caramel syrup, and crushed graham crackers, all on top of french fries. 
S'mores Doughnut – Cello's 
Born out of a couple's love of baking and eating, Cello's offers coffee and flavored doughnuts like Oreo, Chocolate, and Cheese to name a few.
If you love doughnuts, you should try their doughnut version of s'mores.
Pi Breakfast & Pies serves flavourful pies everyday along with their all day breakfast dishes (their Eggs Benedict is so good).
You've heard of s'mores doughnuts and soft serves so why not try out s'mores pie? It's good enough that you'll want to eat a whole slice (or a whole pie)!
Eleven Tables has a lot of fondue choices from cheese, savoury, and dessert along with a fine selection of wines.
This DIY Smores fondue that'll allow you to customize how much or how little chocolate you want to smother on your marshmallows or graham crackers.
View menu
View their Facebook account
G/F Ace Plaza Bldg., United cor Brixton St, Kapitolyo, Pasig
(02) 654-6748; (0917) 562-0086

Caramel S'mores and Vanilla Ice Cream – The Perfect Pint
The Perfect Pint is the perfect place for those on the look out for the best local beers and barchow. Proudly claiming to be the first gastropub to specialize in finding the perfect pairing of local craft beer and Filipino cuisine classics, The Perfect Pint is the bar to go to for a fresh and fun night out.
Best paired with a Stout or Dark Lager, this dessert is comprised of rich and fudgy chocolate brownies, overloaded with nuts, chocolate, mallows, topped with vanilla ice cream!
Mio Gelati offers different flavored gelato like vanilla, salted caramel, Milo dinosaur, as well as smoresicles and milkshakes.
S'mores in its cold version, their Smoresicle which is torched marshmallow filled with dark chocolate gelato.
View menu
View their Instagram account
3/F Ayala Malls Vertis North, Vertis North, Triangle Exchange, North Ave, Quezon City
Guess what! Booky has more Buy One Get One promos waiting to be claimed! Just download the Booky app and go to the Buy 1 Get 1 tab to check out all the exciting food you can claim throughout the metro! 
Remember to tag us in your photos with the hashtag #BookyTwinning to be featured!