Some like it hot!
They say that spicy food has its benefits such as aiding your metabolism and clearing up your sinuses (even just momentarily) but regardless if there are benefits or none at all… we just can't get enough of it.
And this is exactly why the new item on McDonald's menu belongs on our bucket list.
Spicy Chicken McNuggets – McDonald's
McDonald's has done the impossible: they've improved a dish we previously thought was perfect already. Chicken nuggets is a staple order for us here in the Philippines, with our choice of fries or rice. Imagine this fiery new flavor with its spicy Tabasco-based tomato dip, available in either a box of 6, 9, or their 20-piece sharebox.
The bad news? It's only available in McDonald's across the United Kingdom, and for a limited time of 7 weeks. What can we do about it? Either buck up the courage and start a petition, or settle for the spiciest dishes in Metro Manila to fill the void (and burn your tongue).
Ready your milk and grab some tissues cause you're in for a spicy ride with these spicy dishes. A whole lot of chili with a combo of herbs and spices make the best of spicy food recipes and here are a number of them in this list we've put together just for you spicy food lovers out there.
Spicy Umami Japanese-style Chicken – Tori Chizu
Tori Chizu is a restaurant that offers Japanese-influenced dishes infused with Eastern and Western flavors. For a kick, we recommend their Spicy Spicy Umami Japanese-style Chicken or the Tomato Shrimp Doria.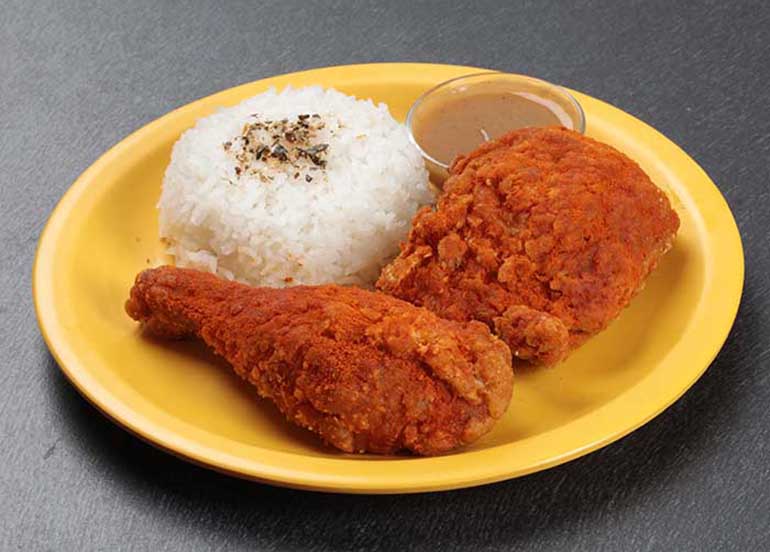 Snow Chicken in Fire Chili – Kko Kko
Kko Kko is a modern Korean chicken house that uses traditional and contemporary recipes from owner Grace Lee and her mom. They aim to bring together Korea and Manila through food. Try their Snow Chicken in Fire Chili, you'll surely love it!
Insider tip: They also offer their cheese fondue, Ramyun Pongdang, in fire chili!
Basil serves authentic Thai cuisine in a garden-inspired restaurant guided by Tom McGue and Chef Al Brown. Try their Tom Yum soup, it's spicy and sour with prawns and mushrooms. It's one of the most popular Thai dishes you'll hear of.

Soondubu Chigae – Sariwon
Sariwon is a Korean franchise famous for its Legendary Bulgogi and Galbi or barbecued beef short ribs. They have a number of spicy dishes like their Soondubu Chigae, it's hot and spicy tofu soup with seafood and pork and balanced with a serving of rice.
Royal Indian Curry House or R.I.C.H. is a popular late night sports bar and restaurant in the ever-growing Poblacion food hub in Makati. It serves authentic Indian cuisine specializing in curry-based dishes and other heavily-spiced dips and sauces. You'll be sure to find more than one spicy dish on their menu!
Chemical Fried Chicken – Bad Bird
Bad Bird specializes in deep fried chicken flavored with umami spices served with sides like waffles, dirty rice, corn cobs and hush puppies. You can customise the spice level of your fried chicken – Safe, Spicy or Chemical.
No reservations accepted
View menu
View their Instagram account
View all branches
Ramen Nagi, from Tokyo, is one of the most popular ramen joints in the country today. It allows guests to customize their own bowls from the noodles, broth, and the toppings. Their Red King is definitely a crowd favourite. To make it even spicier, have it at Level 5!
No reservations accepted
View menu
View their Instagram account
View all branches
Deung Galbi Kimchi Chigae – Sibyullee
Sibyullee is the third concept of the Happyfoods Group and award-winning Korean restaurateurs Mr. Sung Rah and wife, Mrs. Yoo Chang. Spice up your dining experience with their Deung Galbi Kimchi Chigae, spicy pork ribs and kimchi stew served with rice.
Reservations are accepted
View menu
View their Instagram account
G/F Ayala Malls The 30th, 30 Meralco Ave, Ortigas, Pasig
(02) 958-6986
Palm Grill is a modern Asian restaurant specializing in chicken dishes. Don't forget to try their Labuyo Chicken, packed with flavor and spice that's best paired with an ice cold beer.
No reservations accepted
View menu
View their Instagram account
175 Tomas Morato Ave, Scout Castor, Diliman, Quezon City
(02) 373-1668
Known for hot and spicy dishes with deep colors and fresh aromas, A Bite of Hunan is an authentic Chinese restaurant in Circuit Makati that serves dishes from the mountainous Chinese region of their namesake. Try their Dongpo Braised Pork and Spicy Crab.

View menu
View their Instagram
UG/F Circuit Lane Makati, Riverfront Drive, AP Reyes St. Carmona, Makati
(0915) 355-6688
Fire it up!
Follow Booky on Twitter (@bookymanila) and Instagram (@bookyapp) to stay on top of foodie news! If you're not already enjoying the offline convenience of Booky, you can download the app for FREE on iPhone or Android. Discover over 1000 of the top restaurants in Metro Manila and just watch as your foodiverse explodes!