Here's your ultimate guide to the ateliers as well as some hacks, tips, and answers to some FAQs!
When talking about the best hotels in Metro Manila, Sofitel Manila – more often than not – pops up in the conversation. It's luxurious and elegant look, let's be honest, is one to beat.
If you've had a staycation at this hotel, then you definitely know that the rooms are just the tip of the iceberg. The one that takes the cake here is none other than Spiral Buffet: one of the best, grandest, and most extensive buffets in the metro.
Looking for cuisine/food-specific buffets? Check out 21 of the Most Sulit Buffets in Manila! 
A buffet that has 21 ateliers a.k.a stations, Spiral Buffet in Sofitel Manila serves up a wide selection of food from vegetables to fresh seafood and even quality staple dishes from countries from all over the world. It's not only a a go-to place for when you want a taste of the world but it's also a go-to place for foodies who want to indulge in food you normally can't find in other all-you-can-eat restos in the metro.
Fun fact: Atelier means "a room or building where artists work". They decided to call their stations ateliers because the dishes that the chefs prepare can be considered as their own works of art - their masterpieces.  
Planning to go there anytime soon? If you are and you want to make the most out of your east-perience, then here's a guide of what to expect at each of the 21 ateliers at Spiral Buffet as well as tips & hacks to make sure you get the best buffet experience.
Appetizer Area
Looking for dishes that'll jumpstart your appetite? Then check out the two ateliers which feature dishes that do exactly those: The Salad and Appetizer atelier and The La Boulangerie atelier.
Appetizer tip: Try out the Olive Oil bread that they serve to your table. It's a definite must-try if you like bread that's crunchy on the outside and soft inside. Also, it pairs well will their pesto butter and with caviar. 
Salad and Appetizer Atelier
Fresh, organic, and locally grown at their garden, the salad components at this atelier aren't only for those who are living the healthy life but also for those who want an unassuming introduction to what Spiral Buffet can offer.
Salad and Appetizer tip: Since this is a make-your-own-salad station, to make sure your salad components are fully coated with their dressing, ask the chef at the atelier to toss the salad for you. 
La Boulangerie Atelier
Bread lovers unite! Whether you're looking for all-around soft bread, crunchy crusty bread, or sweet and savory bread, La Boulangerie's got it all. It's an atelier that has a huge variety of breads and also has a selection of jams and condiments that go well with it.
Tip: Their breads go well with the cheese and cold cuts you can get from Spiral Buffet's cheese room. So, stock up a bit but don't stuff yourself with them before you've tried the other dishes from the other ateliers. 
L'Epicerie
Speaking of the cheese room, then you'll definitely love L'Epicerie – a cheese and cold cuts lover's heaven! Choose from their variety of 10-20 kinds of cheese and cold cuts which they get from all over the world and change every single day.
Asian Area
The biggest area of the buffet, the Asian area houses not only the most number of cuisines but also has both familiar and interesting dishes which are worth a try.
Tip: Easy on the starch - more specifically the noodles and the rice - and the soup or you'll get full quickly. If you want to try those, take a few or sample small bowls right after you try out the staple dishes from each cuisine. 
Filipino Atelier
Serving up Filipino culture in platters, at the Spiral Buffet's Filipino atelier, you can get familiar Filipino dishes elevated to a whole 'nother level – one that may remind you of your homemade favorites if they were prepared and reinvented by a trained chef.
Some dishes they offer: Bulalo, Crocodile Adobo, Stingray in Gata, Crispy Pata, and Kare-Kare.
Korean Atelier
If you're into Korean food – samgyupsal aside – then you definitely have to Spiral Buffet's Korean atelier which features sizzling plates, freshly tossed vegetables, various banchan, and even five kinds of kimchi.
Some dishes they offer: Bulgogi, Squid Chili Barbecue, Bibimbap, Beef Short Ribs, Barbecue, and Dak Dori Tang.
Thai Atelier
Flavorsome, bright dishes and curries don't scare you? If so, then you'll enjoy the dishes at the Thai atelier. All of which you may enjoy either as an appetizer or even as mains.
Some dishes they offer: Yam Nua (Spicy Beef Salad), Tom Yum Goong (Spicy Shrimp Soup), Chicken Satay
Tip: Thai dishes are mostly spicy. If you don't lean towards spicy dishes, then ask the chefs at the atelier which of the Thai dishes aren't spicy. 
North Indian Atelier
Serving up dishes cooked in their own tandoori, at the North Indian Atelier, you can have a taste of strong aromatic meats in rich, creamy sauces as well as vegetables packed with herbs, a complex layer of flavors, and aromas.
Some dishes they offer: Naan, Chicken Tandoori, Dal
Tip: If you're vegetarian, Sofitel suggests that you try their selection of dal, paneers, and chutney - all of which you can scoop up and eat with their freshly made naan. 
Japanese – Sushi and Sashimi Atelier
Prepared by their master sushi chef right in front of your eyes, have your fill of freshly sliced sashimi, expertly formed rolls, and perfectly prepared sushi, at no other place than Spiral Buffet's Sushi and Sashimi atelier.
Some dishes they offer: Temaki, Nigiri, Tuna Sashimi
Tip: If you like your fish a bit torched or you're looking for aburi sushi, all you have to do is request it from the chef at the atelier. 
Japanese – Hot Japanese Atelier
Not into raw or partially cooked Japanese dishes? Then head on to the Hot Japanese atelier and get your fix of some classic, toothsome Japanese dishes which are either deep-fried or grilled with the use of a robata or teppanyaki grill.
Some dishes they offer: Ebi tempura, katsu, sukiyaki grilled seafood, meat, and veggies.
Tip: Want a meal and a show? Watch as your chefs cook your chosen meat/seafood/vegetable on top of the teppanyaki. 
Chinese – Chinese Wok Atelier
If dishes such as kung pao chicken, broccoli with oyster sauce, Hainanese chicken, and mapo tofu ring a bell and make your mouth salivate, then the dishes at the Chinese Wok atelier are a must-try for you. Wha they have to offer? You'll just have to head on to Sofitel Manila to find out!
Chinese – Steam Baskets Atelier
Calling all dumpling lovers, this is the atelier for you! Serving up dumplings stuffed with either veggies or meat, at the Steam Baskets atelier, you can get your fill of a variety of hot, fresh, steamed, and even fried dim sum.
Some dishes they offer: Xiao Long Bao, Hakaw, Siomai, Wonton, and Spare Ribs
Chinese – Pecking Duck Oven Atelier
An atelier that specializes in only one dish: peking duck, at the Pecking Duck Oven atelier, you can have a fix of this perfectly roasted Chinese cuisine specialty that's surely a must-try.
Tip: Try out their Peking Duck Wrap. 
Asian Noodles Atelier
Find the dining area too cold? Warm up a bowl of hot soup and noodles from different Asian cuisines prepared at the Asian Noodles atelier. It has all the ingredients and components you'll need to make it exactly how you want it.
Tip: If you want something rich and creamy, they also offer DIY laksa!
Western Area
The area that best represents Sofitel, the Western Area features some classic European eats which you'll surely fall in love with.
Western Area Hack: Both of the ateliers at this area have customizable options so might as well take advantage of them by trying things you've been dying to try but haven't had the time to. 
French Stove Atelier
Want to take your tastebuds on a journey across Europe? Then head on to the French Stove Atelier, a station that showcases seared foie gras, roasted meant, carvings, seafood, grilled food, and of course, regional French dishes.
Pasta Lovers Hack: Not feeling noodles? Then enjoy some customizable dishes at a station near the French Stove atelier.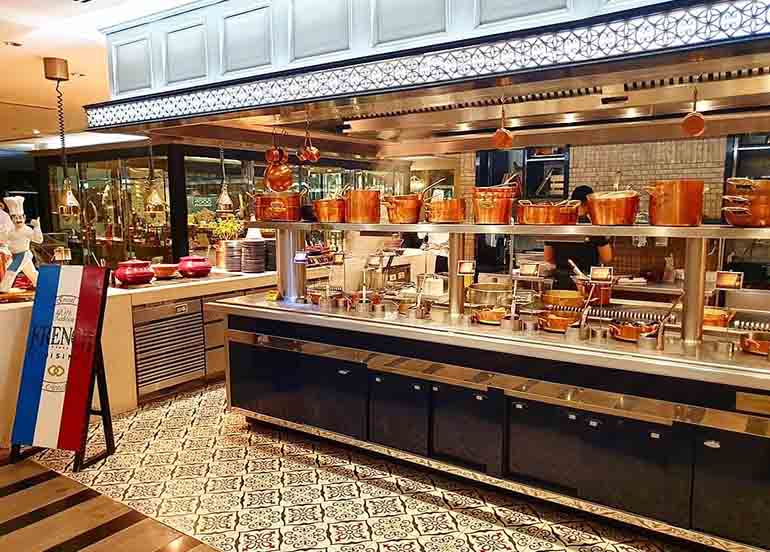 Wood-Fired Oven Atelier
A European tour isn't complete without pizza. Get your fill of ready-made pizza in various flavors cooked in a wood-fired oven for that charred flavor.
Hack: Feel like a chef and create your own flavor by getting ingredients from all over the buffet and asking the chef to make a pizza with them.  
Meat and Seafood Areas
Whether you're looking for some juicy meats or some savory seafood dishes, this area's got ateliers with dishes that'll make your mouth water.
L'Ecailler Atelier
Craving for some cooked seafood this time? If so, steer away from the sushi and sashimi atelier and head to the L'Ecailler atelier where you can have your pick of premium oysters, clams, crabs and other seafood which you can ask the French Section to prepare any way you like!
Tip: If you want oysters which are best eaten raw with a dash of lemon, avail of their dinner buffet!
Churrasco Atelier
Meat lovers, are you ready for this? Boasting a wide selection of skewered roast meats, the Churrasco atelier is the station to go to if you want juicy, flavorful goodies prepared with Brazilian/Latin American flare which you can pair with delectable sauces.
Meats they offer: Pork Ribs, Leg of Lamb, and Beef Short Ribs
Rotisserie Atelier
Want the simple salt and pepper treatment or some non-Latin American/Brazilian spices to your meat and poultry? Don't be a chicken and get going to the rotisserie atelier.
Some dishes they offer: Roasted Chicken, Slow Cooked Lamb Beef, Pork Seasoned with Assorted Herbs and Spices
Dessert Area
Chocolaterie
There's a saying that chocolate goes great with everything, and it does! Proof? The scrumptious treats made fresh everyday offered by the Spiral Buffet's Chocolaterie. With so much to choose from, we simply can't enumerate the many kinds that they offer. But one thing's for sure though, they are definitely worth a try.
Kinds of chocolates they offer: Artisanal Chocolates, Bark, Truffles, and Pralines.
Tip: Not into ready-made chocolate? They also have chocolate fountains in several flavors you can enjoy with their treats and fruits. 
Creamery
Hot outside or simply want something cold? Then the Creamery atelier is the dessert station for you. They don't only offer different ice cream flavors – from fruit to citrusy and even creamy – but they also offer other ingredients that'll help you make your own halo-halo.
Hack: Upgrade your dessert by adding ice cream to your crepe. 
La Patisserie
If you're into something heartier than chocolate, then satisfy your sweet tooth at La Patisserie, the atelier boasting a variety of French pastries, cakes, and desserts in miniature glasses.
Hack: Want to try everything? Bring a friend along with you so you can get different desserts. 
Spiral Buffet FAQs
1. Does the buffet have a time limit?
It does, depending on what type of meal you decide to eat. Here are the times:
Breakfast is from 6:30 AM to 10:30 AM. Lunch/Brunch is from 12:00 NN to 2:30 PM.
Dinner is from 6:30 PM to 10:30 PM.
2. What are the buffet rates?
Breakfast: ₱1,900++
Lunch: ₱2,650++
Brunch (only during Sundays): ₱3,400++
Dinner: ₱3,100++
Note: Prices may vary depending on the promos and the days. 
3. Do they offer the same dishes no matter what time?
There are a few dishes which they offer exclusively for breakfast or brunch and some dishes which they exclusively offer during dinner time.
Here's a sneak peek of some of the dishes you can avail during the breakfast buffet:
4. Do they do anything special on your birthday?
Based on experience, all I can tell you is this, they do but you just have to go there on your birthday to find out!
Note: Don't forget to bring proof that you were born on that day. 
View menu
View their website
View their Facebook page
View their Instagram account
Plaza Level, Sofitel Philippine Plaza, CCP Complex, Roxas Blvd, Pasay
(02) 551-5555
If you're not already enjoying the offline convenience of Booky, you can download the app for FREE! Whether you're on iPhone or Android, you get ₱1000 worth of savings on us. But why stop there? When you sign up for BOOKY PRIME, you can get up to ₱15,000 worth of Buy 1 Get 1 deals and unlimited discounts – all for just ₱199 a month. Your next bite is just a touch away.