New restaurants included which you definitely have to go to!
We can never get enough of a quick road trip to Tagaytay! There's always something new on where to eat in Tagaytay and we just have to get away from the city once in awhile.
Looking to head there soon? We've rounded up 10 of the best restaurants for the month in Tagaytay based on user favorites from Booky, the #1 food app in the Philippines!
10. Pamana – Nasugbu Highway
52 Favorites
New entry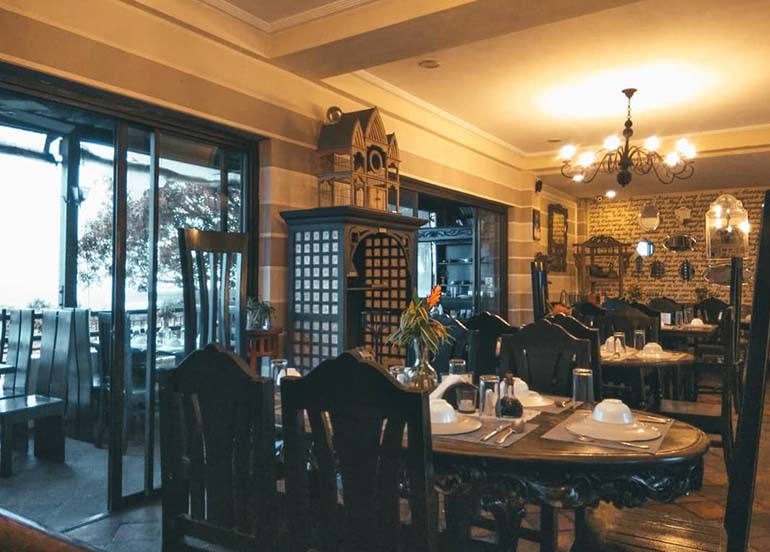 Pamana is a homegrown and classic Filipino restaurant which opened in Tagaytay in 2009. Aside from its dishes, the place became popular for its homey interiors and photo-filled walls. Three years later, the group opened their second branch in Boracay and then 2 years later, a 3rd branch in Legaspi Village, Makati. Most of the dishes are preserved and updated heirloom recipes from owner Happy Ongpauco-Tiu's family.
Reservations are recommended
View menu
View their Instagram account
Tagaytay-Nasugbu Hwy, Tagaytay City, Tagaytay
+63 2 413-2461
58 Favorites
Last month's #7
Marcia Adams' is a tucked-away Tuscany-inspired garden restaurant that serves Mediterranean dishes. Great for casual lunches and romantic dinner dates, we recommend reserving the sunset lounge for a majestic Tagaytay sunset view. It's for people looking for a romantic meal outside the city. It's not for those looking for a quick meal out of town.
View menu
Sikat Alfonso, Tagaytay
(0917) 801-1456
65 Favorites
Last month's #5
A restaurant that serves up dishes from international cuisines as well as all-day breakfast dishes, Bag of Beans is the perfect place to go to if you love having loads of options.
View menu
115 Aguinaldo Highway Mendez Crossing West, Tagaytay
(046) 413-2724
69 Favorites
Last month's #8
Balay Dako is another restaurant venture of Antonio's Group of Restaurants. It is a 3-storey Filipino restaurant overlooking Taal Lake. It's for people who want to satisfy their Filipino food cravings with a beautiful and classic view of Tagaytay. It's not for people who aren't willing to wait a bit to be seated.
View menu
Emilio Aguinaldo Highway, (Nasugbu – Tagaytay Road), Silang Crossing West, Tagaytay
(046) 483-4847;(0943) 264-1680
98 Favorites
Last month's #4
The Purple Owl is truly one of Tagaytay's best kept secrets; it's an events place and a restaurant in one. It's for couples, families and friends looking for a beautiful space to celebrate special occasions like an anniversary, a reunion, a proposal or a wedding. Guests are required to book two days in advanced and select between two set course meals by Mrs. Gee's Kitchen. It's not the best choice during rainy season as their services are best enjoyed outdoors. We recommend you save this place for a really special occasion. Our insider tip is The Purple Owl personalizes every event based on your preferences and requests, from the display photos and messages to the music.
Reservations are required
View menu
View their Instagram account
Gardenia Loop, Villa Pura, Tagaytay
Email: thepurpleowltagaytay@gmail.com
5. Tsokolateria – The Boutique Bed and Breakfast
108 Favorites
Last month's #6
From the Happy Concept restaurant group, Tsokolateria is an enchanting place for chocolate lovers! They serve chocolate-infused dishes such as pasta, risotto, desserts, and of course, tsokolate ah! This is their 2nd branch, first one is in Baguio. It's for people who are completely obsessed with chocolates. It's not for people who are not into sweet treats. We recommend the Tablea Churros Waffle, Tsoko Mallow Drink, Tablea Champorado and Bibingka Souffle Pancakes. Our insider tip: this place is super photogenic so don't forget to take your cameras with you!
Reservations are accepted
View menu
View their Instagram account
The Boutique Bed and Breakfast, 45 Aguinaldo Highway Silang Crossing East, Tagaytay
(046) 413-1798
4. Cafe Voi La – Iruhin Crosswinds
123 Favorites
Last month's #1
Cafe Voi La is an Asian-inspired getaway conceptualized by owner, Ica Sebastian. The place is adorned with Asian art and ornaments, oriental displays, and furniture collected from Ica's many travels around the world. This lovely cafe is vibrant and picture-perfect in all angles. It's for people who enjoy food and art at the same time. It's not for people who are looking for a quick to-go meal. We recommend the Garlic Beef Tapa, Chicken Satay, Homemade Chicken Pork Adobo, Massaman Back Ribs and Black Sticky Rice with Mango. Our insider tip is to bring your camera with you to capture this beautiful and Instagram-worthy cafe.
Reservations are accepted
View menu
View their Instagram account
Iruhin Crosswinds, Tagaytay
(0905) 331-4457
127 Favorites
New entry
Evil Doughnuts is Tagaytay's most sinful pasalubong and is located at the Cliffhouse. It is a bakery and cafe serving out of this world doughnuts. It's for explorative foodies with a sweet tooth, because their menu includes a popcorn-filled doughnut, chocolate-covered bacon toppings, and specialty coffee by Makati favorite Yardstick and hot chocolate drinks.
View menu
Retail Unit 1 Cliffhouse Tagaytay Aguinaldo Highway, , Tagaytay
129 Favorites
Last month's #2
Antonio's is Tagaytay's most celebrated fine-dining food destination that features the best of international cuisine from top chef Tony Boy Escalante. Its impeccable food, elegant interiors, scenic gardens and great service are what make them exemplary. It's for special family celebrations, anniversary dinners and grand weddings. It's not for people looking for affordable meals. We recommend the Antonio's House Salad, Pommery Rubbed Roasted Rack of Lamb, Beef Plancha, Roasted Duck Breast in a Mixed Berry Red Wine Jus and Lechon de Leche.
Reservations are accepted
View menu
View their Instagram account
Purok 138, Barangay Neogan, Tagaytay
(0917) 899-2866
189 Favorites
Returning entry
El Cocinero is a homegrown Spanish restaurant tucked away inside the La Bella Residences development, offering a fresh and lush scenery that's a welcome sight compared to the commercialized streets of Tagaytay. It is owned by Chef Arnaldo Limeta who trained in Ibiza, Spain for more than ten years. 
Reservations are recommended
View menu
View their Instagram account
La Bella Residences, Tagaytay-Nasugbu Highway, Neogan, Tagaytay
0916 341-2489
The best restaurants in Tagaytay await you! Enjoy!
Your buds count so remember to cast your votes, let us know your most loved restaurants by adding them to your 'Favorites' list! If you're not already enjoying the offline convenience of Booky, it's free to download on iPhones and Android.
For restaurant owners, email support@phonebooky.com for any update or changes in your restaurant page information.