¡Oye, amigas!
Tita has something to confess. The secret to my youth and effervescent beauty is catching up with amigas over a glass (or six) of wine. You know how Tita loves her juicy chismis so it's important to loosen the lips! Since I'm your favorite Tita, I'll let you in on another secret. The best way to drag out a meal is by ordering tapas and pintxos. Small plates allow me to eat and drink at a leisurely pace – not to mention, I can better fool myself into thinking that I am maintaining my figure. Don't you dare ask me how much I weigh or I will tell your mama and papa!
Did you know? When you sign up for Booky Prime, you can book, dine and get discounts up to ₱500 at partner restaurants around the city!
Hijo, do you have a girlfriend? Bring her here on your next date if you want to make a good impression. Hija, when are you getting married? Tag your boyfriend so he can get ideas of places where he can propose. Take it from Tita – these tapas bars and restaurants are the best of the best.
---
Bar Pintxos was one of the South's secret gems until they opened their second branch in BGC last year. Now, every tita (and her countless amigas) has heard of the tapas bar serving authentic Catalan and Basque-inspired dishes by Miguel Vecin and Tinchu Gonzalez.
Tita Tip: Amigas of the North! Head down South and save up to ₱500 when you book a table at Bar Pintxos Alabang. It's a good reason for a day trip!
Picada Tapeo Restaurante is a Catalan-inspired restaurant serving up affordable Spanish fare such as tapas, paella, wine, and sangria. They're open from 4pm to 1am daily
Tita Tip: Pair their pintxos with a good bottle of wine, they offer unlimited wine daily for ₱499 per head!
View menu
View their Instagram account
252 Aguirre Ave, BF Homes, Parañaque
(0956) 805-3676
Terry's began as an import and distribution company, supplying gourmet items to homes and restaurant kitchens all over Metro Manila. Today, Terry's Bistro offers Spanish and European-influenced dishes that inspire and create excitement. Their wine list is also impressive, with selections from all over the world at no extra charge.
Tapella by Gaudi is your best bet when you're on the look-out for sangria and Spanish dishes in the Greenbelt area. They've got classic tapas like Gambas al Ajillo and Basque Chorizo Sausage. For something with a twist, try the Sisig Sausage and Egg on Bed of Shoe String Potatoes – a take on huevos con morcon.

View menuView their Instagram account
G/F Greenbelt 5, Legaspi St, Legazpi Village, Makati
+63 2 757-2710
Barcino – various branches
Barcino is famous for its delicious Spanish cuisine and wide selection of wine. It also has several branches conveniently located across the metro, allowing you to plan accordingly and meet up with your amigas, no matter where you're coming from. Of course, the best part is their unlimited sangria!
Reservations are accepted
View menu
View all branches
View their Instagram account
Calderon started out as a quaint little restaurant in Little Baguio. They became known for serving authentic home-style Spanish dishes, tapas and sangria and have since expanded to locations in Kapitolyo and Salcedo Village. From their mains, signature dishes like the Paella Negra and Pollo Iberico are a must-try!
Reservations are accepted
View menu
View all branches
View their Instagram account
Alegria – Fort Bonifacio
Alegria Cozinha Moderna & Sangria Bar offers Latin flavors with a modern twist. They're known for tostadas and churrascaria but taking from the Spanish influence in Latin American cuisine, the restaurant also serves small bites as well as different flavored sangrias.
Also featured in: 11 Blooming Floral Dishes In and Out of Manila. Keep reading and you just might be that tita with the strong IG game.
No reservations accepted
View menu
View their Instagram account
4/F C3 Annex (Uniqlo Building), 7th Ave cor 30th St, Fort Bonifacio, Taguig
(0945) 264-7828
This next place will transport you to the summer you strolled through the Boqueria market in Barcelona. Relive those fond memories of España at Txanton – the country's first jamoneria and cellar offering premium cured meats and imported wines for pairing. It is divided into 3 parts: the shop, the tasting room and the private dining room.
Reservations are recommended
View their Instagram account
2294 Chino Roces Ave. Ext., 2/F Smithbell Bldg., Makati
(02) 812-2040
TAURO – Urdaneta Village
Chef Patrice Freuslon introduces the flavors of French Basque country to the Manila dining scene with TAURO Pintxos Wine Bar and Grill. The restaurant is open Monday to Saturday from 5PM to 2AM which make it perfect for late-night pintxos, tapas, cold cuts, cheese platters and more!
No reservations accepted
View menu
View their Instagram account
G/F Atrium Bldg., Makati Ave cor Paseo De Roxas St, Urdaneta, Makati
(02) 856-2610
Get a taste of San Sebastian right here in Manila. Donosti does the classics and does them well. You can't go wrong with Callos ala Madrileña or Chuletitas de Lechal (charcoal grilled lamb chops) and for those who love seafood, we suggest the Pulpo a la Gallega (boiled octopus) and Boquerones en Vinagre (pickled anchovies). ¡Que rico!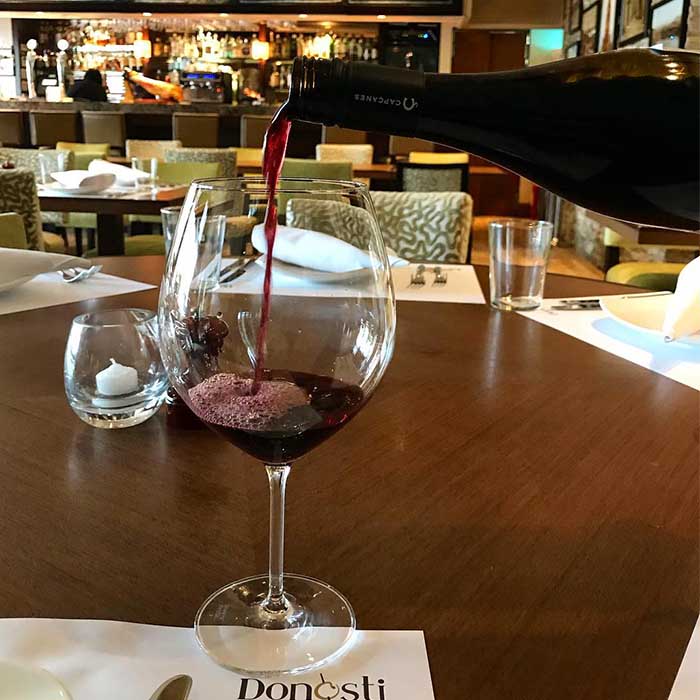 Reservations are accepted
View menu
View their Instagram account
G/F NAC Bldg, 32nd St, Fort Bonifacio, Taguig
(02) 856-0206;(0917) 849-2205
Tomatito – Fort Bonifacio
Tomatito is a "sexy tapas bar" serving Spanish-influenced disheslike paella, pintxos, and montaditos. The fluorescent atmosphere was inspired by Spanish bars in the 80's, hence the retro aesthetic. Don't leave without trying their croquetas and Salmon TNT – a bite so good, you'll be thinking about it for days.
Reservations are accepted
View menu
View their Instagram account
G/F BGC Corporate Center, 30th St corner 11th Ave, Fort Bonifacio, Taguig
(02) 805-7840
If the Metro's modern tapas invasion could be traced to one group, all fingers would point to Bistronomia – the team behind Las Flores, Rambla, Tomatito, La Lola Churreria, and Rico Rico Paelleria. The group's first venture, Las Flores, is still one of the best places in the city for tapas and cocktails.
Tita Tip: They recently opened a second branch at The Podium!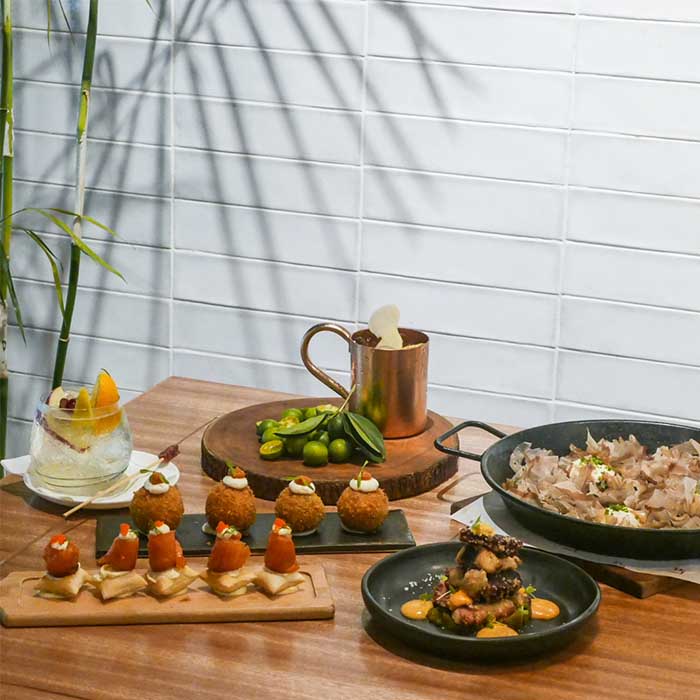 Reservations are accepted
View menu
View all branches
View their Instagram account
Share with us your experiences by tagging us on Instagram @bookyapp and using the hashtag #bookymanila when you post your photos online.
If you're not already enjoying the offline convenience of Booky, you can download the app for FREE! Whether you're on iPhone or Android, you get P1000 worth of savings on us. But why stop there? When you sign up for BOOKY PRIME, you can get up to P15,000 worth of Buy 1 Get 1 dealsand unlimited discounts– all for just P199 a month. Your next bite is just a touch away.