Book a trip ASAP!
Bangkok is one of the most visited cities in the world and mainly for two major things: affordable shopping and mouthwatering street food!
Take a stroll in the streets and you'll see many street vendors selling various kinds of delicacies such as pad thai, crepes, puddings, and even exotic treats like fried bugs! Street food is a huge part of Thailand's culture and one shouldn't miss the chance of exploring the streets of Bangkok to get a taste of authentic Thai cuisine.
There have been news that authorities in Bangkok may ban all street vendors from staying in the streets, as an effort to clean up the city. Whether this will happen anytime soon or not, we suggest you book a flight to Bangkok as soon as possible to enjoy some of the world's finest street food before they're all gone!
Pad Thai
Pad Thai is one of the most famous dishes from Thailand. It's a noodle dish made of stir-fried rice noodles, peanuts, egg, sprouts, tofu, shrimps, and chicken.
Coconut Ice Cream
This is made up of refreshing coconut ice cream placed in a coconut shell, and sometimes topped with treats like chocolate sauce, rice crispies, peanuts, and more.
Thai Crepe (Khanom Buang)
A thai crepe or Khanom Buang are crispy pancakes, stuffed with coconut filling and topped with grated coconut or small shrimps.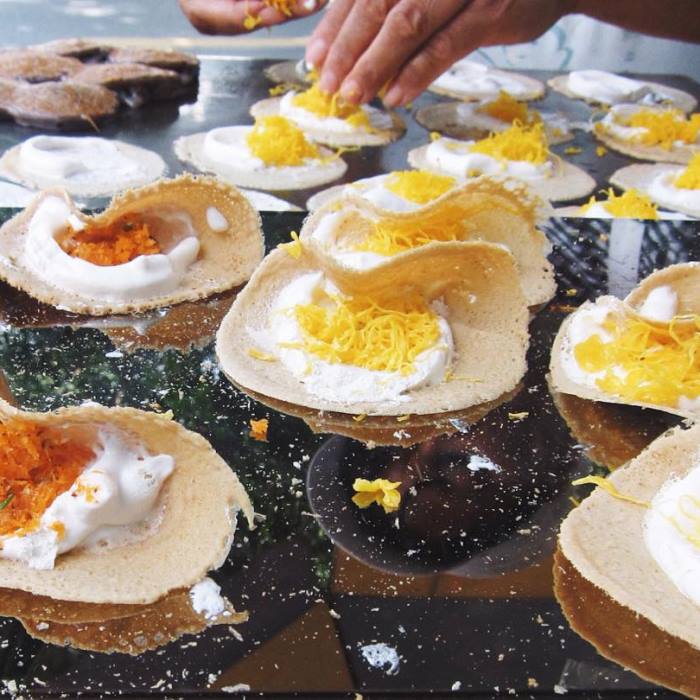 Thai Fried Quail Egg
Basically, these are quail eggs that are fried to achieve a crispy surface on the outside, and then seasoned with a special Thai sauce and pepper. It's a simple delicacy that anyone would love.
Thai Banana Pancake
Similar to roti, this one is stuffed with bananas and drizzled with either condensed milk or chocolate syrup.
Thai Coconut Pudding (Kanom Krok)
Kanom Krok or Coconut Pudding is made up of a mixture of flour batter and coconut cream cooked in a pan, and then topped with spring onions.
Otah in a Bowl
Otah is steamed fish cake stuffed inside a cup made of pandan leaves, drizzled with coconut sauce and topped with herbs and pepper.
Tom Yum
Tom Yum is a soup-based dish made in sour broth, with noodles, seafood, tofu, kaffir lime leaves, crushed chilies, mushroom, coconut shoots, and other ingredients.
Mango Sticky Rice
Mango Sticky Rice is a popular snack or dessert made of sticky glutinous rice, ripe mangoes, condensed milk and topped with sesame seeds.
Lotus Blossom Cookie
These beautiful cookies are made using a brass flower-shaped mould and dusted with sugar and sesame.
Thai Iced Tea
A popular drink in Thailand, this is their traditional tea drink made from brewed tea leaves and mixed in with condensed milk. You can have it hot or over ice, although some stalls offer a blended frappe version of this drink.
Thai Ice Popsicle
To beat the heat, get one of these popsicles which are basically soft drinks or fruit juice frozen into long popsicles in an electric ice stick maker.
Thai Duck Noodle Soup
This is a rich and flavorful noodle soup recipe made of noodles, braised duck, bean sprouts, eggs, mushrooms, garlic, and other ingredients.
Fried Ice Cream Rolls
The process of creating these has been an internet sensation for quite some time. This is made by pouring and spreading flat the ice cream base on a freezing cold steel surface, mixed in with other ingredients, and then scraped and rolled into beautiful rolls of ice cream.
Green Papaya Salad (Som Tam)
Som Tam or Green Papaya Salad is a spicy salad made from crunchy unripe papaya, dried shrimps, peanuts, tomatoes, garlic, and more.
Thai Basil Chicken (Pad Kra Pao)
Pad Kra Pao is a savory dish made of chicken or pork stir-fried with basil, served with rice and fried egg. It's one of the staple dishes in Thailand and a popular lunch time meal.
Are your tummies grumbling already? Well, we sure hope you find this cheat list useful when you plan your trip to Thailand! Bookmark it!
If cravings persist, then not to worry because some of these dishes we've featured can also be found here in the metro! Simply search for a specific dish (e.g PAD THAI or MANGO STICKY RICE) in the Booky App to see the list of filtered restaurants for you to choose from! Enjoy!