Especially during shark week. Right, ladies?

During shark week, aside from acne and bloating, one thing's for sure, you're going to have cravings. If you just so happen to have a craving for Korean food, we suggest that you head on to Makati!
With its sizeable community of Korean expats and students, it's no surprise that Makati's Barangay Poblacion is known as Metro Manila's Koreatown. In this list we've compiled some old and new joints in the area that will surely satisfy all your K-ravings from bibimbap to samgyeopsal, and everything in between!
This is your ultimate guide to the best Korean restaurants in Makati.
Gaja is one of the exciting new Korean restaurants in Manila. They aim to take a centuries-old cuisine rooted in tradition and reintroduce it to the Filipino palate by adapting it with modern techniques to suit evolving tastes.
Try their Honey Butter Chicken, Bulgogi Kimchi Mandu, and Doenjang Mushroom Risotto.
Insider Tip: Inside Gaja hides a speakeasy called, The Odd Seoul. Read more about it HERE.

View menu
View their Instagram account
8445 Kalayaan Ave., Poblacion, Makati
(0906) 493-0799
Unlike most Korean barbecue joints which are loyal to tradition, Soban isn't afraid to be different. Leave it to this modern restaurant to come up with exciting fusion dishes like Korean Tapsilog, Kimchi Fries, or Korean burritos— dubbed Korritos.
RJ's Korean Bowlgogi serves Korean favorites like beef bulgogi, ramyeon, bibimbap, samgyeopsal, and many more at affordable prices.
No reservations accepted
View menu
View their Instagram account
Buendia Food by the Court, Sen. G. Puyat Ave cor Bautista & Finlandia St, Makati
Kko Kko – Paseo Center
Owned by Grace Lee, Kko Kko is a modern restaurant that serves authentic and reinvented Korean favorites that are mostly chicken dishes. Some of their must-tries include the chicken cheese fondue, dosirak, snow chicken, and rabokki. Read our full feature here.
Samgyupsalamat was coined from the word "Samgyupsal" which means "pork belly" in Korean, and "Salamat", which means "thank you", in Filipino. This unlimited Korean BBQ Restaurant has over 30 branches in Metro Manila where you can enjoy other Korean favorites like bibimbap, spicy noodles and other grilled meat.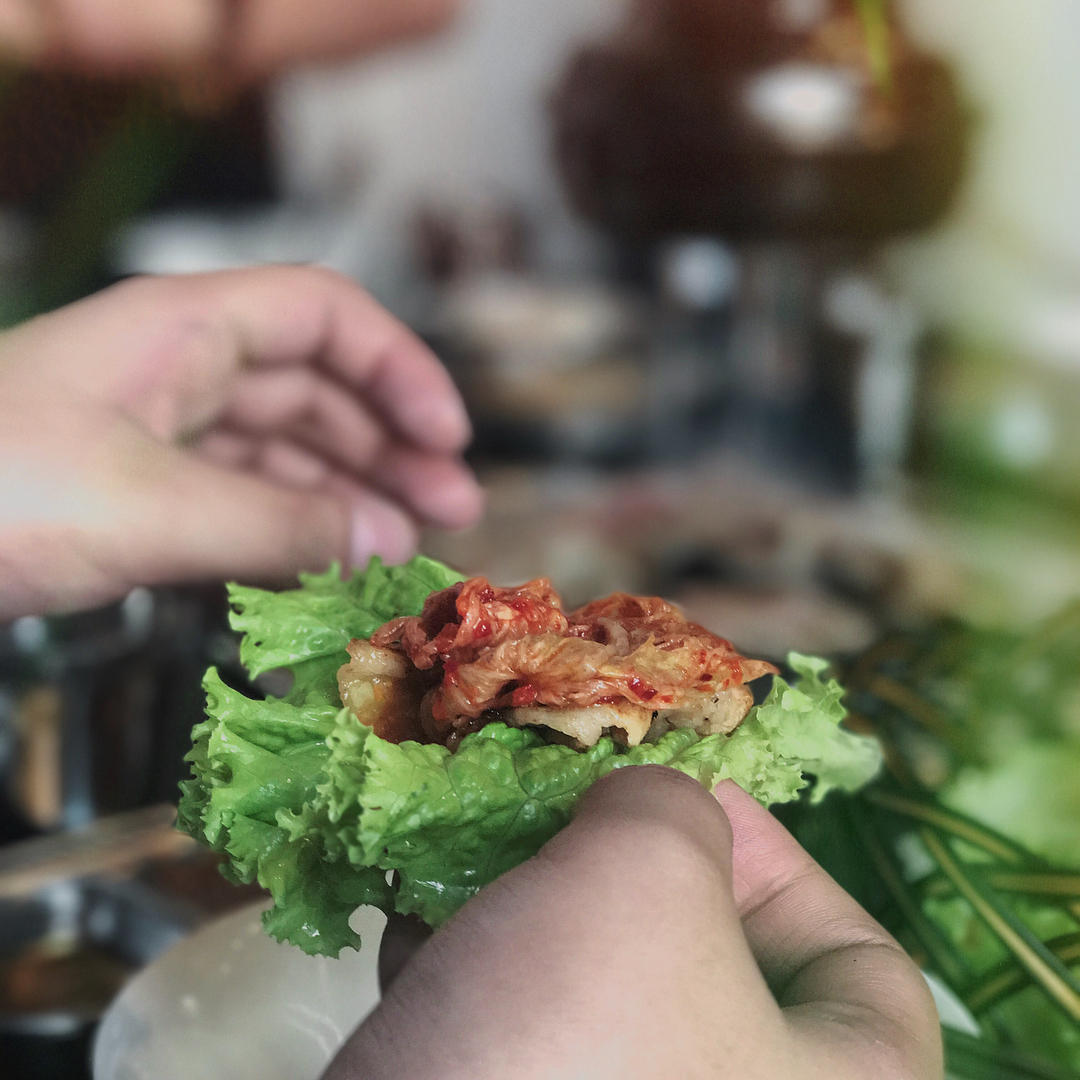 Reservations are accepted
View menu
View their website
3/F Eurocast Bldg., Jupiter St., Makati
BigMama is an established authentic Korean restaurant with branches in Makati and Parañaque. True to its name, Big Mama provides hearty servings of their food—with refills! Their Fried Chicken is a specialty that's recommended by its regulars.
No reservations accepted
View menu
Azotea De Bel-Air Condominium Building, Polaris St, Bel-Air, Makati
(02) 504-2833
One of Poblacion's hidden gems, Jumong is one of the Korean restaurants that will first pop into your mind when craving for this cuisine. We've heard people raving about their Galbi Jjim and Pajeon. It's also open 24/7, perfect for your random, late-night cravings! More restaurants to check-out at Poblacion here!
Reservations are accepted
View menu
View all branches
Don Pedro Street, Poblacion, Makati
(02) 487-7077
Popular among office goers and friends looking for a quick KBBQ fix after work, Matgalne boasts a wide range of banchan along with their sulit unlimited pork and meat promos. With branches located in Ortigas and Makati, Matgalne is an easy go-to for the working barkada craving KBBQ.
Reservations are accepted
View menu
View branches
4768 Kalayaan Ave cor Mariano St, Poblacion, Makati
An underrated Poblacion find, owned by a Korean couple, serving authentic Korean specialties. Meals start with the traditional banchan appetizers, which are unlimited and free. But what really stands out from their menu are their grilled meats!
Try the Chadolbaki (thinly sliced beef brisket), Deung sim (steak), and Samgyupsal (pork belly). Their kimchi is also said to be the best in the city.
No reservations accepted
View menu
5655 Don Pedro Street, Poblacion, Makati
(02) 895-9586
Unlike most KBBQ restaurants which are known for all-you-can-eat promos, Dong Won is the ideal restaurant for those with a smaller appetite. You can order ala carte and although the portions here are smaller than average, don't be fooled. They do not fall short on quality and authenticity.
Reservations are accepted
View menu
53 Polaris St. cor Jupiter St., Bel-Air, Makati
Bornga – Alphaland Makati
Far away from the mall-crowd, Bornga is not your usual Korean restaurant. They don't serve buffet, instead focusing on the quality of ingredients— they have an impressive variety of greens and generous cuts of the meat.
This authentic Korean franchise does not compromise on authenticity and it has paid off! Their Samgyeopsal, Jap Chae, and Hae-mul Pajeon are considered must-tries.
Fun Fact: Bornga has other branches located in Korea, China, Malaysia, Indonesia, Singapore, Vietnam, and Japan.
Reservations are accepted
View menu
View their Instagram
Alphaland Makati Place, Ayala Ave, Bel-Air, Makati
Korea Garden is one of the longest standing Korean restaurants in Makati, if not the whole Metro Manila. Not much has changed since they first opened and this lends a charm to the place.
People rave about their Kalbi Chim (beef rib stew) and Nackchi Bogum (spicy octopus). They serve bulgogi in a number of ways including chicken, beef, pork, and shrimp.
Reservations are accepted
View menu
128 Jupiter St., Bel-Air, Makati
(02) 895-5443
Spot a new Korean restaurant? Let us know! Shoot us an email over at support@phonebooky.com with all the details. Keep tagging us on Twitter(@bookymanila) or Instagram (@bookyapp) so we can join your on your food trips around the city!