The London Underground is now in Pasig!
2017 is definitely off to a good start when it comes to food parks, after it's successful first incarnation in Xavierville, The Yard opens it's second food park in Pasig bringing #TheYardExperience to more and more people.
Inspired by the founders' visit to London, The Yard Underground takes inspiration from the London Underground train system, showcasing a chic and industrial aesthetic with subway tiles lining each stall and even having a train carriage displayed in the middle of the park.
The founders chose its new location on the basis of its accessibility to food hunters in Kapitolyo and Ortigas, as well as wanting to place their newest food park somewhere midway of being north and south of Metro Manila.
Similar to its older sibling, The Yard at Xavierville, The Yard Underground will also feature live musical performances from bands and DJs, as well as a bar for alcoholic drinks.
Now let's get to the food, Underground boasts of over 30 stalls – which is a lot – so for convenience we'll showcase some of their most unique food stalls.
Above Sea Level
Dubbed as the "Home of the the Giant Butterfly Squid," Above Sea Level serves up quick fresh seafood, known for their bestselling Giant Butterfly Squid that's a breaded giant squid on a stick cut to resemble a butterfly. 
Birdmen is a street-style chicken joint that gives your favorite homemade southern chicken a new dope twist with a variety of sauces. Other menu highlights include the deep fried duck, hush puppies, and chicken sandwich paired with salted potato chips.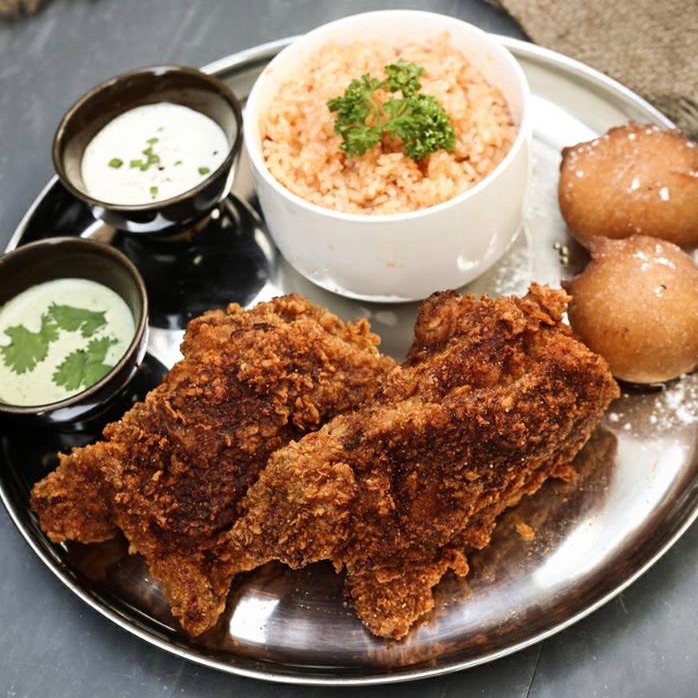 Carnivore Cookery is a stall that specializes in American Barbeque, their meats are slow cooked and smoked for 12 hours yielding tender meat with bursts of flavor. Bestsellers include their Smoked Beef Brisket and Smoked Pork Belly.
Halal Kabab Express offering an array of authentic Persian cuisine for a filipino friendly-price. Recommended dishes include Chicken Biryani with Basmati Rice, Keema, and Chelo Kabab Kubideh.
Crazytella is a Nutella themed dessert stall serving an assortment of Nutella centered desserts and snacks. We recommend their Waffella, Bombettes, and Fryce Cream.
Chicken Alley, a stall with a rustic industrial vibe, specializes in buffalo wings with different flavors such as the original buffalo, salted egg, sriracha-mansi, teriyaki, soy garlic, and honey garlic.
Insider tip: They also serve Chicken Tenders with unique breading options such as Doritos and Chippy.
Potato Club
Potato Club is a food stall that specializes in potato-based grub. They're the 1st in the country to serve the cheesy potato – a fried mashed potato loaded with toppings and drowned with cheese.
Insider tip: A must-try is their Club & Cheese that's loaded with bacon bits, ham, broccoli, boiled egg, pineapple bits, ranch sauce, and parsley.
Pound 4 Pound is a boxing themed burger stall. Enjoy their quirky named burgers like Twice the Fun, Italian Stallion, Noy-pi, and Early Bird. 
Push Mo Iyan Teh serves not so typical Filipino food giving a fusion twist to local dishes. Try some of their quirky dishes such as Salty Eggs Bagnet, Chicken Inasal with LGBT (Lara, Gata, Bagoong,  and Tomatoes) sauce, and Skinny Liempo.

Ta Ke Ho Me is a sushi take away counter serving high quality Japanese meals that are very affordable and perfect for people on the go. Must-trys are their TKHM Roll, Dragonball, and Salmon Sushiritto.
First featured here: Ta Ke Ho Me Sushi Stand and their unbelievable P99 sushi rolls
The Good Tapa offers a fresh spin to your usual Tapa, their tapa choices offer a selection of meats (Chicken, Beef, and Pork) combined with an array of unique sauces (Original, Garlic Salpicao, Sweet Bulgogi, and  Thai Mama) to satisfy any tapa craving you can have.
Chillout Cooks specializes in creative fried cuisine specializing in fried pies, fried pizzas, fried oreos, fried fusilli, and fried more.
The Lost Bread Milkshake Express is a milkshake bar which specializing in over-the-top milkshakes and blue vanilla soft-serve ice cream. Signature shakes include the Campfire, Carnival, and Morning Meal.
Also featured in: The Lost Bread HQ is everyone's favorite spot in Maginhawa
Macho Lucha is taqueria stall serving up classic tacos, nachos, and other Mexican grub. We recommend their Lotatore (Pizza Quesedilla), El Santo (Beef Taco), Nacho Libre and Dorada meal – crispy sisig and a sunny-side up quail egg.
Saigon Sadie, a direct take from Asia's red light districts, serves modern twists on Vietnamese favorites, like the Banh Mi sandwich and fresh spring rolls.
Tikka Tikka Fusion Burrito serves Indian-Mexican fusion cuisine. It's a combination of a shawarma and a burrito. Tikka Tikka burrito comes with choices of beef tikka, chicken tikka, prawn tikka and sisig tikka.
Other food stalls include Tokyo Tempura, Amo Yamie Crib, Rustic Box, and many more to open soon! They're open from Monday to Sunday from 4PM – 12MN at Christian Route cor. Hillcrest Drive, Pasig.
The Yard Underground is officially opening on Monday, Jan. 16th.
Which food stall's your favorite? Search for 'THE YARD UNDERGROUND' in the Booky app to see the complete details of location and add all of these food kiosks to your must-try list! If you're fond of food parks, you can check out our food park compilation list here.
Don't forget to tag us on Instagram @bookyapp and use the hashtag #bookymanila so that we can feature your photos in our future posts!
If only we can put all those food into one burrito.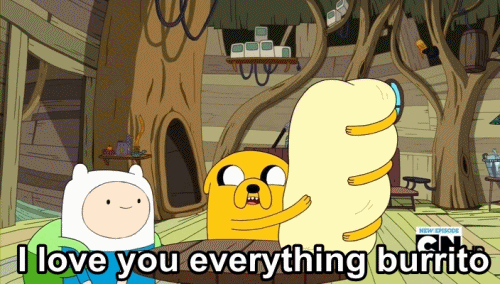 Originally produced by Ysmael V. Suarez