Fun and crazy, just the way we like it.
The food industry moves so fast that it takes someone faster to keep up with all the trends and be competitive. Now more than ever, the concept of the restaurant is as important, if not more, as the food itself. So what better way to stand out than picking a specific unique theme and going all out from design down to the dishes?
Check out these super cool restaurants that are too unique to ignore!
Update: Check out all of our Buy 1 Get 1 deals here!
Alice Tea Salon is an Alice in Wonderland-themed cafe that serves authentic tea leaves sourced from Taiwan. They also offer iced drinks and pastries.

View their menu
View their Instagram account
G/F The Pearl Place, Pearl Drive, Ortigas, Pasig
(02) 925-1213
Megawatt is a power plant-themed, a carwash concept diner and is the first solar-lighted restaurant in Manila. It is a family-owned business and specializes in Tex-Mex dishes including burritos, pizzas, ribs, burgers and more. Read More.

View menu
View their Instagram account
41A N. Domingo cor Gilmore Ave, Valencia, Quezon City
(02) 501-2987
Snacks and Ladders Board Game Cafe offers great food and unlimited play that's perfect for everyone. Snacks and Ladders has over 400 board games, a giant chess board, a giant Snakes and Ladders board, a foosball table, a Harry Potter-themed karaoke area, and a wide selection of Filipino-American fusion snacks and meals.

View menu
View their Instagram account
188A Maginhawa Street, Teacher's Village, Diliman, Quezon City
(02) 990-5675
Seoul Train is an immersive locomotive Korean BBQ grill owned by husband-and-wife Vernon and Happee Go, who are K-pop concert promoters. Their work allowed them to discover authentic Korean restaurants around the city and Seoul Train became the product of their shared love for food, travel and music. Read more here.

View menu
View their Instagram account
#28 Sergeant Esguerra Ave, near Tomas Morato, Quezon City
(02) 287-2446
Zoo Coffee is a Korean-franchised zoo-themed cafe, founded by Kim Kun Woo in 2009. Today, there are over 100 stores in South Korea, with international branches in Beijing, Guangzhou, Shanghai, and Taiwan. The original concept here is to allow the customers to relax in a comforting ambiance and setting of nature surrounded by animal-inspired furniture and stuffed toys. Read More.
Insider tip: Buy 1 get 1 Oreo Bingsu, Churros Waffle, and more with Booky! Find out how here.
Located in Flossom Place, San Juan, Flossom Kitchen + Cafe, a garden themed cafe that offers all-day breakfast, and modern comfort food with a twist that caters to people of all ages. This cafe is also very Instagrammable so don't forget to take loads of photos!
Reservations are accepted
View menu
View their Instagram account
187 N. Averilla St, Sta. Lucia, San Juan
(02) 238-5857
Shutter Cafe is a place for photography enthusiasts, the place is adorned with vintage cameras and what nots. It serves caffeinated beverages, fruit and milk tea chillers and hosts photography and arts classes as well.
No reservations accepted
View menu
View their Instagram account
118 Sct. Dr. Lazcano St. cor. Tomas Morato, Quezon City
(02) 413-6628
You probably know Designer Blooms is a flower shop, but did you know that they have one branch that is part cafe too? Only at Molito, Designer Blooms Cafe serves some of the best pizza, pasta and croughnuts in town! Check out other dessert stops down South here.
No reservations accepted
View menu
View their Instagram account
Molito Lifestyle Mall, Madrigal Ave, Alabang, Muntinlupa
(02) 808-9569
Hugot Cafe is a fun student-friendly cafe with hugot-inspired dishes and beverages. Diners are entertained by servers who shout out hugot lines and are encouraged to express and write their feelings on their #HugotWall. It may not be the best place for couples, but it's definitely for hearty conversations with friends. P.S. They have open mic nights and poetry nights.
No reservations accepted
View menu
View branches
View their Instagram account

This Sanrio-themed cafe serves cute character-inspired dishes, pastries and desserts that kids will surely love. Not to mention they're cute for your Instagram feed!
Reservations are accepted
View menu
View their Instagram account
3/F Uptown Mall, 36th Street Corner 9th Avenue, Fort Bonifacio, Taguig
(0945) 305-0713
Boracay Toilet is the first toilet-themed restaurant in the Philippines, which opened just last year. It was inspired by the owner's first-hand experience at the Modern Toilet restaurant in Taipei. It offers Filipino fusion dishes with quirky pun titles, served in mini toilet bowls and urinal-shaped glasses. Read More.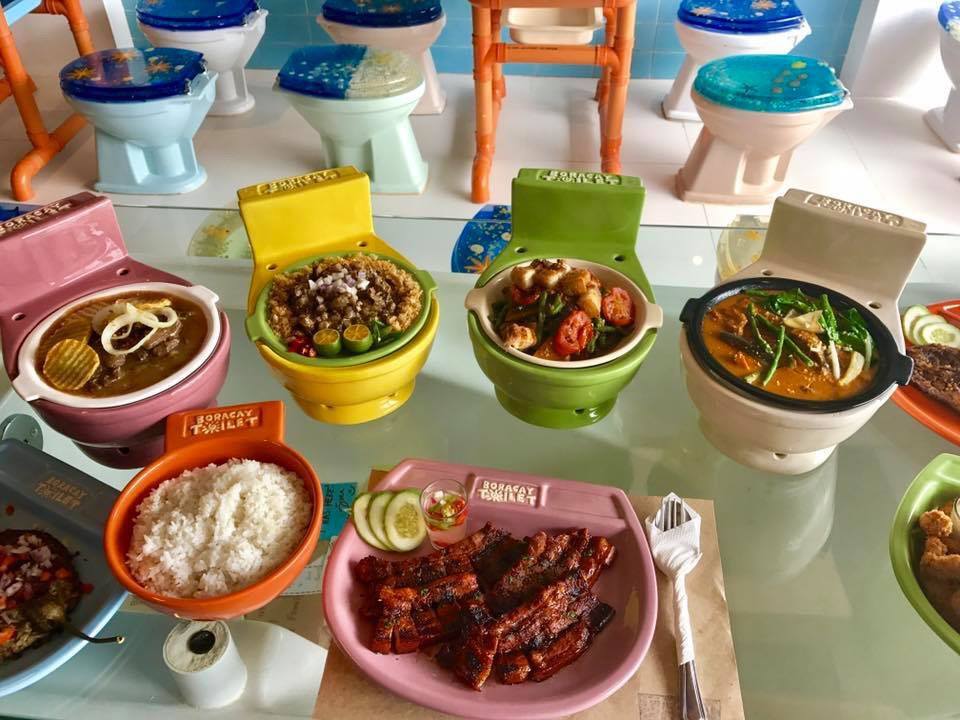 No reservations accepted
Balabag Plaza, Station 1, 5608 Boracay (near the Holy Rosary Parish Church)
(0917) 826-8001
Regular Legaspi Sunday market goers will probably be most excited as Warung Warung finally opens its first full-fledged branch in Kapitolyo after 7 years. Warung Kapitolyo is a Bali-inspired haven that serves authentic Indonesian specialties by sisters Louh Decena and Tess Doctora. Both have lived and worked in Indonesia for several years. Read More.
Reservations are accepted
View menu
View their Instagram account
83 East Capitol Drive, Kapitolyo, Pasig
(0917) 800 9158
Amidala Cafe is an out of this world, Star Wars-themed cafe located in the heart of Cebu. It opened in 2014 and is known for their over the top character-inspired milkshakes; bestsellers include the Force Choke, Choco CarameLeia, Wookies Milkshake and the new Millenium Muffin Milkshake! Read More.
No reservations accepted
View menu
View their Instagram account
Maria Cristina St. Maria Cristina Arcade Building, Kamputhaw Cebu City
(0933) 1336277
Camping Date is a Korean restaurant that offers a unique indoor camping dining experience. On top of this are their much talked about signatura Korean fried chicken and pizza selections available in various flavors. All ingredients are said to be imported from Korea to provide the most authentic taste.
No reservations accepted
View their Instagram account
363 Legarda Road, Ferdinand Barangay, Baguio City
+63 927 487-8282
Make the most out of your surfing trip in La Union by visiting this authentic Greek restaurant along the beach front area of Hacienda Peter's Surf Resort. Their Santorini-inspired decor and open kitchen setup is the perfect venue to enjoy your freshly-made gyros and dips. Also read: 10 Best Places to Eat in La Union
Reservations are accepted
View their Instagram account
Urbiztondo, 2514 San Juan, La Union
+63 921 604-9989
Ichiba, meaning 'market', is the first ever Japanese seafood market concept in the Philippines. Inspired by the large, bustling seafood and wholesale markets in Japan, Ichiba sought to bring the same lively and gastronomic experience to the Philippines. Experience a taste of Japan's best through Ichiba's 10 food stations: Takoyaki, Gyoza, Tempura, Yakitori, Ramen, Donburi, the fresh market display, a live seafood market, fishing area and the Asahi Bar. Read our full feature here.
Reservations are accepted
View menu
View their Instagram account
2/F Newport Mall, Resorts World Manila, Newport City, Pasay
+63 917 732-2176
Add these places to your Must Try lists on Booky so you don't forget any of them. Tag us on Instagram @bookyapp when you visit these places so we can drool over your food-ventures!
Found any new restaurants in your neighborhood? Shoot us an email with all the details at support@phonebooky.com.
Comments
comments