Philippine folklore come to life!
Ask your Lola to tell you a story and you're bound to hear Philippine folktales about magical and fantastical creatures lurking in the night. A magnificent sirena singing by the glistening sea, a dauntless tikbalang galloping freely through the forest or perhaps, a deceitful duwende playing tricks on children and leading them astray— into the darkness where the terrifying Kapre looms, possessing your lost soul for all of eternity.
These tales, although deemed fiction, have been recounted by our elders for ages. But, what if we told you that these stories were not simply myth, but had the possibility to come to life through Tipsy Tales' Lambana?
Lambana
You're probably wondering, "So, what exactly is Lambana?" Right off the bat, we're here to tell you that it's an experience unique to most.
Tipsy Tales' Lambana is a 75-minute whimsical and immersive theatre experience that brings Philippine folklore to life with you as the main character. And because you are the protagonist in Lambana, your choices have real-life consequences and will steer the direction of the story.
The adventure begins as you enter your Lola Mila's house— although you haven't seen her in what seems like forever, she calls each of you by name. You may even find your college diploma sitting on her aparador. Lola Mila then instructs you and your group to sit on her creaky wooden chairs as she narrates a story about a young girl and her adventures alongside the mythical creatures of the forest.
However, things start to unravel as one of your companions is held captive by the Nuno sa Punso. From here, you and your group must enter the dark and enchanting world of Lambana to embark on your own adventures— as not one person's experience will be the same. You may even find yourself being separated from your friends.
As you set off into the enchanted forest of Lambana filled with glowing lights and lush greenery, you will be accompanied by Mara, a seemingly harmless duwende who will guide you through the forest. In the forest, you'll have a chance to meet the Sirena— who may or may not serenade you with her bewitching voice and offer you a mysterious concoction.
And if you're not careful, you might even come face to face with the powerful Kapre known to trap people in his house forever. Though, he might surprise you. Each decision that you make comes with a cost and may change the direction of the story entirely. In other words, know whom to trust in Lambana or your fate may end badly.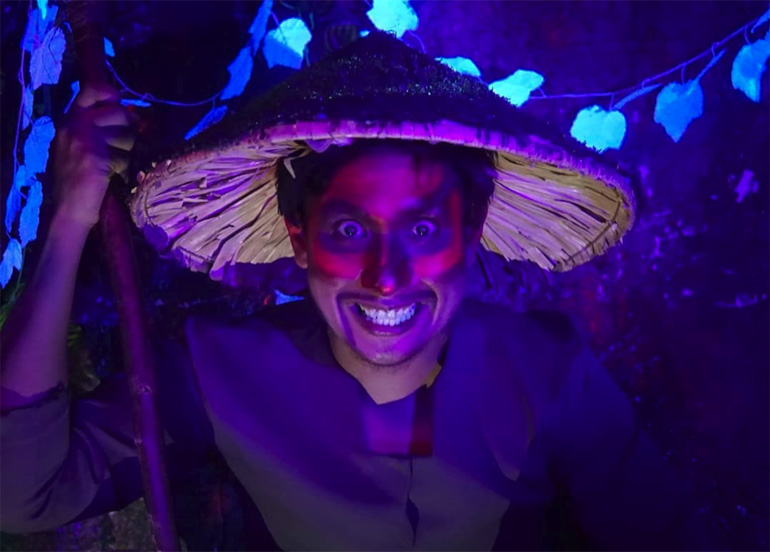 How does it work?
Lambana is an incredibly immersive experience because it's 50% improvisation and 50% script from its actors, which means no two experiences are ever the same. The production staff also plays with the temperature and scents of each room to enhance the participants' senses and moods.
So, it's an Escape Room?
Well, not really. Tipsy Tales encourages audiences to explore the space, not necessarily escape from it (unless they are prompted by the story to do so). It depends if you actually want to escape as some people want to stay in Lambana forever.
Also, there's a lot of role-playing involved from both you and the actors. This doesn't necessarily mean you need to act, all you have to do is play along as you interact with Lambana's characters.
Is Lambana scary?
Adventuring is Tipsy Tales' priority, not fear. However, to step into Lambana is to venture into a strange new world and with each adventure, there are definitely risks.
Can I come back even though I already know the story?
Lambana actually has multiple endings depending on the choices you make during your visit, which means your next visit will most likely be completely different from the ones before! You might even want to pay multiple visits to unlock all of their endings.
Plus, they also rotate cast members everyday, which means you probably won't get the same character and experience twice.
Is the show in English or Filipino?
Fun fact: You can actually choose to have the show in either English or Filipino when you choose your preferred schedule to Lambana!
Who can come?
The recommended age for entering the world of Lambana is 12 years old and above. Children younger than 12 may enter with a legal guardian and can request for a child-friendly show, if they book a private show.
Lambana is also PWD and Senior Citizen friendly with the oldest guest being 88 years old. While the experience is not fully wheelchair accessible, they can make special arrangements, so make sure to e-mail beforehand at hello@tipsytales.ph!
Each group to participate has a maximum capacity of 15 pax, so if you're planning on bringing the whole family along with you, the more the merrier!
And if you didn't already know, you can actually claim some pretty awesome Tipsy Tales offers from Booky.
Insider tip: You can enjoy One Weekday ticket to Lambana for just ₱2,000 ₱999 or One Weekend Ticket to Lambana for just ₱2,000 ₱1,199 on us! 
To claim these offers from Tipsy Tales, just follow the steps below:
Download Booky's app and sign up for a free trial
Scan the QR code at the counter
Pick a coupon to avail
So, what are you waiting for? Your adventure begins at the heart of Lambana where folklore comes alive and where you are the hero of your own tale. We only hope that you return home.
You can find Lambana's mythical creatures at Eastwood Mall in Quezon City. To reserve a spot, visit their website here.
Check them out here
View their website
View their Facebook page
4/F Eastwood Mall, 116 Orchard Rd, Bagumbayan, Quezon City
(02) 8362-3456
Enter an entirely new world with Tipsy Tales' Lambana. Just download the Booky app today and get great discounts from our top partners in food, fitness, beauty, and more.