When I say "JUMP," you say . . .?
Where are all these trampoline parks at?!
Nothing makes you feel more like a kid than hoppin' and skippin' on a gigantic trampoline! Just imagine you and your buddies taking turns doing the craziest flips midair. . . ah yes, pure madness! Just like when you used to jump from one bed to another, pretending you're suspended in gravity at Mars!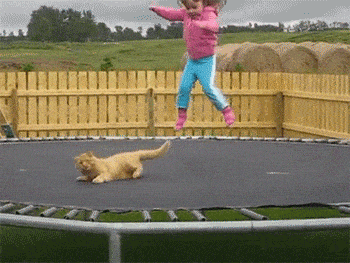 We guarantee to give you that exact feeling! We've made a list of all the Trampoline Parks found in Metro Manila. You'll find that these spots can surprisingly enlighten the child in you!
Trampoline Park had one simple idea in mind: a place where people can come together and get active, all while enjoying each others company! Its multi-colored walls and upbeat background music, make the environment feel easy-going and friendly.
The 70 interconnected trampolines located all over the park, offer a wide range of activities for you and your buddies. Dunk over your friends with the multiple basketball hoops lined onto the walls. The tumble tracks and foam pool complete the trampolining experience as it offers a variety of places to land after an awesome jump.
Trampoline park is located at The Portal in Greenfield district. There are numerous restaurants located here and it's only just walking distance from Shangri La Mall and St. Francis.
The park also offers unique sessions to make you trampoline experience even more awesome! Enjoy a one hour free-for-all in Gravity Jump or let your kids burn out all their extra energy with their playful imagination at Gravity Kids.
Get a sweat out from any of the active workouts offered by Trampoline Park. Gravity Parkour, Gravity Fitness, and Gravity Aeorodance provide rigorous exercises that are guaranteed to make you feel happy and fit.A party also kicks off after the clock strikes eight, as Trampoline Park's resident DJ plays the hippest sounds to kick off Gravity DJ Beats.
Trampoline Park will truly probe your bounce as you compare jump stats with friends, but most importantly, revive your inner kid.
Get a 30-minute Flying Adventure for TWO-- only for ₱189
Check them out HERE
Visit their Website
Like them on Facebook
Follow them on Instagram
The Portal, Mayflower Street, Greenfield District, Mandaluyong City 1552, Metro Manila, Philippines
+63 905 453 3879
Jump Yard measures an impressive 2,000 sqm, making it the largest trampoline park in the Philippines! If that's not awesome enough, they also hold an Olympic trampoline which you can use to jump to your heart's content!
Located in Pasig City, you'll find that it's situated in the most convenient spot amongst restaurants and recreational locations. Jump Yard sits just across Tiendesitas and the The Grove Condominiums. It's not hard to miss, as Jump Yard's massive complex can be seen by riders along the overpass!
There's so much to do in this bounce house! You can duck and dive while playing dodgeball, land into the soft foam pits, and even mimic your favorite NBA stars with the basketball hoops they have for you!
There's also a variety of obstacle courses set up around the area, where you can test your reflexes at cage ball or your arm strength on the wall climb! One hour in the park will definitely be worth while with all these activities lined up.
If you and your friends want a more exclusive hoppin' session, Jump Yard's got the solution for you! Their party packages offer privacy for birthdays, company outings, and more. They reserve tables on the side so you can drink and eat after an intense jump session.
Jump Yard's operating hours from Monday to Thursday are from 12:00nn – 9:00pm. Friday's last longer as they're open from 12:00nn – 10:00pm. However you'll find that it opens its doors extensively during the weekdays, from 10:00am – 10:00pm, for Saturdays, Sundays, and holidays!
Claim your weekend jump session for only ₱189!
Check them out HERE
Visit their Website
Like them on Facebook
Follow them on Instagram
Frontera Verde Complex Ortigas Ave. cor. C5, Pasig City
(63-2) 544-0703 / 09156182183 / 09084720031
Bounce Philippines is the perfect play area to bring your kids and their friends! The 1,225 sqm trampoline park holds different areas for play like the toddler area, interactive play room, and their spacious cafe for events!
Not many trampoline parks put detail in giving safe areas for toddlers to play, it's a good thing Bounce Philippines knows where it's at! Their toddler area has its own foam pool and mini basketball area. The kiddos look adorable trying to hit those jump shots! Apart from this they can also explore the swing and mini climbing wall!
You can also find a variety of props to heighten your trampoline experience. Scattered all over the area are airbags, battle beams, bubble balls, hula hoops, and surf boards! You have the typical basketball hoops you can dunk on, but they also offer dodgeball, boxing, and ninja parkour! Try your luck on the gymnast beam and maybe you'll end up in the Olympics!
What's cool about Bounce Philippines is that they offer a mobile app which you can download. Receive all the updates on schedules, events, and more all in real time! You can ever reserve the spot if you have any occasions planned out for birthdays, field trips, or corporate events.
Claim your unlimited weekday pass for only ₱299!
Check them out HERE
View all their branches
View their Website
Like their Facebook
Follow them on Instagram
09171740327 / 09279442860 / 09951490285
Featured image solely belongs to @bouncephilippines
These trampoline parks in Manila are ready to give you guys some bouncin' good fun! Get yourself ready to get hip, hop, hoppin' with all the best deals waiting for you in these bounce houses. You'll surely feel like a kid in your first visit.
Are you a skipper when it comes to all the best spots in Metro Manila? We've got just the right partner for you and your little ventures! To get the best deals and promos, download the Booky app today! We're more than just fitness in Booky– you've got beauty and food waiting on your doorstep too!