We're in truffle!
We've all had our fair share of dishes that were just so good, we immediately mentally listed the restaurant down as a favorite. But one part of the meal that shouldn't be overlooked is the appetizers. Now we all love fries, and we all love truffle, but sur-fries! Here's a hybrid wherein we don't have to choose which.
Everyday is fry-day, so try these irresistible truffle fries you can order around Metro Manila!
Craving something sweet to counter the fries?: Check out 13 of the Best Apple Pies in Manila that Will Make You Feel Right at Home
Stoned Steaks lets you cook your own steak on a 350° lava rock right at your table. Also offering mouthwatering starters and sandwiches like Baked Veal Bone Marrow and Wagyu Foie Gras Burger, you can choose from wide selection of Angus Steaks, Wagyu, and Surf & Turf!

View menu
View their Instagram account
55 Sct Rallos St., Diliman, Quezon City
(02) 866-3807
Parmesan Truffle Fries – Prima Facie
Prima Facie is a speakeasy hidden inside Vitto's Wine Bar & Restaurant in Tomas Morato. They mainly serve bar chow to go with their hefty drinks list. Try their Buttermilk Fried Chicken Parmigiana – buttermilk fried chicken poppers, marinara sauce, mozarella, cheddar.

View menu
View their Instagram account
114 Scout Lozano Street cor Tomas Morato, inside Vitto's, Laging Handa, Quezon City
(02) 374-2299
Parmesan Fries with Truffle Mayonnaise – The Clubhouse
The Clubhouse is a casual dining restaurant serving modern comfort food. The restaurant serves a wide variety of items from breakfast favorites, handmade soups and salads, sandwiches, pastas, hearty meals, and even desserts.

View menu
View their Instagram
G/F Robinsons Magnolia, Doña M Hemady Ave, Valencia, Quezon City
(02) 442-5571
Hello Kitty Cafe serves character-inspired dishes, pastries, and desserts. It is a full on Sanrio-themed cafe with Kawaii-inspired interiors. Hello Kitty Cafe is brought in by the official distributor of Sanrio in the Philippines.

View menu
View their Instagram account
3/F Uptown Mall, 36th Street Corner 9th Avenue, Fort Bonifacio, Taguig
(0932) 426-7753
Parmesan Truffle Fries – Olivia & Co.
Olivia & Co seeks to become the go to place for a gourmet experience. They serve artisanal coffee and tea to compliment food inspired by various cuisines of the world. Read our full feature here.
Single Origin is a new hangout spot where coffee and alcohol lovers can find common ground. Single Origin features a hefty breakfast & lunch menu, dinner menu and beverage list including specialty coffee and alcohol-based drinks. Another must-try of theirs is their Chori Fries, with Chorizo Pamploma and parmesan.
Parmesan Fries with Truffled Ketchup – Your Local
Your Local is a neighbourhood bistro serving South East Asian dishes with a twist. Opened by Chef Denny Antonino and Nicco Santos, the restaurant has a hipster meets industrial vibe serves all day brunch together with their standard menu. The truffle comes in your ketchup, but another alternative for the fries category is their mock mentaiko fries with nori.

View menu
View their Instagram account
Universal LMS Building, 106 Esteban St, Legaspi Village, Makati
(02) 823-6206
Chelsea Kitchen, owned by Raintree Restaurants, offers home-cooked meals with a twist. They serve specialty cakes, mix your own salad and stone- fired pizzas.
Insider tip: Enjoy Buy 1 Get 1 Truffle Mushroom Cream & Bacon Pasta plus Bottomless Iced Tea and more! Check it out here.

View menu
Avail at 1 branch
G/F SM Mega Fashion Hall, Ortigas, Mandaluyong
(02) 958-6777
The Perfect Pint is a go-to restaurant bar for local craft beers and fine food pairings. All-day breakfast, bar chows, pizzas, pastas and sandwiches are served.
Truffle Parmesan French Fries – 8 Cuts
8 Cuts Burger Blends is a make-your-own burger joint, where '8 Cuts' is a reference to the eight cuts of beef used in the five custom blends that only they offer.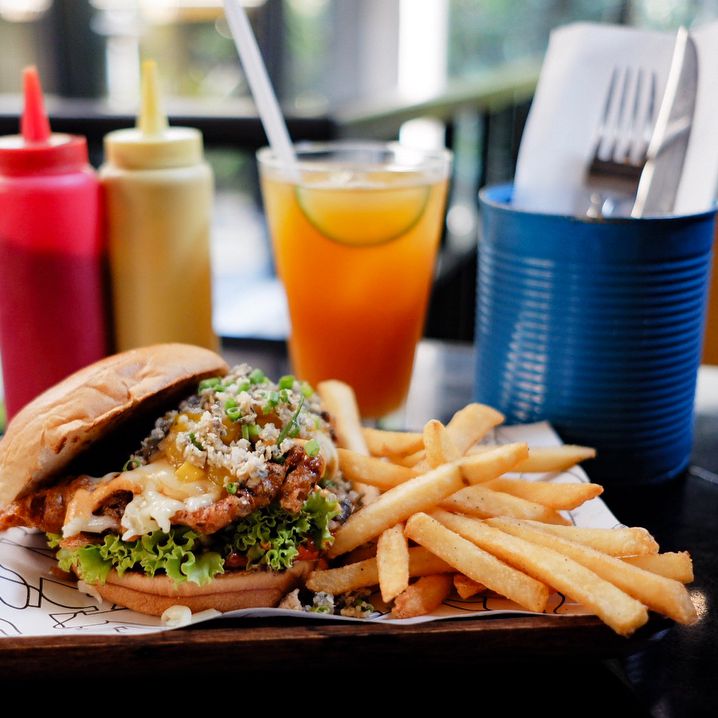 Luxe Fries – Lusso
Famous for their Foie Gras Burger, Lusso, which means 'luxury' in Italy, is a French-Italian restaurant, with charming and enticing interior that evokes the Old World elegance. Other best-sellers include the Luxe 'Mac & Cheese', Lobster & River Prawn Roll and the Strawberry Trifle for dessert!
View menu
View their Instagram account
G/F Greenbelt 5, Legaspi St, Legazpi Village, Makati
(02) 756-5893
Ever since opening its carwash burger joint concept in 2009, Charlie's Grind and Grill has become a mainstay in the local burger scene. Their Black Angus and Wagyu burgers need no introduction.
CAV Wine Shop and Cafe is an upscale restaurant whose name was taken from the French term 'cave,' meaning wine cellar. The name illustrates the restaurant's wide selection covering over 500 different bottles from all over the world. It serves modern European cuisine ranging from steaks, seafood and more.
View menu
View their Instagram account
G/F The Spa Bldg., Lot 5 Quadrant 8, 11th Ave., Fort Bonifacio, Taguig
(02) 856-1798
Bonus!
Bread Broth and Beyond offers comfort food at its best. It has a modern interior with a warm & homey ambiance.

View menu
View their Instagram account
SM Cherry Shaw, along Old Wack-Wack Road, Mandaluyong
(02) 942 7830
UPDATE: 20 Restaurants in Manila where you can share Irresistibly Delicious Truffle Pasta with your BAE!
If you're not already enjoying the offline convenience of Booky, you can download the app for FREE! Whether you're on iPhone or Android, you get ₱1000 worth of savings on us. But why stop there? When you sign up for Booky Prime, you can get up to ₱15,000 worth of Buy 1 Get 1 deals and unlimited discounts – all for just ₱199 a month. Your next bite is just a touch away.