Discover the best places to work out from Quezon City, Makati, Pasig, and more!
With a slew of international chains and local options popping up all over the Metro, finding the gym fit for you can be a real challenge. After all, you have to figure out if you go to the one with the cheapest gym rates, or the gym near your house or office, or the one your friends go to!
If you feel like you need a little help picking the perfect gym for your needs, then Booky has got your back! We've compiled a comprehensive guide to some of the top, most-liked, and most-frequented gyms in Metro Manila.
Looking for CrossFit Gyms? Discover our ultimate guide to all things CrossFit!
Gyms with Multiple Branches
One of the most recognizable 24/7 fitness chains in the country, Anytime Fitness makes good on its name and delivers a high quality gym experience anytime that you want! With locations in malls and office spaces and clean and functioning private showers, Anytime Fitness could be the perfect place to get that work out in before going out or heading to work.
Read More: Discover the Top 24/7 Gyms in Metro Manila
Fitness First is also an international brand that's well-known for using only top-of-the-line equipment and facilities. Fitness First has two kinds of clubs in the country, Premium clubs are their standard gyms, while the Platinum clubs are more exclusive and have more facilities and benefits for the members.
With premium fitness facilities all over the world, Gold's Gym has established itself as one of the most trusted names in fitness and health. Experience the gold standard in fitness and achieve your goals with the help of expert trainers, nutritionists, and top-of-the-line equipment.
A longtime staple of Filipino fitness, Slimmers World provides world class facilities and equipment at affordable and accessible rates. Be part of a world of fitness and get closer to reaching your goals at Slimmers World!
An internationally renowned fitness club exclusively for women, Curves offers a first-class workout experience catered to your needs, ability, and schedule! From effective and enjoyable 30-minute classes to top-of-the-line equipment and expert trainers, get set on a straight line to achieving your fitness goals with Curves!
360 Fitness invites you to "complete the circuit." It separates itself from all other gyms by being a no-machine gym that focuses on holistic training, meaning they want each of their members to be strong, flexible, dynamic, and adaptable. They offer circuit training, Les Mills workouts, and their Signature Functional Strength classes.
Catering professional athletes and fitness beginners alike, Focus Athletics is one of the premiere performance training and physical therapy facilities in the Metro. With the help of their highly-trained and adaptable coaches, enjoy a smart, scientific, and sustainable approach to your fitness journey at Focus Athletics!
Kineticore is a physical therapy center that specializes in functional training, strength and conditioning, and corrective exercise. Experience Kineticore's effective programs, top notch facilities, and highly trained therapists and start achieving better, sustainable results!
Gyms in Makati
More than your typical neighborhood gym, Functional Fitness puts on emphasis on functional strength training, giving your body a strong and reliable foundation! Get strong and get ready to conquer your challenges with ease.
Check them out here
2/F CAP Bldg, V.A. Rufino St, Legaspi Village, Makati
Gyms in Quezon City
Unlock your athletic potential and bring out your best at the Athletic Gym! Train like a pro and get started on a total fitness lifestyle with the help of Athletic Gym's expert trainers, top-quality equipment, and supportive community.
Enjoy One Month Unlimited Gym Pass for only P1500 P750!
Check them out here
View their Facebook page
View their Instagram account
3/F Creekside Square Bldg, 74 Tomas Morato Ave, Kristong Hari, Quezon City
(02) 750 9423; (0917) 672 0611
Fit City is dedicated to making sure you achieve your fitness goals. With premium gym equipment and highly trained coaches, a trip to Fit City guarantees that you're supported on your fitness journey every step of the way.
Check them out here!
TSL Bldg., 59 E. Rodriguez Sr. Ave., Dona Imelda, Tatalon, Quezon City
Take your fitness journey to the next level with MS Fitness! Get serious about getting fit with the help of MS Fitness' crew of experienced fitness coaches and top-of-the-line gym equipment and move closer towards reaching your fitness goals.
Check them out here!
3/F Creekside Square Bldg. #74 Tomas Morato, Kristong Hari, Quezon City
(02) 410 5433
With their top-of-the-line equipment and internationally-certified trainers, Platinum Executive Fitness Gym offers the complete fitness experience. Achieve your body goals and enjoy other amenities such as their swimming pool, jacuzzi, sauna and steam bath, and more!
Check them out here!
1st St., New Manila, Quezon City
Gyms in Pasig and Mandaluyong
Push towards your upper limits of fitness with The Upper Deck! The Upper deck equips all of its members with state-of-the-art amenities and highly trained instructors to guarantee success for every fitness journey.
Check them out here!
6/F Ortigas Technopoint Building, 1 Doña Julia Vargas Ave, Ugong, Pasig
(02) 942 4585
Train like a true Spartan and push yourself to the limits at SPARTA Fitness. A favorite among many in the Kapitolyo area, SPARTA Fitness is an easy pick for those who want to get an intense workout in the gym before or after they work in the office! Their circuit classes are a must-try.
Check them out here
View their website
126 Pioneer St., Buayang Bato, Mandaluyong
(02) 655 3799
Fitness Capital is the ultimate destination for your fitness journey. From lifting weights to free-styling, find the best way for you to achieve your fitness goals at Fitness Center.
Check them out here!
2/F GA Tower 2 Boni Ave., EDSA, Highway Hills, Mandaluyong
(0966) 261 3060
Gyms in Taguig
Kerry Sports prides itself for the 8,000+ square meters of premium fitness space. Boasting an NBA-grade indoor basketball court, tennis courts, a squash court, half an Olympic pool, studios for yoga and dance, and over 90 units of fitness equipment, Kerry Sports Fitness is a family-friendly gym that has everything for everyone: while the parents are working out, kids can hang out at the Adventure Zone, a 1,000-sqm indoor playground for kids of all ages.
View their website
Shangri-La at the Fort, Manila, 30th Street corner 5th Avenue, Bonifacio Global City, Taguig
(02) 820-0888
Visit their official website
View their Instagram account
9th Flr., Unit 1, Ore Central, 9th Avenue, Corner 31st St., BGC
(02) 541 5289; (0917) 676 6421
Treston Health Club offers an international and exclusive gym and wellness experience at affordable and accessible prices. Give your fitness journey a head start with Treston Health Club's top-of-the-line equipment and experienced personal coaches.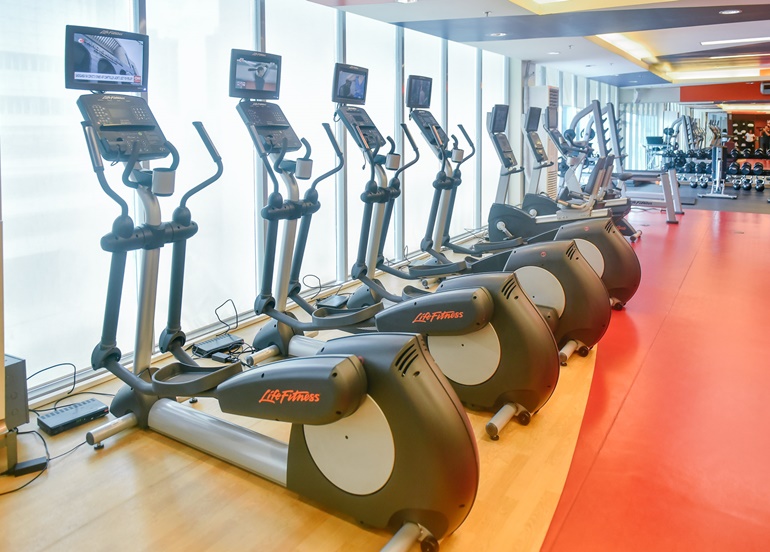 Check them out here!
4/F Treston International College Bldg., University Parkway District, Fort Bonifacio, Taguig
(02) 459 7448
Other Gyms In and Around the Metro
Don't just be fit. Be Alpha Fit! Come to Alpha Grind Lab and partake in the various fitness and athletic programs such as Muay Thai, weight lifting, and even 1-on-1 basketball training and unleash your inner beast.
Try out a 1-on-1 Basketball Session with Coach for only P399 P200!
Check them out here
View their Facebook page
View their Instagram account
Pampano St, Longos, Malabon
(0917) 533 8799; (0977) 332 4889; (0938) 816 5791
Train like a true top athlete at Vermosa Sports Hub! Challenge your body and hone your skills with state-of-the-art facilities, top-notch coaches, and effective equipment that will help you achieve your best results.
Experience The Champion's Bundle for only P890 P250!
Check them out here
View their Facebook page
View their Instagram account
Champions Loop, Vermosa, Daang Hari Rd, Imus, Cavite
(0998) 242 0370
Ready to get into top shape? Download the Booky app and be first in line for our exclusive offers from the best fitness, food, and beauty partners around the Metro!