We've said it before and we'll say it again: the Korean BBQ craze in the Philippines has been in full-swing for the past few years with an influx of Korean BBQ joints setting foot into the market. That being said, it's safe to say that Korean BBQ has become an integral part of our country's lifestyle.
So, get crackin' and head on to your favorite KBBQ joint for samgyupsal and soju-fueled fun! To help you out, we've listed down Metro Manila's finest Korean restaurants for some unlimited samgyupsal and unlimited sides!
NOTE: Prices are subject to change without notice. Kindly call in advance for reservations and current rates.
Bringing together all the ingredients for a great dining experience, The Cooking Room serves up a must-try all-you-can-eat KBBQ experience. With premium meat, fresh sides, and even the option for gourmet sausages, it's time to get cooking with good times and amazing eats at The Cooking Room!
Buy 3 Get 1 FREE Unlimited Samgyupsal Buffet with Beef for P300 per person 
View menu
View their Facebook page
2/F Klircon Plaza, 192 Maginhawa St, Diliman, Quezon City
(02) 703-3344
Located in the heart of Loyola Heights, Saangyeopsal serves unlimited Korean barbecue at budget-friendly prices. Choose from 8 kinds of premium pork and beef cuts along with scrumptious side dishes and enjoy a flavorful taste of Korean dining at Saangyeopsal!
Buy 2 Get 1 FREE Unlimited Pork and Beef Buffet for only P266 per person
View menu
View their Facebook page
75 Xavierville Ave, Loyola Heights, Quezon City
(0995) 994-1388; (0916) 869-4448
Gen is a popular Korean restaurant chain from Los Angeles, California. The word "GEN" means "the beginning" and is actually an open invitation to the art of Korean BBQ.
Insider tip: You can get 100% Imported Unlimited Korean Barbecue for 3 pax and get 1 pax for free! Read more here.
Price: ₱2,994 instead of ₱3,992!
Reservations before claiming is required
View menu
View their Instagram account
Bldg. J, Unit 1-16, SM By the Bay, Seaside Blvd, Mall of Asia Complex, Pasay
(0917) 621-8249
Popular among office goers and friends looking for a quick KBBQ fix after work, Matgalne boasts a wide range of banchan along with their sulit unlimited pork and meat promos. With branches located in Ortigas and Makati, Matgalne is an easy go-to for the working barkada craving KBBQ.
Rates: P599++/head
Reservations are accepted
View menu
View their Facebook
View their 3 branches
Serving up authentic Korean food, Leann's Tea House are certified KBBQ masters. Barkadas based in Quezon City can gorge on their unlimited samgyeopsal, incredible kimchi, and their bestselling seafood pancakes. Insider tip: get a buffet for 4 for the price of 3 pax!
Buy 3 Get 1 FREE Unlimited Pork & BBQ Lunch for only P375 per person
Reservations are accepted
View menu
View their Facebook page
View their Instagram account
105R Mother Ignacia St, South Triangle, Quezon City
(02) 411-8902
Back from a quick renovation, Sodam sports a modern look, an inviting atmosphere, and authentic Korean cuisine that appeals to the whole family– conveniently located in Little Baguio, San Juan. Their incredibly flavorful bulgogi is a sure hit with both kids and adults!
RATES: Weekday Lunch M-F P319; Dinner M-S & Lunch Weekends/Holidays P349.
Reservations are accepted
View menu
17 Jose Abad Santos, Little Baguio, San Juan
(0905) 393-4190
Day Don Don Don is a Korean barbeque buffet that prides itself as being one of the cheapest choices out there, while still maintaining quality food and service. They offer an unlimited serving of beef and pork, as well as squid rings and shabu-shabu! Their buffet table also includes over 70 dishes from appetizers, main course, to desserts! Insider tip: get a unlimited samgyupsal for 4 for the price of 3 pax!
RATES: P1,797 for 4pax Unlimited Pork and Beef Samgyupsal (only P450/head)
Whether it's for birthdays, graduations, reunions, or any other big occasions, Sambo Kojin has become the leading choice for big KBBQ celebrations. With locations all over Metro Manila and a buffet offering Japanese and Filipino dishes in addition to the Korean cuisine, it's hard to go wrong with Sambo Kojin.
RATES: P849++/head
Reservations are accepted
View menu
View their 7 branches
View their Instagram account
Shabunoki cooks up an unforgettable buffet experience by serving up two all-time all-you-can-eat favorites! Whether you want to enjoy a classic Korean barbecue meal or a hit the spot with a satisfying Shabu-Shabu hotpot, you're sure to get your fill at Shabunoki! Insider tip: get Unlimited Samgyeopsal for 4 for the price of 3 pax!
RATES: P1,497 for 4pax Unlimited Samgyeopsal including pork, beef, chicken (only P375/head)
View menu
View their Instagram account
283 Aguirre Ave, BF Homes, Parañaque
(02) 962-0654
(0915) 934-2379
K-Pub BBQ – multiple branches
One of the more famous KBBQ restaurants– and easily the most recognizable- K-Pub BBQ offers the ultimate K-pop party experience for any occasion. With either live performances or K-pop music videos to entertain you in between rounds of KBBQ, expect nothing short of total, blissful sensory overload.
Rates: P499 - P1499/head
Insider tip: They have a 1 hour time limit for their budget unlimited promos. Avail their no limits unlimited offer to enjoy your buffet all night long.
Reservations are accepted
View menu
View their 4 branches
View their Instagram account
For the barkada looking to dine at a more quiet, mature, and authentic Korean restaurant, Sing Sing might be just right up your alley. Located at Aguirre Ave. in BF Homes, Sing Sing is an institution of Korean cuisine in the South- definitely a must-visit!
RATES:P299 - P599/head
No reservations accepted
View menu
268-A Aguirre Ave, BF Homes, Parañaque
(02) 738 0673
The ultimate value buffet for barkadas on a tight budget, Lee Hak offers unlimited meat and banchan for as low as P300! Proving that price doesn't matter when Korean barbecue is done right, visit Lee Hak at Kapitolyo to make your tummy happy without making your wallet cry.
RATES: Prices vary from P300 - P800/head depending on choice of meats.

Reservations are accepted
View menu
View their 2 branches
If their enticing buffet set-up wasn't reason to go enough, Seoul Garden garden ventures beyond the Korean grill and includes incredibly filling hotpot options, as well! If you and your friends are students, then we have great news for you! Just show your Student ID to avail of their friendly student discounts.
RATES:Weekdays Lunch P548, Dinner P598; Weekends Lunch P648, Dinner P648; Student Meal Lunch P388, Dinner P438.
Reservations are accepted
View menu
View their 2 branches
Hailing from the famous Korean restaurant chain in Seoul, Namoo House is upping the ante when it comes to Korean fine dining. Enjoy their premium unlimited samgyeopsal at great value-for-money, making it a great option when you and your friends are feeling like splurging a bit.
Rates: ₱650/head
View menu
View their Instagram account
G/F Uptown Parade, 38th Street Corner 9th Avenue, Fort Bonifacio, Taguig
(02) 946-3733
Samgyupsalamat has definitely taken Metro Manila by storm, with locations opening up all over. On the small chance that you and your foodie friends haven't tried this restaurant, their unlimited samgyeopsal, incredibly marinated meat, satisfying sides, and affordable prices will have you coming back in no time!
Rates: Weekends P400++, P500++/head
Reservations are accepted
View menu
View their 23 branches
Romantic Baboy is the perfect place to satisfy those late night cravings! With their refillable banchan, unlimited selections of pork, beef, and chicken, soup, rice, and grade A cheese, Romantic Baboy takes the cake as one of the top tier unli KBBQ restaurants in the metro.
Rates: P499 for Unlimited Pork + Beef
View menu
View all branches
View their Facebook page
View their Instagram account
Get your samgyupsal fix any time of the day with Premier The Samgyupsal. Open 24 hours a day, Premier The Samgyupsal provides premium cuts and ingredients for customers around the clock. Not to mention, they have a shabu-shabu option for those who enjoy soup and seafood!
Just because YES! Samgyupsal is easy on your wallet doesn't mean it isn't also a bang for your buck! More than just the usual beef and pork slices, you can also opt to try their Korean buffet, which has Korean fried chicken and other savory and sweet dishes!
View their Facebook page
225 Aguirre Avenue, BF Homes, Parañaque City
(02) 246-9069
BONUS!
Get pampered and work up an appetite with Urbanized Gastro Spa! Offering up a one-of-a-kind self-care package, Urbanized Gastro Spa revitalizes and replenishes with a specialized one-and-a-half hour long massaged followed by a satisfying serving of Korean barbecue. Don't miss out on this truly indulgent spa experience!
RATES: P1,000 for One Hour and 30 Minutes Massage and 1 plate of pork and beef!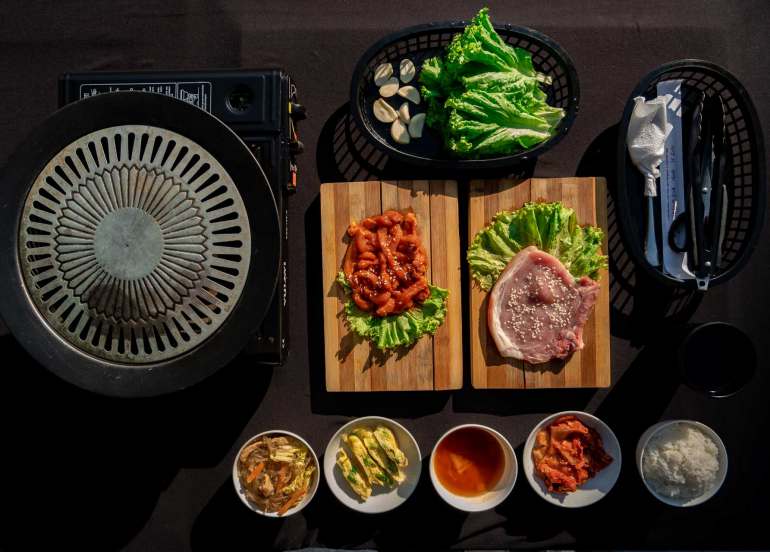 Read more on this Spagyupsal experience here!
View their Instagram account
178B CM Recto, Maytunas, San Juan
(02) 576-0145
So, what are you waiting for? Satisfy yourselves with a long, meat-filled dinner at any of these unlimited Korean barbecue joints.
Spot a new restaurant? Let us know! Send us an email at support@phonebooky.com with all the details. Keep tagging us on Instagram @bookyapp #bookymanila so we can join your food trips around the city.
If you still haven't, download Booky for free on iOS and Android and enjoy the convenience of searching and booking restaurants offline!
Cover image from Sodam Restaurant's Facebook