Let our response be: SANA ALL.
We're pretty sure you've already got your Valentine's Day plans all sorted out — cook her an amazing breakfast, watch an awesome Netflix movie together, and later at night take her on a grand garden dinner date.
Also Read: 15 Beautiful Garden Getaways for Valentine's Day!
There are different ways to express your love for your significant other, and one of them is through the gift of giving. Regular chocolates aside, here are six unique and special gift boxes you can send to your loved one this Valentine's Day.
Some delicately sweet macarons or a bunch of fresh flowers? With The Blumenhaus' Valentine's Box, you can get both! They have two types of boxes to choose from. Design 1 includes six Ecuadorian roses, three succulent plants (perfect for plantitos and plantitas), and six pieces of macarons while Design 2 is more simple and shows an assortment of flowers together with six macarons in one box.
Available for: Delivery. Send them a message on their Instagram account.
Our Hana – Polaris Fine Foods
Give the ultimate Valentine's Day gift to your sushi-loving partner with Polaris Fine Foods' Our Hana box! This super fancy box features thinly-sliced pieces of toro or fatty tuna meat at the center, carefully arranged to look like a budding rose. It is surrounded by a generous amount of ikura or salmon roe and uni or sea urchin, made more exquisite with some gold bits on top. It's like a beautiful painting we never want to eat!
Available for: Delivery. Hit them up on their Instagram account to place an order.
View their website
View their Facebook page
View their Instagram account
(0908) 812-3462
Why take her to see the stars, when you can actually give her a whole galaxy? Gruppo Dolci and Auro Chocolates have teamed up to bring you special galactic bonbons this Valentine's day! Each piece contains a different filling, guaranteed to be quite a party in your mouth with every bite. To make things more special, its metal box packaging can be personalized with an engraved name.
Available for: Delivery. Head over to their website to place an order.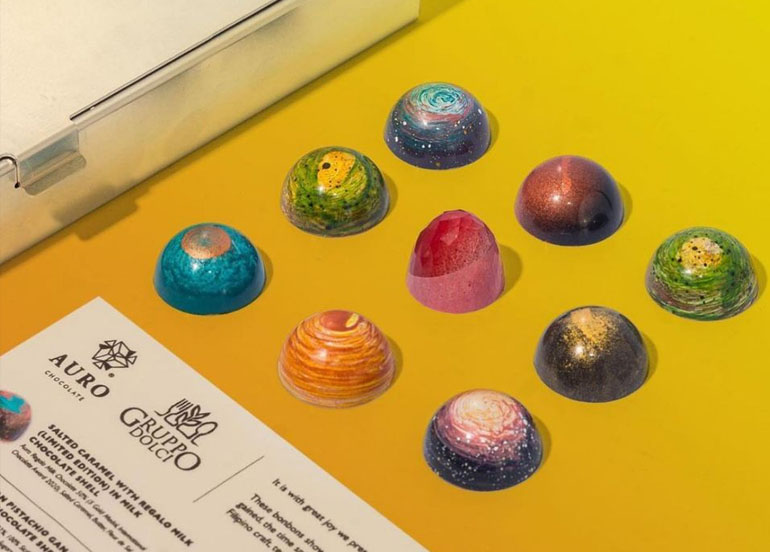 View their website
View their Facebook page
View their Instagram account
Nothing says "classy" and "refined" than giving your SO a box of flower arrangements, and in the middle lies a cute bottle of champagne. Fiori Di Adela is all about pastel boxed bouquets this month, paired with mini bottles of champagne or a box of sweet chocolates.
Available for: Pre-order for Valentine's Day.
We are totes in love with Fiora Manila's sleek, black packaging, which makes their bouquet of red Ecuadorian roses simply stand out! For the love month, they are offering an arrangement of roses and premium French macarons courtesy of CHÈRE JOIE pastry.
Available for: Delivery. For rush orders, Fiora Manila offers same day or next day delivery.
View their website
View their Facebook page
View their Instagram account
Are you and your partner the old-school type who still likes exchanging notes and letters in this digital age? If your answer is yes, then Papemelroti has the ideal Valentine's Day gift boxes for you! They have these Kraft boxes that you can use to put all Papemelroti pads, papers, and markers for you and your jowa. Additionally, they have these Date Night boxes which contains unique date activities if you two want to take things to the next level.
Available for: Delivery. They offer free shipping for orders over ₱1,000.
View their website
View their Facebook page
View their Instagram account
We know you loved using the Booky app for discovering the newest places in your city. Given these extraordinary times, we want to continue being helpful during the ECQ so check out our updated food delivery guide, restaurants that just reopened, where to shop for groceries online, and more.
Cover image from Polaris Fine Foods' Instagram account