The buffet scene is forever changed, thanks to Vikings.

The Vikings Buffet Group has redefined the buffet service industry. What was once mostly available in hotels catering to tourists and the well-heeled has now been made available to everyone.
Whether it's a birthday celebration, a reunion, a graduation, or an office promotion, everyone's got Vikings on their minds. The lavish buffet setup, hundreds of food choices and affordable rates make it one of the best value-for-money buffets in the country today.
Read on to know more about the biggest and most exciting buffet restaurant in the Philippines.
Vikings opened its first branch at the Mall of Asia in 2011 and just a few years later, is now considered the Philippines' largest luxury buffet chain. This homegrown brand has expanded all around Metro Manila, and has even made its way to Visayas (SM City Bacolod, SM City Cebu) and Mindanao (SM Lanang Premier).
Dining at Vikings is already a deal in itself as you get a whole bunch of cuisines within reach but apart from that, they also have regular promos! They vary per branch but currently, they're offering a 3 + 1 promo wherein for every 3 paying adults, the 4th member's lunch or dinner is free! You can read more about it here.
Schedules may vary slightly depending on the branch but they are typically open from 11:00am-2:30pm for lunch and 5:30pm-10:00pm for dinner.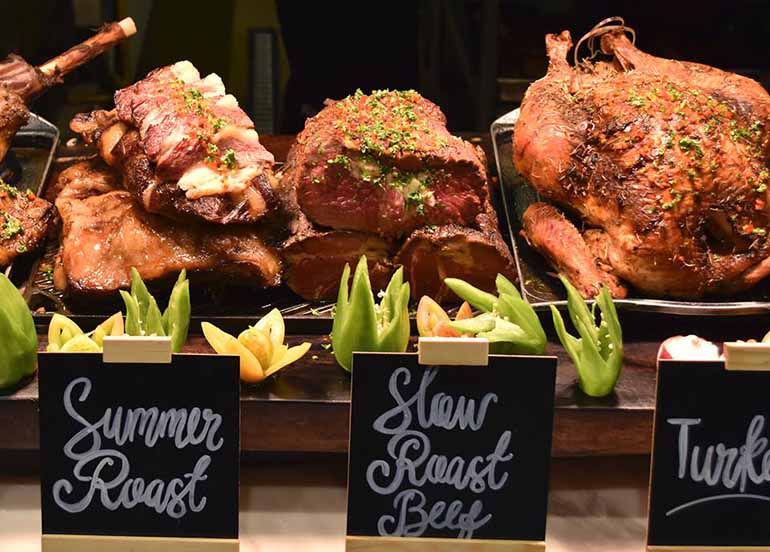 Their rates also vary per day, as seen below:
Rates Per Adult: ₱738 for Weekday Lunch, ₱938 for Weekday Dinner, and ₱938 for Weekend Lunch, Weekend Dinner, and Holiday.
Rates Per Child: Kids below 3ft. are FREE; ₱208 for kids between 3 ft – 4 ft for Weekday Lunch, ₱308 for kids between 3ft – 4ft for Weekday Dinner, Weekends, Holidays; ₱418 for kids reaching 4′ 6″ for Weekday Lunch and ₱618 for Weekday Dinner, Weekends, Holidays.
FUN FACT: Did you know that each Vikings branch has its own unique theme for their interiors?
Norse Vikings – Vikings SM MOA
Manhattan Skyline – Vikings SM Bacolod
Art Museum – Vikings SM Megamall
European – Vikings SM Jazz
Modern Filipino – Vikings SM Lanang Premier
Home – Vikings SM Marikina
Vikings features several food stations including an appetizer and salad station, Asian, Western and Mediterranean stations and the dessert station.
There's also a big selection of skewered meats, seafood, and crustaceans that are grilled-to-order. The luxury buffet chain also offers a shabu-shabu station wherein you can find fresh vegetables, seafood, and thinly sliced meats to complete your hot pot experience.
The carving station is an attraction in itself with its beautiful display of beef, lamb, stuffed turkey, and other meat selections.
Dessert? Vikings has got you covered with their chocolate fondues, ice cream, specialty cakes, fresh fruits, crepes, frozen yogurt, waffles, and kakanin (sticky rice). Of course, no local buffet can ever leave out the classic Filipino halo-halo.
Insider Tip: Birthdays are made even better at Vikings! They'll greet you with a song and dance number complete with you wearing a Viking hat!
Don't forget about Vikings' signature drink-all-you-can beverages which includes fresh fruit juices, coffee, wine and free-flowing draft beer!
The buffet items are mostly the same, except for special dishes that are only available at a particular branch at a given time. Best to watch out for new and seasonal dessert treats from time to time! You could Follow @vikingsluxurybuffet on Instagram for new menu announcements and updates.
Insider tip: You could get up to ₱200 of your total bill when you use your Booky app!
View menu
Check out their website
View all branches
View their Instagram account
Participating branches with Booky:
SM City BF Paranaque | SM Marikina | SM Jazz
Did you know that with the Booky app, you can type "SM MEGAMALL" and search over 100 restaurants in the area. If you spotted a new restaurant near you, shoot us an email at support@phonebooky.com with all the details.
Featured image from Vikings