Calling all Yellow Cab fans, this one's for you!
Yellow Cab is a popular homegrown pizza chain that opened back in 2001. They're known for using premium ingredients and generous toppings in their pizzas and pastas. The name is an ode to the iconic NYC taxi, as it has always been their mission to share a slice of New York with Filipinos.
Fun fact: Yellow Cab has over 20 branches in Metro Manila open 24/7. 
Best-Selling Pizzas
New York's Finest
As Yellow Cab's best-selling legendary pizza, New York's finest is loaded with Italian sausage, ham, pepperoni, bacon, and ground beef as well as a mix of fresh vegetables.
Looking for just a slice?
XL Slices
For those who only want one slice of their favorite pizza, Yellow Cab has got your back! They've recently come out with the option of getting one XL slice of their most popular flavors: pepperoni, Hawaiian, cheese, and Margherita.
Hungry for a slice? Get it for only P99 in all four flavors on Booky!
Must-Try Pizza Flavors
Barbeque Chicken
A signature flavor, Barbeque Chicken is topped with chicken strips, red onions, and cilantro in a hickory-smoked barbeque sauce.
Manhattan Meat Lovers
Perfect for that all-meat overload, the Manhattan Meat Lovers pizza is topped with ham, pepperoni, Italian sausage, ground beef, salami and bacon.
Four Seasons Original
Get four classic flavors in one great pizza: New York Classic, #4 Cheese, Anchovy Lovers and Roasted Garlic and Shrimp!
Insider tip: You can also get an All-Meat Four Seasons pizza with New York's Finest, Manhattan Meatlovers, Hawaiian, and Pepperoni OR a No Meat Four Seasons pizza with Roasted Garlic & Shrimp, Garden Special, #4 Cheese, and Tribeca Mushroom!
Hawaiian
But how about the pizza lovers out there? Especially the controversial crowd rallying pineapples on pizza. Save for later? That's totally an option, because you can ask for take out too!
Price: Get two 10-inch pizzas for just ₱738 ₱399!
Pescatarian-Friendly Flavors
Fun fact: A Pescatarian is someone who doesn't eat meat but eats fish!
Roasted Garlic & Shrimp
ALSO READ: The Only Metro Manila Food Delivery Guide (with Hotline Numbers) You'll Ever Need
Vegetarian-Friendly Flavors
Original Dear Darla
Rolled thin crust pizza loaded with fresh arugula and alfalfa sprouts for a unique experience. Toppings include pepperoni, button mushrooms, tomatoes, onions, black olives and capers.
Insider tip: For thin-crust pizza lovers, this should definitely be your go-to!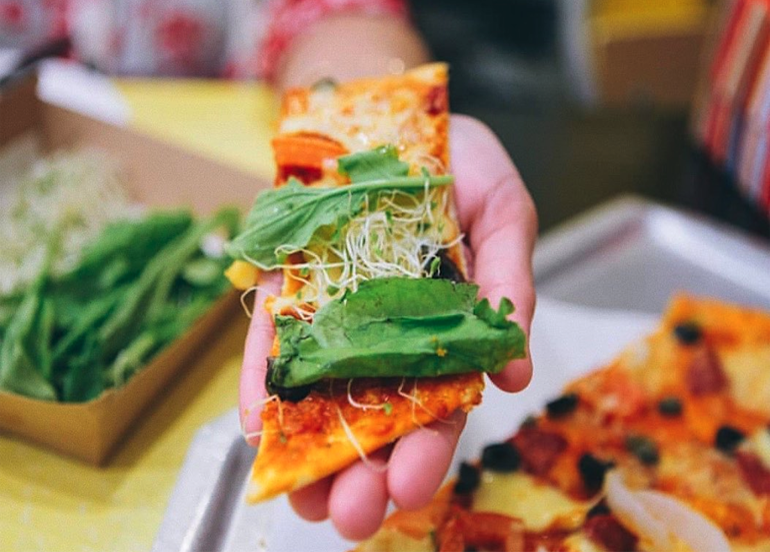 Roasted Garlic & Ricotta
Another one of Yellow Cab's specialty hand-rolled thin-crust pizza flavors, the Roasted Garlic and Ricotta pizza is also topped with mozzarella, romano cheese, arugula, and alfalfa sprouts.
#4 Cheese
Call it cheese heaven! #4 Cheese pizza is loaded with four kinds of cheeses: mozzarella, cheddar, romano, and feta.
Fun fact: Yellow Cab is now serving single Pizza slices for Cheese, Margherita, Hawaiian, and Pepperoni flavors in select stores!
Insider Hack: You can customize your pizza shapes and designs for no additional charge at all Yellow Cab branches!
Food Hack: If you like a little spice on your pizza, Yellow Cab has Red Pepper Sauce, Chili Oil, and Chili Flakes for that extra kick!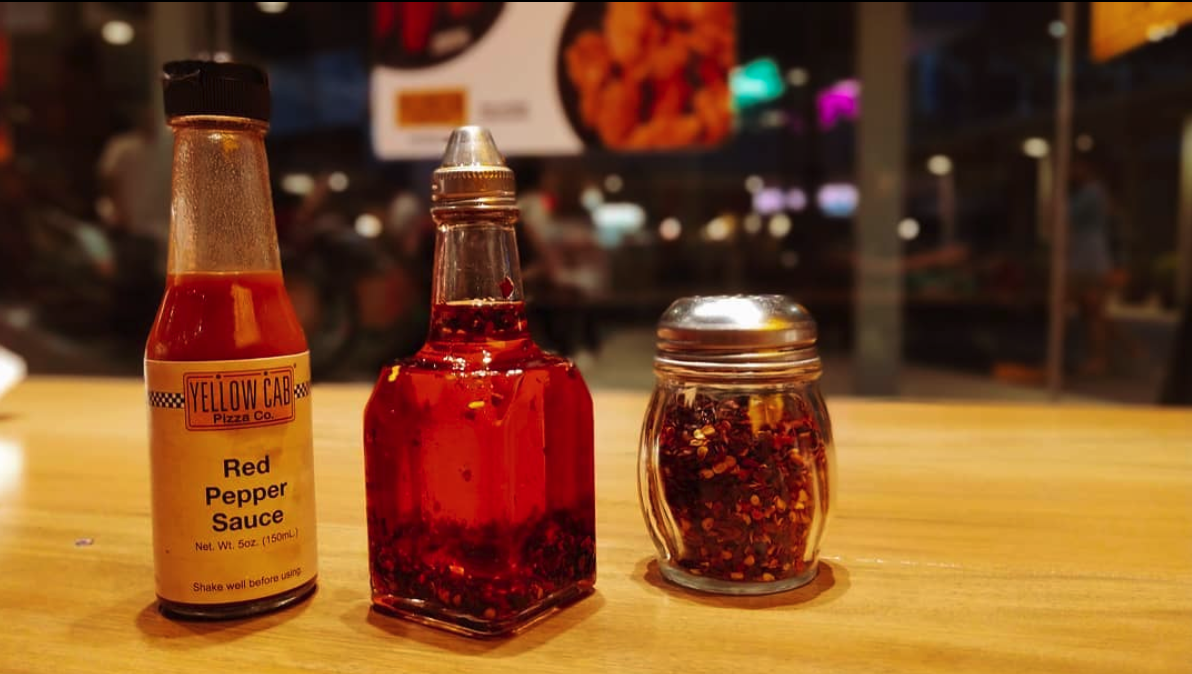 Pastas
Although they're originally known for their generous New York-style pizzas, the pasta-bilities are endless in the Yellow Cab menu. The pasta recipes have become items the regular Yellow Cab goers order (and of course, crave when they call for Yellow Cab delivery reinforcements).
Charlie Chan and Chicken Alfredo
You can get two of Yellow Cab's pasta favorites, Charlie Chan⁠— an Asian-inspired pasta made with chili bean sauce, chicken strips, spring onion as well as their Chicken Alfredo⁠— a creamy pasta with chicken strips, olives, and basil chiffonade.
Price: Get 2 Regular Orders of Charlie Chan and Chicken Alfredo for just ₱398 ₱249!
Spaghetti & Meatballs
Your classic spaghetti with two giant meatballs, baked and simmered in a chunky wine tomato sauce and topped with melty cheese!
Chicken
Wings
Yellow Cab offers crispy and juicy chicken wings available in 6 explosives flavors: Hot Chix, Sweet Soy, Lemon Pepper, Smoked Chipotle, Garlic Parmesan, and Sriracha! You can get their Wings in 4 pcs., 10 pcs., or 16 pcs.
Insider tip: Add ₱45 for their Garlic Ranch dip!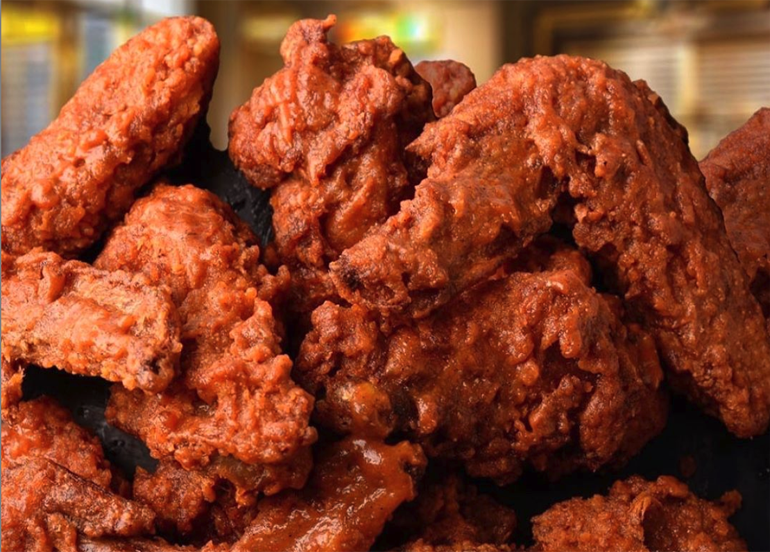 Chicken Poppers
Available in all six flavors, these bite-sized chicken poppers are the perfect snack to pop in your mouth while watching a movie or when you're on-the-go.
Best Bundles
My Mix
Get your choice of Pizza (New York Classic, Hawaiian, #4 Cheese), Pasta (Charlie Chan, Chicken Alfredo, Spaghetti with Meat Sauce), and Chicken (Hot Chix, Sweet Soy, Lemon Pepper, Smoked Chipotle, Garlic Parmesan, and Sriracha) in one box!
Squad Stuff
Best with the barkada, Yellow Cab's Squad Stuff L bundle includes a 10″ Classic Pizza, 1 Large Wings, 1 Large Pasta, and 1 1.75L Soda.
Insider tip: The Squad Stuff group bundle also comes in XL and XXL options for bigger groups.
Desserts
Hazelnut Banana Crunch Pizza
Dessert and pizza all in one? Yes please! The Hazelnut Banana Crunch Pizza is a 6-inch thin crust dessert pizza with a dark chocolate base, topped with fresh bananas, roasted marshmallows, crushed peanut and drizzled with hazelnut sauce.
Ice Cream
Yellow Cab's ice cream is the perfect pint to pair with your spicy wings, spaghetti, and pizza! You can get them in these available flavors: Dark Chocolate, Vanilla Bean, Nutty Pistachio, Strawberry Fields, Chunky Cheese, Cookies & Cream, and Creamy Avocado.
Grab-and-Go Meals
MyWrap
Need a quick bite to eat? MyWrap comes in three savory flavors: Meaty Marinara, Smokehouse BBQ, and Hot Buffalo.
MyBrunch
If you need a fast brunch snack when you're on-the-go, Yellow Cab's MyBrunch folded breakfast pouch has two premium flavors to fill you up. You can get them in Salami, Cheese, and Egg OR Bacon, Sweet Mango marmalade, and Egg.
To claim your favorite BOGOs from Yellow Cab, just follow the steps below:
Download

Booky's app and sign up for a free trial

Scan

the QR code displayed at the branch

Pick

a coupon to avail
Guess what! Booky has more Buy One Get One promos waiting to be claimed! Just download the Booky app and go to the Buy 1 Get 1 tab to check out all the exciting food you can claim throughout the metro! Remember to tag us in your photos with the hashtag #BookyTwinning to be featured!