Know which yoga class to take.
We decided over at Booky that it's high time to go beyond food and give you more. There's so much to do and discover and we're opening up Metro Manila to help you find your flavor starting with fitness and beauty. The new and improved Booky is stronger and cuter than ever.
Yoga, an activity that will enrich and calm your mind, body, and soul. As cliche as it may sound, depending on which class you decide to take, yoga can target more specific desires. You just have to know which class you have to take. Worried that you don't know which one? No worries! Here are 12 popular yoga classes that you can take and a quick low-down on every one of them.
12. Hatha Yoga
Perfect for beginners, Hatha Yoga's classes are usually slow-moving classes. You can expect that in each class there are asanas (yoga postures) and pranayama (breathing exercises) as well as the expectation that you will hold each pose for a few breaths. The benefits of Hatha yoga are peace, awareness, and stillness in the mind including peace to the body as well.
11. Ashtanga Yoga
Compared to Hatha Yoga, Ashtanga Yoga is known for following the same flow in every class, utilizing a series of specifically sequenced yoga poses. Ashtanga yoga is also faced-paced, vigorous, and physically challenging. Despite it being the same, however, in every class, there's no doubt that the benefits that you can gain are varied and numerous. You'll be detoxified, your spine can be realigned, you can build strength as well as stamina and flexibility.
10. Vinyasa Yoga
Meant for those who are used to High-Intensity Interval Traning workouts or just those who prefer fast-paced, continuous movement, Vinyasa Yoga strings movements and breaths together in their classes. Whether your teacher decides to pump some music for you to match the beats or not, Vinyasa yoga is beneficial because it detoxifies and opens up your body while the yoga postures become deeper and more challenging.
Check out: The Little Things You Can Do Everyday to Improve your Health and Fitness


9. Power Yoga
A vinyasa-style yoga that resembles Astanga, Power Yoga relies most on the instructors. In this type of yoga, it's best that one will consult with the studio or the instructor before attending a class to better know what to expect.
8. Iyengar Yoga
Focused mostly on the body alignment and subtleties in each pose, Iyengar yoga can also be taken up by beginners. In this kind of yoga, postures are also held for a period of time but made much easier by props like yoga blocks, belts, bolsters, chairs, and blankets to straps or ropes on a wall.
Aside from the accessibility of the classes – even those who aren't flexible can take it – other positives of this kind of yoga are that it'll increase your flexibility as well as muscle strength.
7. Bikram Yoga (and Hot Yoga)
With this kind of yoga, prepare to sweat. In a room that's heated to approximately 40 degrees Celsius, expect that after 26 poses and two breathing exercises, you'll be challenged physically and mentally within the 90-minute class.
Meant to flush toxins, manage weight, and allow students to move deeper into poses, Bikram Yoga is perfect for those who prefer a set routine. The only difference between Hot Yoga and Bikram Yoga is that Bikram strictly follows the Bikram sequence of 26 poses.
Also read: Stretch It Out: Five Steps on How to Become More Flexible
6. Kundalini Yoga
Famously practiced by celebrities, Kundalini Yoga is best for those who are looking for a better sense of self-awareness and those who prefer the more spiritual side of yoga compared to the physical.
Expect that in every class you'll be performing kriyas – repetitive, physical exercises with intense breathwork, chanting, singing, and meditating – as well as hold your poses for up to 10 minutes that'll challenge your sense of determination.
5. Yin Yoga
If Yin Yoga reminds you of yin and yang that symbolizes balance, then you are definitely not mistaken. Yin Yoga focuses on calming and balancing your body and mind by helping your stretch and unwind with the use of props.
If you attend this kind of yoga, expect that poses will be held for at least five minutes which will unsurprisingly benefit you by restoring your elasticity, target your tissues as well as fascia, and prepare your body to sit in long meditation.
4. Restorative Yoga
Similar to Yin Yoga and Ashtanga Yoga, movements in Restorative Yoga are slow and are held for 10 minutes. Perfect for those who need some help slowing down or those who need assistance in relaxing, Restorative Yoga has a gentle and passive style that'll target your parasympathetic nervous system for deeper relaxation through the use of props like blankets, bolsters and yoga blocks that assist you while transitioning to different yoga poses.
3. Anti-Gravity Yoga or Aerial Yoga
Perfect for those who have back pain or need their body decompressed from all the stress, Anti-Gravity Yoga is a combination of yoga, pilates, and dance with the use of hammock to support your weight and your hips.
Despite their yoga poses being much easier to execute because of the assistance of the cloth, you'll still get a lot of benefits from the program such as improved circulation, boosted digestion, strengthened core as well as arms, and feeling of relief from stress.
Check out: Let's Work It Out: Your Go-to Guide to Preparing for your Workouts
2. Jivamukti Yoga
Translated to "liberations while living", the goal of Jivamukti Yoga is for you to have a spiritual awareness through a great workout, some chanting, and a healthy dose of philosophy.
Despite resembling Ashtanga in the Vinyasa-style, Jivamukti Yoga separates itself from the others because of their own standardized warm-up sequence, weekly themes, chanting, meditation, readings, and affirmations that vary depending on the instructor.
1. Baptist Power Vinyasa Yoga
A type of hot power yoga, Baptist Power Vinyasa Yoga is focused on three things: asana (poses), meditation, and self-inquiry that's meant for anyone of any level. In a 60, 75, or 90-minute class, expect that you will be engaged with the help of breathing exercises, a heated room, and exercises for your balance, focus, and your core.
Now that you know the basics, go ahead, don't be afraid to experiment and to expose yourself to more knowledge and a hopefully, fulfilling experience.
Looking for yoga studios that offer these classes? Check out Top 10 Yoga Studios in Metro Manila. Download the Booky app offline and know more about your favorite food, beauty, or fitness establishments. Use #bookyapp so we can join you on your food trip, fitness journey, or beauty session.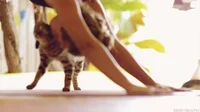 Do you even lift (your phone), bro? You can use the Booky app to search for new fitness activities and places to workout. iPhone, Android, no internet, we got you, fam.
We're more than just food at Booky and we're here to give you the lo-down on the best things to do and discover all over Metro Manila—food, fitness, beauty, and more. Download the Booky app for FREE to discover today's best idea.