Valentine's isn't over, there's still the weekend!
Antipolo may not exactly be your top pick when it comes to planning a quick romantic getaway; but what you may not know is that this first-class city in Rizal Province actually hides a number of treasures just waiting to be discovered. We reckon it's got enough gems to rival Baguio or Tagaytay as your next favorite weekend destination!
Update: Enjoy unlimited discounts and monthly Buy 1 Get 1 coupons, subscribe to BOOKY PRIME for just ₱199 per month. Learn more here.
Just a stone's throw from Metro Manila, Antipolo is home to hole-in-the-wall cafes and a number of touristic dining spots.
If you want to spice up your dates, make the drive up to Antipolo where your next meal could be at a cafe in an art gallery, a buffet that doubles as a pottery studio, or a hanging garden spa with in-house catering!
Eggs for Breakfast is an all-day breakfast cafe hidden inside Velada Estate. Apart from Filipino and American breakfast favorites , they also serve a number of pastas, sandwiches, burgers, and fruit shakes. Don't miss their best selling One Pan Breakfast, White Truffle Carbonara, and French Toast with Berries.
Reservations are accepted
View menu
View their Instagram
Velada Estate, #21 Don Juan St., Villa Cecilia Subd., Sumulong Highway, Antipolo, Rizal
(02) 213 2434
Located on the upper floor of renowned artist, Benji Reyes's home, Tahanan Bistro is a casual but fine dining escape in Antipolo, strictly by reservation only. It is family-run and operates to provide guests a warm second home. Helmed by Chef Kevin and Keesha Reyes, this restaurant serves organic and locally-sourced Filipino dishes through 3 set menus: Aranga, Balayong and Katmon. Read more here.

By reservation only
View menu
View their Instagram account
22 Loresville Drive Lores Farm Subdivision, San Roque, Antipolo
(0925) 880-1487
Yellow Lantern is an out-of-city cafe, bar, and restaurant with breathtaking views. The gastropub serves a mix of Asian and continental comfort food. Must-tries include their Nachos, Baby Back Ribs, Emcaro Pizza, and Pinoy Paella. Head to the top floor of the restaurant for some music, drinks, and beer pong. They have a second branch on Lilac St. in Marikina!
Reservations are accepted
View menu
View their Instagram account
G/F Comodaville Penthouse, Brgy. Mambugan, Antipolo, Rizal
(02) 477 4168
One of Antipolo's top destinations is the Pintô Art Museum. After checking out the galleries, grab a snack at the Pintô Cafe. This casual cafe boasts Filipino flair. With modern takes on classic dishes of our culture, the doors are always open letting in that equatorial breeze.
No reservations accepted
View menu
View their Instagram account
Pinto Art Museum, 1 Sierra Madre Street, Grand Heights Subdvision, San Roque, Antipolo
(02) 633 0329
Since 1997, Crescent Moon Cafe in Rizal has drawn diners from all corners of the Metro thanks to its colorful, open-air structure and Southeast Asian- inspired specialties. The kitchen creates a menu based on what is fresh and available for the day. House favorites include the pumpkin coconut soup, salmon teriyaki, Thai curry, and twice-cooked pork adobo with mulberry sauce, among others. A sumptuous buffet is available on weekends, from 11:30 am to 2:00 pm.
Fun Fact: The place also houses the ceramics studio of pottery artist, Lanelle Abueva-Fernando.
Reservations are accepted
View menu
View their Instagram account
Sapang Buho Road, Bgy. Dalig, Antipolo, Rizal
(02) 234 5724
Since 1984, Vieux Chalet has upheld the tradition of marrying fine Swiss Cuisine with Filipino hospitality. Enjoy raclette and fondue while getting a gorgeous view of the city from their intimate, al fresco dining area. They serve the best of what Switzerland has to offer from steaks and sausages, to pizzas and pastas.
No reservations accepted
View menu
View their Instagram
456 Taktak Road, Sitio Sampaguita, Antipolo
(02) 697 0396
Sometimes, the most satisfying dishes are the ones that taste like home. Tipulo is one of the best places in Antipolo for traditional and straightforward Filipino food but they also serve dishes with fresh and modern twists. Their Tipulo Nachos puts a Pinoy spin on a well-loved Mexican appetizer by loading thin and crispy chips with longganisa, mango salsa, chopped bagnet, and cheese sauce!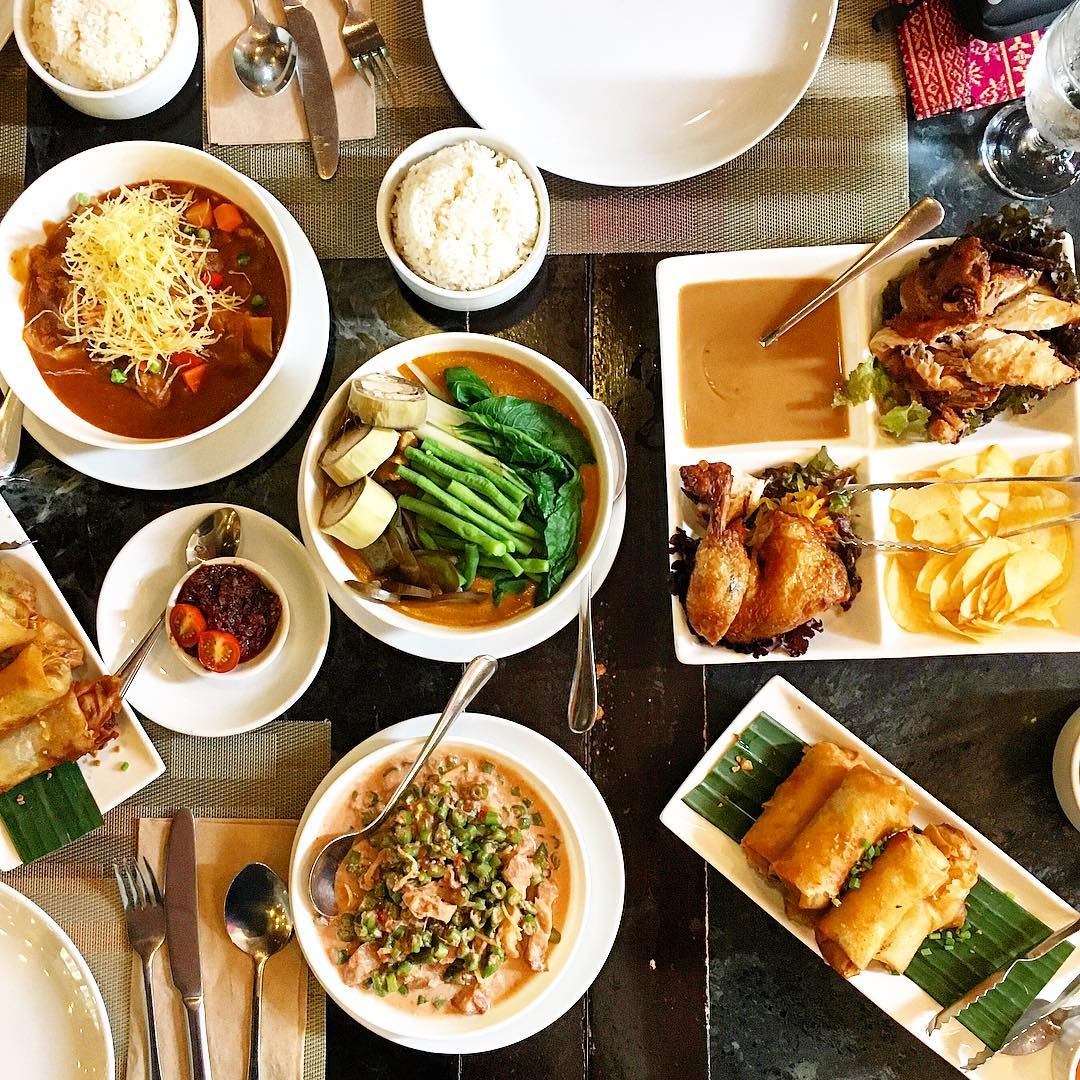 Reservations are accepted
View menu
View their Instagram account
First Pacific Leadership Academy, KM 27, Sumulong Highway, Antipolo, Rizal
+63 2 632-8111
Cafe Lupe – Sumulong Highway
Cafe Lupe is a go-to place for coffee and brunch in the daytime. At night, this Mexican-Filipino fusion spot along Sumulong Highway comes alive with live bands, picas, and booze. They have an outdoor area, a game room, and a deck where you can get nice views of the city. Insider Tip: Don't miss a photo op with Cafe Lupe customized van!
Reservations are accepted
View this restaurant
View their Instagram
Lot 2B and 2C, Barangay Mambugan, Sumulong Highway, Antipolo City
(02) 470-3201 / (0920) 677 7959
Wave down from great heights at Cafe Agusta. Enjoy great coffee, pastas, entrees, and pastries while overlooking the surprisingly gorgeous Metro Manila skyline.
No reservations accepted
View menu
View their Instagram
Grand Heights Rd, San Roque, Antipolo
(0917) 448 0983
Anix's House of Kare-Kare is a Filipino restaurant that offers homestyle and traditional cooking. Popular, must-try dishes include their Crispy Pata, Baked Oysters, Sizzling Boneless Bangus Ala Pobre, Special Bulalo, and of course, the house specialty: Kare-kare.
Reservations are accepted
View menu
71 Sumulong Highway, Sito Kamias, Antipolo, Rizal
(02) 646 5564
You can't go wrong with coffee and cheesecake. The Little House of Cheesecake is a cozy space that offers both, as well as light snacks like pasta and sandwiches. Hang out under whimsical fairy lights and on Fridays, enjoy a good open mic session at their weekly Acoustic Night.
No reservations accepted
View menu
San Roque Citia Okinari Complex, Circumferential Rd, San Roque, Antipolo
(02) 654 9852
Luljetta's Hanging Garden Restaurant is set in the first and only hanging garden and spa in the Philippines. The mountains of Antipolo offer commanding views of Laguna De Bay and Metro Manila. Guests can enjoy food from the resort's in-house caterer, Verde Restaurante. Don't miss the Peruvian Chicken with Green Sauce, Pork Short Ribs Caldereta and Deep Fried Calamari with Tartar Sauce.
Reservations are accepted
View menu
View their Instagram account
Sitio Loreland, Brgy. San Roque, Antipolo, Rizal
(0977) 162 6569
Here's a bonus find we just couldn't let pass, if you're feeling a little adventurous to try exotic food, then the additional 2km to Angono will definitely be worth it.
Balaw Balawi is Filipino restaurant-cum-gallery by the late artist, Perdigon N. Vocalan, and his wife Luzvimin. It has become a popular tourist attraction in Angono thanks to it's exotic offerings. If you're not quite ready to fill your guts with things like coconut worms and tree ants, you can always order the crowd-pleasing Minaluto platter!
Reservations are accepted
View menu
16 Doña Justa Subd. Phase I, Manila East Highway, Angono, Rizal
+63 923 714-4209
Share your own Antipolo food finds with us in the comments section below! Be sure to tag us on Twitter (@bookymanila) or Instagram (@bookyapp) so we can join you on your next adventure.
Don't forget to download our app to gain unlimited access to Prime restaurants across Metro Manila. Food trips don't ever have to end when you can save up to ₱500 of your bill, claim dessert freebies, and get monthly Buy One Get One offers with Booky.
Cover images from Eggs for Breafkast Cafe and Booky