Can't decide on where to have your next date? Don't stress cause you can never really go wrong with an amazing view.
Celebrating an anniversary, a special occasion, preparing for a proposal, or looking for a new spot to entertain guests? Sunsets, skyscrapers, and a view of the bay… there's just something about restaurants with views. Check out these places in and around Manila for these stunning cityscapes and a bonus at the end!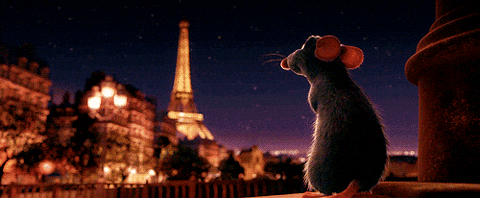 PASIG
Home to one of Manila's Business Districts, it should come as no surprise that you could find some of the best stunning rooftop dining places in Pasig. You could stumble upon late night bars, upscale dining, and all are guaranteed to have a beautiful skyline view.
Vu's – Marco Polo Ortigas
Vu's is a sky bar and lounge settled on top of Marco Polo Ortigas; being 45 floors up from the ground, the view is nothing but stellar. Enjoy cocktails such as the Sapphire Road (their award-winning signature cocktail), Paparazzi, Aqua Ball, and the Godfather.
Reservations are accepted
View menu
View their Instagram account
45/F Marco Polo, Meralco Ave, Ortigas, Ortigas, Pasig
(0926) 697-9630; (02) 720-7777

A hip and youthful roofdeck bar that offers a 360º degree view of Metro Manila. It is located on the 21st floor of the Ace Hotel & Suites in Kapitolyo.
Reservations are recommended
View their Instagram account
21/F Ace Hotel & Suites, Brixton St., Kapitolyo, Pasig
(02) 462-8262; (0917) 549-9362

Lung Hin – Marco Polo Ortigas
A contemporary Cantonese and seafood restaurant located at the upper floor of the Marco Polo Ortigas hotel tower. The expansive layout of chic interiors and the exclusively appointed private dining rooms with a city view are ideal venues for intimate gatherings. You can also visit VU's Sky Bar on the 45th floor.
Reservations are recommended
View menu
View their Instagram account
44/F Marco Polo Ortigas Hotel, Meralco Ave., Ortigas, Pasig
(0916) 779-0562; (02) 720-7777 loc 6621

MAKATI
Also a Business District, Makati is thriving with new and exciting (as well as oldies but goodies) rooftop restaurants with the impressive Makati skyline as your backdrop. You can find all kinds of rooftop restaurants from fancy dining to late night bars for after work drinks, the choices are endless.
Z Hostel is the first and biggest luxury hostel in the Philippines. On top of it is a roofdeck bar that is the first to use RFID bracelet technology for easy cashless transactions.

Insider tip: Their game room is available for private party reservations
Reservations are accepted
View menu
View their Instagram account
5660 Don Pedro St, Poblacion, Makati
(02) 856-0581; (0927) 965-2692
Firefly Roofdeck is a 50-seater bar that offers panoramic views of the Makati skyline. Firefly offers grilled specialties and even cooks them right in front of you on their open teppanyaki station.
Reservations are accepted
View menu
32/F City Garden Grand Hotel, Makati Ave cor Kalayaan Ave, Poblacion, Makati
(02) 888-8181 loc. 3500
Literally sitting atop Citibank Tower Makati since 1996, it boasts of a view of the metro's Central Business District from the 34th floor. It is headed by celebrity Chef Jessie C. Sincioco of Chef Jessie in Rockwell and 100 Revolving Restaurant in Eastwood.

Reservations are recommended
View the full menu
34/F Citibank Tower, 8741 Paseo de Roxas, Salcedo Village, Makati
(02) 750-5810; (02) 750-5811
Antidote is one of the highest bars in Makati with an unobstructed view of Manila's skyline; it's perfect for conversations over drinks, it's Instagram worthy, and you'll immediately notice their massive centrepiece– a jellyfish aquarium!
Reservations are recommended
View menu
View their Instagram account
Roofdeck, I'M Hotel, 7862 Makati Ave cor Kalayaan Ave., Poblacion, Makati
(02) 755-7888

Oz Bar – Holiday Inn & Suites
Oz Bar sits at the roof deck of Holiday Inn & Suites Makati and offers its guests with a relaxing poolside ambiance. The bar's signature drinks include original mixes like Buena Vista, Morena, and Damaso.
Reservations are recommended
View menu
Holiday Inn & Suites, Palm Dr., Ayala Center, Makati
(0917) 620-8968; (02) 909-088
TAGUIG
Walking around Taguig almost feels like we're walking down the streets of Singapore but with the fortunate exception that drinks are cheaper over here! Taguig is perfect for after work dinner and drinks with friends and it's no doubt that Taguig also has a beautiful view of their expanding cityscape.
Straight Up is a cocktail bar and lounge on the rooftop of Seda in BGC. They have plush seats and an intimate setting along with their tapas, drinks, and fabulous music amid a spectacular view of the city skyline and beyond.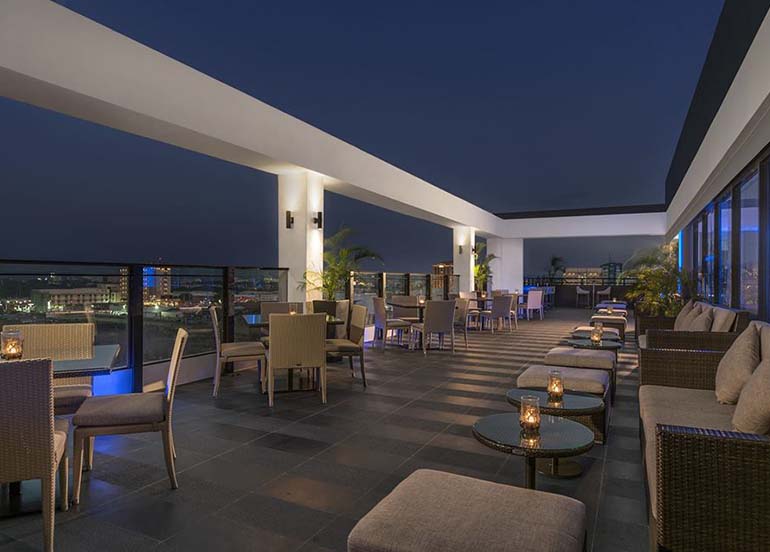 Reservations are recommended
View menu
View their Instagram account
Seda Hotel, 30th St. cor. 11th Ave., Fort Bonifacio, Taguig
(02) 945-8888
PASAY
Pasay gives you a break from skyscrapers and gives you the perfect and unobstructed view of the sun setting over Manila Bay.
C Lounge is a laid back bar in one of the top hotels in Manila that offers tea sets, cocktails, and a variety of finger food.
Reservations are accepted
View menu
3/F S Maison, Conrad Manila, Seaside Boulevard cor Coral Way, Pasay
(02) 683-3914; (02) 833-9999
Sunset Bar is the quintessential outdoor dining venue that features a buffet of grilled barbecued specialties on Friday and Saturday nights. The buffet also includes unlimited beers, wine and 3 cocktails. Marvel at the magnificent Manila Bay sunset and enjoy local cultural shows and live musical entertainment.

Reservations are accepted
View menu
Sofitel Philippine Plaza, CCP Complex, Roxas Blvd., Pasay
(0917) 309-2161; (02) 551-5555 loc. 6988, (02) 892-6968

MANILA
Sky Deck is a rooftop bar located within the walls of Intramuros. It has a beautiful view of the capital of the Philippines and the sprawling Club Intramuros Golf Course.
Insider tip: While Manila's night lights are picture perfect, you should drop by early so you could witness the unobstructed view of the sunset.
View menu
The Bayleaf, Muralla cor Victoria St., Intramuros, Manila
(02) 318-5000

In its very essence, Jazz Up in the Sky is a restaurant atop Heroes Hotel that specialises in steaks. They offer affordable yet delicious steaks and the place even has its own coffee shop, Skybrew Café.
View menu
View their Instagram account
Roofdeck of Heroes Hotel, Osmena Highway cor Florentino Torres St., San Andres Bukid, Manila
(0977) 367-9396
PARAÑAQUE
Finestra offers Italian fine dining cuisine with handcrafted pasta, homemade gelato, and more. They also have a beautiful, overlooking view of Manila Bay. For group dinners, they have one private dining room that you can reserve.


Reservations are accepted
View menu
G/F Solaire Resort & Casino, 1 Aseana Ave, Parañaque
(02) 888-8857
TAS is a rooftop restaurant and bar in BF Homes. They offer Filipino and international fusion dishes including grilled skewers, street pizzas, and wraps along with delicious cocktails and craft beers. They hold musical acts and other events.
View menu
View their Instagram account
3/F 31 Aguirre Street, BF Homes, Parañaque
(0917) 719-4840

MUNTINLUPA
The Nest Dining in the Sky offers romantic outdoor dining with a stunning view. They serve familiar comfort food with gracious personal service beneath the warmth of life and laughter as you dine on the 31st floor of Vivere Hotel with a sweeping view of the south.
Reservations are recommended
View the full menu
View their Instagram account
31/F Vivere Hotel, 5102 Bridgeway Ave. cor. Asean Dr., Alabang, Muntinlupa
(02) 771-7777
Vue Bar – Bellevue Hotel
Vue Bar is located on the 22nd floor of the Bellevue hotel offering an expansive view of Alabang and its nearby villages. It's also worth mentioning that they have a DJ complete with a dance floor!
View menu
22/F Bellevue Hotel, North Bridgeway, Alabang, Muntinlupa
(02) 771-8181
Out of town bonus!
TAGAYTAY
Terraza of Balay Dako is located on the top floor of this extraordinary place of dining. Just like the main dining room located below, diners are treated with the typical delicious experience Balay Dako is known for, but Terraza stands on its own with their signature cocktails and their mouthwatering tapas and pizzas amidst breathtaking views of Taal Lake.
View menu
View their Instagram account
Emilio Aguinaldo Highway, (Nasugbu – Tagaytay Road), Silang Crossing West, Tagaytay
(046) 483-4847; (0943) 264-1680
The go-to coffee shop in Tagaytay, Charito by Bag of Beans is an upscale spin-off of the latter that features spacious dining areas inside and at the balcony, with a majestic view of the Taal lake. The original menu is still intact, but they also serve European dishes and breakfast meals.
View menu
Maharlika East, Tagaytay-Nasugbu Highway, Tagaytay
(046) 483-1279

If you're looking for a great restaurant with an amazing view overlooking Taal lake, then Qiwellness Living is a good place to start. Perched along the ridge of Tagaytay, this restaurant is an homage to ancient China updated with modern day sensibilities. Qiwellness Living boasts an Asian fusion teahouse, a bathhouse, and a spa destination all in one picturesque package. They offer an a la carte menu but we recommend reserving a few days in advance to experience their seasonal degustation menu.
Reservations are recommended
View menu
View their Instagram account
Aguinaldo Highway, Brgy. Maharlika East, Tagaytay
(0917) 522-6969
Enjoy the view!
Know any new restaurants with a beautiful view in your area? Share it with us in the comments below or tag us on Instagram @bookyapp on all your food finds! If you still haven't, download Booky for free on iOS and Android and enjoy the convenience of searching and booking restaurants offline.
Cover image from Vu's Sky Bar & Lounge