*cries in Heroine Make Long and Curl Mascara*
Since 2014, BeautyMNL has provided Filipinas with their favorite makeup brands, health and wellness essentials, and even fashion items. The homegrown e-commerce brand has surged in popularity, allowing Filipinas of all ages to find their cosmetic holy grails, skincare essentials, and even helpful tips & tricks from their website.
Now, they're bringing some exciting news to you: BeautyMNL will be opening their first pop-up in Glorietta 1 on November 25 from 4 PM to 10 PM. With celebrated beauty and wellness brands such as Sunnies Face, COSRX, Dear Klairs, Belo, Sugarbearhair, and many more, there's no other thing to do than to swatch and splurge!
Insider tip: Get your cameras ready, because BeautyMNL's pop-up is guaranteed to be Instagram-worthy.
And what's more, BeautyMNL is giving out thousands of freebies! Just post a photo while in the pop-up, show your post to the cashier when you pay, and claim your freebies (no minimum spend required, while freebie stock lasts).
Fun fact: More freebies are available when you sign up for the BeautyMNL App at the pop-up. 
Plus, the first 10 shoppers to spend at least ₱10,000 in one purchase will receive an additional ₱10,000 worth of deluxe beauty and wellness freebies, so make sure to get there early. You'll have a week-long time to stock up on new beauty brands, because they'll be live from November 25 to December 1.
On November 26 to 29, BeautyMNL's pop-up will be open from 11 AM to 10 PM while on November 30 to December 1, they'll be open from 10 AM to 10 PM. If you're not familiar with the area, here's a map of the pop-up's exact location:
We can't wait to splurge on new lippies, essential oils, and jade rollers! For more updates, check out BeautyMNL's Facebook page and Instagram account.
And if you'd like the natural makeup look without having to actually put on any, we've got the perfect solution for you. There's no denying that makeup can take a big chunk of our time, so why not consider semi-permanent makeup? You could have your brows, lips, eyeliner, and even foundation done— and literally say, "I woke up like this."
Semi-Permanent Makeup: What To Expect & Its Aftercare
A lot of people who have undergone a semi-permanent makeup procedure are especially happy with it and some have even cut back on spending on palettes and the like.
If you're considering having it done any time soon, we've listen down below their respective procedures and aftercare.
LASHES
We all know how long lashes can make our eyes pop more in photos but it can get tiring to put falsies on. Eyelash extensions are a godsend as they last for up to eight weeks and look way more natural than false eyelashes.
Also read: Eyelash Extensions: Fast Facts Before Your Appointment
For aftercare, you have to avoid rubbing your eyes, avoid oil-based cleansers, and try out silk or satin pillowcases to avoid snagging and you're set!
EYELINER
Right after the procedure, the pigment may be darker than what you expected but know that it'll eventually fade into its right colour.
You should avoid scratching and rubbing your eyes as it can not only cause irritation but will also affect the longevity of the ink. Depending on the instructions given to you, cleansers are usually avoided for at least a week.
BROWS
The most popular procedure for brows is microblading. A numbing cream is applied beforehand and you'll feel a gentle scratching from the machine.
Similar to lashes, keep your eye area dry for at least two days. They'll start out quite dark but will eventually fade into a natural hue as they heal.
LIPS
After the procedure, your lips will feel tender to the touch. Avoid touching them too often. A type of cream is usually given for you to apply every once in awhile for the first few days after the procedure.
FOUNDATION
The procedure usually begins with a steam facial (with the option of pricking or not) then is followed by the application of the ampoule and a microneedle device goes over your face. It's then finished off with a mask to soothe the skin.
The usual downtime is one day, depending on your skin's sensitivity. You must avoid the sun, retinol products, and sweat for around 72 hours.
Ready to #WakeUpLikeThis? We've curated a list of beauty salons to get you started.
LASHES
The award-winning Gwiyomi Gluta Spa is all about providing you the best and safe services in the North! Allow yourself to rejuvenate and redefine beauty with their quality treatments.
Keratin Lash Lift with Semi-Permanent Mascara Tint
Try out a Keratin Lash Lift and pair it with a Semi-Permanent Mascara Tint to get fuller lashes without the use of extensions. This hassle-free and low-maintenance perming method creates lift and definition to natural lashes for weeks to come!
Get this offer for only P1500 ₱1200! Check their other offers out here
Check them out here!
Avail at 3 branches
View their Instagram account
One of the country's top and trusted beauty studios, Asia's Lashes treats each of their customers like a celebrity. From eyelash extensions to facials and peels, give your look that lasting impression with Asia's Lashes!
Pristine (Synthetic Regular Lashes)
Lashes definitely don't come last with Asia's Lashes! Give your lashes a boost with the help of Asia's Lashes synthetic eyelashes and own that fierce and killer look.
Price: ₱420 instead of the original ₱600
Sakura Mink Eyelash Extensions (150 pcs)
Crown your eyes with Japanese-quality mink lashes! Treat yourself to these top-quality lash extensions and even choose the length, thickness, shape, and curl of your preference!
Price: ₱1,540 instead of the original ₱2,200
The Secret Lounge is a beauty haven that specializes in nail, foot, and eyelash services. Unlike most beauty spots, The Secret Lounge is committed to being a sustainable and environment-friendly salon through the use of safe and high quality nail and lash products.
Premium Mink Eyelash Extension (The Girl Next Door/ Max 80)
Get your lash on with the Secret Lounge's Girl Next Door, their signature premium mink eyelash extension! Add fabulous extensions onto your eyes to highlight their beauty and let stylists give you that Girl Next Door look you've always wanted!
Price: ₱980 instead of the original ₱1,400
Check them out here
View their Instagram account
Unit 2C Cypress Garden, V.A Rufino St., Legaspi Village, Makati
(02) 720-2661; (0998) 845-1736
Looking for a stunning new look for yourself? Drop by for a makeover, and reinvent yourself with Introspect, a premium hair salon and make-up studio that offers styling and grooming services with high-quality products!
Price: ₱2,400 instead of the original ₱7,000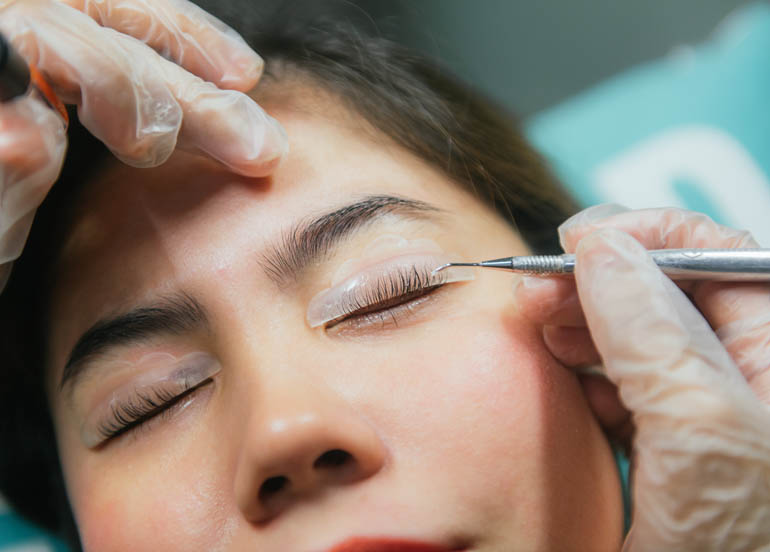 Check them out here
3/F Fisher Mall, 325 Quezon Ave, Santa Cruz, Quezon City
(02) 364-4206
Take that lash lift to the next level! Enjoy the Japanese Lash Lift and add in the Last Tint treatment, making your lashes look more voluminous for up to 4 to 6 weeks.
Price: ₱1,750 instead of the original ₱3,000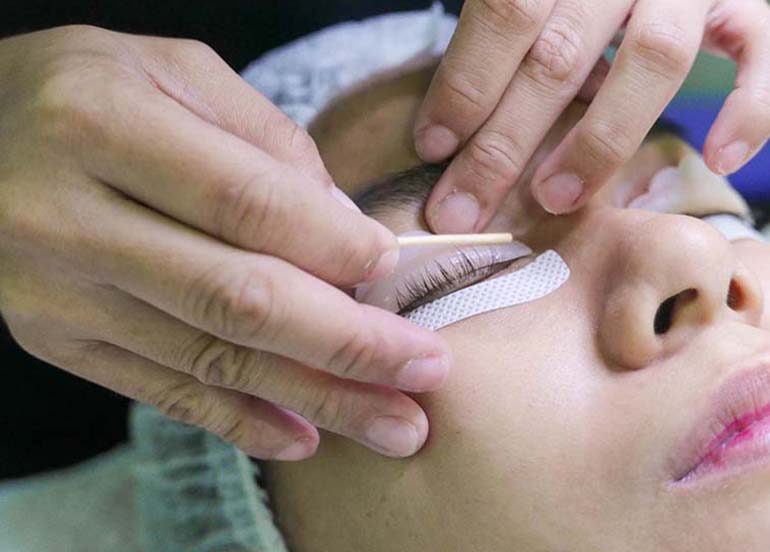 Check them out here
View their Instagram account
Flossom Place, #187 N. Averilla St., Sta. Lucia, San Juan
(02) 245-3088
EYELINER
Get that enviable seductive stare without ever having to touch eyeliner again! This semi-permanent eyeliner tattoo is done on the lash line to emphasize your peepers.
Price: ₱4,898 instead of the original ₱6,998
Check them out here
View their Instagram account
Unit 201, Fox Square Building, 53 Connecticut St., Greenhills, San Juan
(02) 751-7236; (0916) 631-7433
BROWS
If you're looking to glam up and get some well-deserved pampering, look no further than Zlux Salon Spa! Located in Quezon City, this is the premium one stop shop for all your beauty, pampering, and relaxation needs!
Price: ₱30,000 instead of the original ₱21,000
Check them out here
View their Instagram account
Beijing Tower, The Capital Towers, E Rodriguez Sr Ave, Kalusugan, Quezon City
(02) 631-3540; (0956) 301-1133
Say it with us, those eyebrows are on fleek! Achieve those on fleek eyebrows with the innovative feathbrow treatment and let the compliments come.
Price: ₱8,000 instead of the original ₱16,000
Spa Fairy – One (1) Session Eyebrow Embroidery Make-up Look or Natural Look
Your wish for killer brows is granted! Microblading machines give your eyebrows that fierce and full look- no make-up needed!
Price: ₱1,999 instead of the original ₱6,000
Check them out here
View their Instagram account
65 President Ave., BF Homes, Parañaque
(02) 809-4397; (0917) 504-6434
Eyebrows can be such a chore to do everyday, so keep them on fleek 24/7 with this semi-permanent cosmetic tattoo that mimics eyebrow hair strands that make your brows look fuller and perfectly shaped.
Price: ₱16,098 instead of the original ₱22,998
Check them out here
View their Instagram account
Unit 201, Fox Square Building, 53 Connecticut St., Greenhills, San Juan
(02) 751-7236; (0916) 631-7433
Browhaus – Brow Resurrection 3.0 (Ombre)
Bring your brows back to life with this offer for an ombre eyebrow revival. The advanced embroidery treatment will create natural-looking strokes and a finer finish that makes it look like your brows were born that way.
Price: ₱60,000 instead of the original ₱80,000
Check them out here
View their Instagram account
Avail at 6 branches
FOUNDATION
Beauty Full HD – Korean Permaglow Foundation
With Beauty Full HD, you can wake up without worrying about make-up! Experience Beauty Full HD's innovative semi-permanent foundation and give your face that beautiful, clean, and clear glow 24/7!
Price: ₱1,300 instead of the original ₱2,200
Check them out here
View their Instagram account
2/F Jacinto Plaza, Amang Rodriguez Ave., Santolan, Pasig
(02) 919-7069; (0921) 702-5426
The Eyebrowdery – Korean BB Glow (Package of 3 Sessions)
Wake up with makeup! This sheer and semi-permanent foundation brightens your skin tone and minimizes blemishes and dark spots, resulting in glowing and dewy skin. This procedure also helps produce collagen and tighten pores thanks to the stem cell mask that comes with the procedure.
Price: ₱14,698 instead of the original ₱20,998
Check them out here
View their Instagram account
Unit 201, Fox Square Building, 53 Connecticut St., Greenhills, San Juan
(02) 751-7236; (0916) 631-7433
LIP TINT
Glam Dolls – Semi-Permanent Lip Tint
It's time to get dolled up! Enjoy Glam Doll's special semi-permanent and long-lasting lip tint that adds a burst of color to your look.
Price: ₱2,999 instead of the original ₱5,000
Check them out here
View their Instagram account
2/F Forum Robinsons Mall, EDSA cor Pioneer St., Mandaluyong
(0917) 156-4526
There's no need to pout, Fleek has arrived to give your lips the perfect tint. Get the lips you've always wanted with our latest innovations.
Price: ₱8,000 instead of the original ₱16,000
We're more than just food at Booky and we're here to give you the lo-down on the best things to do and discover all over Metro Manila—food, fitness, beauty, and more. Download the Booky app for FREE to discover today's best idea.