Two queens stand before me.
The Souffle Pancake craze is far from over— if anything it's just getting started (and we're totally here for it). From flavors such as crème brûlée, mixed berries, and even ube, you can bask in the ultra-fluffy goodness of these pancakes in any way you like.
But because 2019 is all about bringing powerful women together, this Taiwanese soufflé pancake purveyor is coming to Metro Manila to put their best foot forward with a familiar and well-loved flavor that'll make their pancakes nothing short of mind-blowing.
Puffy's Souffle started out in the Shilin Market in Taipei— the biggest and most popular night market in Taiwan known for their variety of street food and desserts. One of their trendiest treats, the Milk Tea Soufflé Pancake topped with tapioca pearls.
It's a different milk tea fix that's bigger, better, and fluffier, and you'll get to try it soon this December at Robinsons Magnolia in Aurora Boulevard. If you need some more options, Puffy's also serves up Oreo, Crème Brûlée, and Mango!
We still think their Milk Tea Soufflé Pancakes are a definite winner and it's coming real soon, too! For more information on Puffy's, check out their Facebook page.
Check them out here
View their Instagram account
Robinsons Magnolia, Aurora Blvd. corner Dona Hemady St., Quezon City.
In case you missed it
Japan's magical soufflé pancakes are hitting it big in Metro Manila! Foreign pancake purveyors have invaded the city to offer their ultra-fluffy, jiggly pancakes, and from the long lines and social media frenzy, we think it's well worth the hype.
And soon, you'll be able to bask in the glory of the fluffiest pancakes in the world from Japan's famous dessert shop and kiosk. Get your phones out and get ready to post countless boomerangs of your jiggly, wobbly pancakes!
Tokyo Milk Cheese Factory is a dessert souvenir shop widely popular in Japan for their irresistible and ultra-light Soft Serve Ice Cream, Milk Cheesecake, and Cheese Cookies made from authentic Hokkaido milk.
But aside from their crowd-favorites, which have stolen the hearts of many, Tokyo Milk Cheese Factory is opening a one-of-a-kind Japanese café in Ayala Malls Manila Bay and getting in on the soufflé pancake trend!
We're preparing ourselves for the long lines before it opens and you should, too! They'll be announcing the launch on November, so watch out! For more updates on their café's opening and their fluffy pancakes, check out Tokyo Milk Cheese Factory PH's Facebook page.
In case you missed it
The norm may dictate that sweets aren't for breakfast or breakfast food isn't really the best dessert. But there's a shop from Hong Kong that serves up a fusion of breakfast food and dessert that begs to differ. Even better, that shop is NOW OPEN in the Philippines!
First opened shop in Nathan Road in Mangkok and featured on the popular Korean Show Running Man, am.pm. is pushing the boundaries for breakfast and dessert with their sweet and delectable fusions.
Fun fact: am.pm. is not your usual sit down cafe as there's no chairs. 
Serving up desserts and drinks that the sweet tooth in you will love, am.pm. is known best for serving up souffle pancakes in a variety of flavors.
Insider tip: They make their pancakes upon order so you'll have to have to wait about 8-10 minutes first. 
The wait is now over as am.pm has finally set up shop in the country! You can find them at the 2nd floor of Ayala Malls Manila Bay near Fully Booked!
Aside from the souffle pancakes, you could also enjoy their milk tea series, known flavours are Honey Milk, Matcha Milk, and Brown Sugar Milk.
Check out some of their best selling flavours:
Creme Brulee Souffle Pancake
Chocolate Lava Pudding Souffle Pancake
Matcha Souffle Pancake
Aside from those, you can also get your souffle pancakes ala mode with their smooth and creamy soft serve that has flavors that range from Sesame to Hokkaido.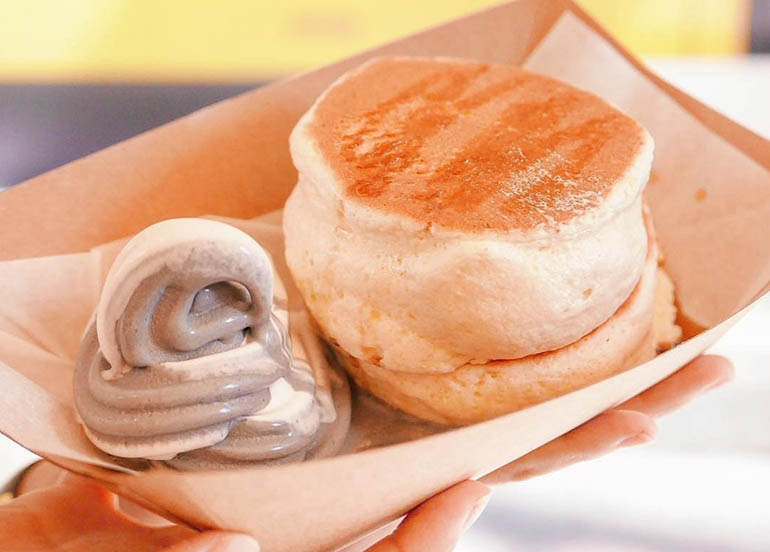 In case you missed it, here are other souffle dishes you can find in the metro!
Also read: 19 Super Unique Desserts around Metro Manila that Will Cool You Down
They say soufflé is the hallmark of French cuisine – art and magic conspiring with each other to create something unbelievably good and beautiful made from air and eggs. But in keeping things light, we'll break it down for you guys:
Fun fact: Soufflé is also the past participle of the French verb 'souffler' which means to blow up.
Soufflé originated in the early eighteenth century in France and is a baked dish made from egg yolks and beaten egg whites. To create such a fluffy texture, they use nothing more than air and a precise egg beating method before they put this inside the oven. Other ingredients are often included, such as it can be reinvented and served as a savory dish or a sweet treat.
Update: Check out our new Buy 1 Get 1 deals this week!
Whether you're craving for a good meal or curing the cravings for sweets, these soufflé dishes in Manila are the answers to your problems.
Le Petit Soufflé is a playful and modern French-Japanese bistro serving a wide selection of both sweet and savory offerings made from scratch. With stunning garden interiors and a constantly evolving menu, they deliver an unforgettable experience. Try their one-of-a-kind Japanese beef curry soufflé – you won't regret it.
Matcha Azuki Bean Soufflé
Strawberry Pancake Soufflé
View menu
View their Instagram account
3/F Century City Mall, Century City Mall, Kalayaan Ave, Poblacion, Makati
(02) 718-5681 | (0915) 399-9558
Pumpkin Soup Souffle – Alter Ego
Alter Ego serves Asian-European mashups inspired by the owners' travels all around the globe. One of their must-tries is the Pumpkin Soup Souffle. Read our full feature here.
View menu
View their Instagram account
41 First St cor Dona Hemady St, Valencia, Quezon City
(02) 622-6109
Carbonara Souffle – Fino Deli
Fino Deli is a wine-themed Italian-Spanish restaurant in little old Marikina. The Carbonara Souffle is linguine pasta topped with an egg souffle. Read our full feature here.
View menu
View their Instagram account
151 Dao St, Marikina Heights, Marikina
(02) 997-5024
Founded 1888 in Normandy, La Mere Poulard is known for their world famous omelette soufflé paired with scallops and ratatouille.
Reservations are accepted
View menu
View their Instagram account
Level 1 SM Aura, Fort Bonifacio, Taguig
(0917) 580-0137
Bistro Manuel is a fine, contemporary dining experience that will bring back a lot of nostalgic memories, especially for old patrons of its predecessor. Their Tiramisu Souffle is one of their bestselling desserts.
View menu
View their Instagram account
Six Axis Center, 4347 B. Valdez St cor Makati Ave, Poblacion, Makati
(02) 871-8566
Hazelnut Souffle – Lemuria
Lemuria is a secret garden restaurant hidden amongst a residential area in New Manila. The restaurant serves French-Mediterranean dishes with wine pairing that completes the whole experience. For dessert, try the Hazelnut Souffle.
Reservations are accepted
View menu
View their Instagram account
View their branches
Cheesecake Souffle – Pilyo
PILYO serves up cheesecake souffles made with Filipino ingredients. They have three flavors – Bibingka Cheesecake Soufflé, Puto Ube Cheesecake Soufflé, and Mamon Cheesecake Soufflé. No news yet on when they'll be back selling these beautiful desserts, but stay tuned!
Online Orders Only
View menu
View their Instagram account
Don't forget to download the Booky app to get unlimited access to prime restaurants around Metro Manila where you can get up P500 of your bill, Buy One Get One Coupons, and dessert freebies!
Don't forget to tag us on Instagram @bookyapp and use #BookyManila when you dine out, to get a chance to be featured in our future posts!