Take it up a notch!
Every couple's interests are different, and your ideas of what's romantic may vary. Whether it's fine dining, a night of sipping cocktails together, or just a totally new experience altogether – there's a spot out there tailored perfectly for your dream date. Because of that, we've rounded up 10 of the Most Romantic Restaurants in Metro Manila for you and your significant other.
So are you planning the perfect date night? Skip the shrugs when you ask each other where to eat, and cut to the chase. Now all that's left to do is to find out which one suits you best.
Lámpara is a Neo-Filipino Bistro which aims to illuminate Filipino cuisine through its contemporary fare. A gustatory experience in Poblacion's enthralling food scene, Lámpara has paved the way for Filipino cuisine and the endless possibilities it can achieve through its imaginative yet distinctly Filipino dishes. Most, if not all of their dishes are perfectly portioned for sharing. Their Dinuckdukan, Rice Cups, and Yema & Tsokolate dessert are a must.
Adorned with mismatched furniture and hanging lamps, Lámpara is an offbeat enclave for eccentrics in love. For a more romantic evening, Lámpara dims its lights at 9 PM where you and your special someone can enjoy a nightcap or two.
Reservations are accepted
View menu
View their Facebook page
View their Instagram account
5883 Enriquez St, Poblacion, Makati
(0917) 173-5883
Mecha Uma is an essential Japanese restaurant in the Manila dining scene for the following reasons⁠— the precision in plating, the narrative approach that comes with each dish, and the unorthodox ingredients married to create a cohesive and ingenious menu. Evident in the restaurant's rusty and rustic interiors, Mecha Uma strives to stimulate the senses with every plate it puts out.
Mecha Uma also offers a ten-course degustación tasting menu intricately crafted each night⁠— ideal for couples to express their inner musings, make substantial conversation, and to experience an entirely new perspective of fine dining altogether.
Reservations are accepted
View menu
View their Instagram account
G/F RCBC Corp Center, 25th & 26th St, Fort Bonifacio, Taguig
(0919) 084-5537
12/10 – Guijo St.
Owned by married duo Thea de Rivera and Gab Bustos, 12/10 is a modern Japanese izakaya that encapsulates the hip, knee-bobbing neighborhood that it resides in. Experimental in its approach, 12/10 offers a customizable tasting menu featuring absurdly delectable dishes such as Wagyu Tartare, Octopus Croquette with Gorgonzola, and Salmon Kushiyaki made with truffle salt, curry, and cornflakes.
Embracing its non-traditional attitude towards fine dining, 12/10 often attracts a younger crowd of Manila natives in search of a gastronomic experience sans the intimidating atmosphere. If you're looking for a casual date spot, 12/10 is the modern izakaya for modern love.
Reservations are accepted
View menu
View their Instagram account
7635 Guijo St, San Antonio Village, Makati
(0915) 663-2823
Also read: 14 Date-Worthy Restaurants with Special Degustation Tasting Menus
Blackbird is a celebration of culinary expeditions around the globe, offering time-honored recipes such as Bombay classics, Pan-Asian staples, and European entrées. Possessing an air of elegance, Blackbird's charm comes from its illustrious beginnings⁠— being built on the historic site of the Philippines' first commercial airport.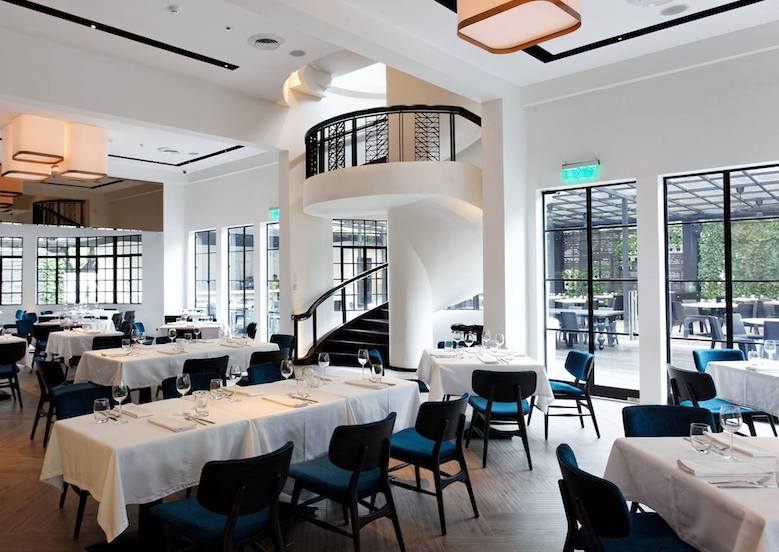 Preserving its rich history, the restaurant has maintained the integrity of the original art deco design⁠— a telltale of the glamorous atmosphere Blackbird has to offer. During the day, Blackbird's high ceilings and giant windows allow for a buzzing and budding romance on a sunny afternoon. Whereas when evening strikes, Blackbird sets the mood with sultry lighting for romantics in search of an elegant rendezvous.
View menu
Nielson Tower, Ayala Triangle Gardens, Makati Ave, Salcedo Village, Bel-Air, Makati
(02) 8828-4888; (02) 8828-1937
Also read: 12 Restaurants You Can Recreate Your Favorite Rom-Coms
A stone's throw away from the bustling streets of Katipunan, Ninyo Fusion Cuisine and Wine Lounge boasts an intimate sojourn for the hopeless romantics in need of a quaint and quiet escape. Chef Niño Laus' ancestral house is transformed into a quintessential destination for romance⁠— providing beautiful pavilions, a tranquil koi pond, and a picturesque garden reminiscent of a romantic comedy.
Specializing in their Asian-European cuisine, couples can enjoy Ninyo Fusion Cuisine's array of degustación tasting menus paired with a hundred of the world's greatest wines that it has in-store. Have Ninyo Fusion Cuisine's picturesque setting become the backdrop of your rose-colored romance.
View menu
View their Facebook page
66 E Abada St, Loyola Heights, Quezon City
(02) 8426-0301; (0917) 580-7928
Lemuria – Horseshoe Village
Lemuria Gourmet Restaurant serves authentic French Mediterranean cuisine made from scratch while exclusively utilizing the best and freshest ingredients. Their innovative tasting menus evolve to offer new flavor profiles and combinations that challenge the adventurous palate.
Reminiscent of a French chateau, Lemuria's interiors possess an old-world charm that embodies the tried-and-true recipes it has to offer⁠— Spaghetti with Sea Urchin and Caviar, Bone Marrow Risotto, and Beef Bourguinon to note. Lemuria is an ideal destination for couples with the desire to discover new and inventive dishes beyond the mainstream.
View menu
View their Facebook page
5 Julieta Circle, Horseshoe, Quezon City
(02) 8722-2185; (02) 8724-5211
Owned by Margarita Forés⁠, the chef and restaurateur behind Cibo and Lusso comes another brilliant venture known as Grace Park. The Makati restaurant is a farm-to-table concept, which makes use of local produce from its partner farms. Grace Park curates a playful menu featuring savory dishes such as Roast Bone Marrow, Fried Squash Flowers, and River Prawns to display its use of the freshest and finest ingredients.
Grace Park also exudes a refreshing and welcoming ambience unique to many farm-to-table restaurant concepts deemed intimidating or complex. If you're taking someone out on a first date, Grace Park wins out as the ideal choice for its laidback yet tasteful approach to fine dining and organic cooking.
View menu
View their Instagram account
G/F One Rockwell, Rockwell Drive, Rockwell, Makati
(02) 8843-7275 | (0939) 934-7223
Also read: Where to Propose in Metro Manila
In literal translation, Galileo Enoteca Deli means "Library of Wines"⁠— which might explain the walls covered with premium wines and the dining rooms reminiscent of the underground wine cellars in Italy. Providing a vast selection of wines and a smorgasbord of Italian delicacies and homestyle recipes, Galileo Enoteca Deli can be considered a respite for the epicurean couple.
Unsurprisingly, Galileo Enoteca Deli is witness to multitudes of anniversaries and wedding proposals⁠ as a result of the restaurant's beautifully-designed space, unparalleled service, and serene locale along the small streets of Mandaluyong. If you have something special in mind, the team behind Galileo Enoteca Deli will be more than happy to organize a memorable visit for you and your significant other.
View menu
View their Facebook page
80 Calbayog St cor Malinao St, Highway Hills, Mandaluyong
(02) 8532 0482; (02) 8534-4633
Also read: 15 Restaurants To Have Date Nights At When You're Already Married
La Picara – Bonifacio High Street
A Spanish restaurant by heart, La Picara embodies the flamboyant and energetic culture of Latin America through their ostentatious interior design. Lush greenery, splashes of printed furniture, and ornamental hanging lamps, La Picara puts itself on the culinary map as a vivacious venture which takes inspiration from vast and varied cultures.
Its cuisine, for instance, is a progressive fusion of Spanish classics coupled with Asian fare⁠— with its Kimchi Croquetas, Sisig Pibil Tacos, Siomai de Carrillera as some of the dishes to note. La Picara's conviviality sets the mood for a little bit of a carefree romance and a bigger bite of some sublime tapas.
View menu
2/F One Bonifacio High Street, 28th St cor 5th Ave,
Fort Bonifacio, Taguig
(0927) 172-4480
Patterned with mosaic tiles, mismatched furniture, ornamental lanterns, and garish memorabilia, Rustic Mornings by Isabelo encourages its diners to revel in its rustic interiors and the lush garden that surrounds it. Rustic Mornings also prides itself on its all-day breakfast favorites— from the Banana Pancakes, Bacon Stuffed French Toast, to the notable Ilocos Bagnet.
Considered off the beaten path, Rustic Mornings is a beguiling backdrop for relationship milestones worth celebrating with a plate of pancakes and a scenic view.
View menu
View their Instagram account
11 Isabelo Mendoza St, San Roque, Marikina
(02) 8681-2461; (02) 8425-8610
Spot a new restaurant? Let us know! Send us an email at support@phonebooky.com with all the details. Keep tagging us on Instagram @bookyapp #bookymanila so we can join your food trips around the city. Share with us your special moments and food snaps, we see you!
If you still haven't, download Booky for free on iOS and Android and enjoy the convenience of searching and booking restaurants OFFLINE.